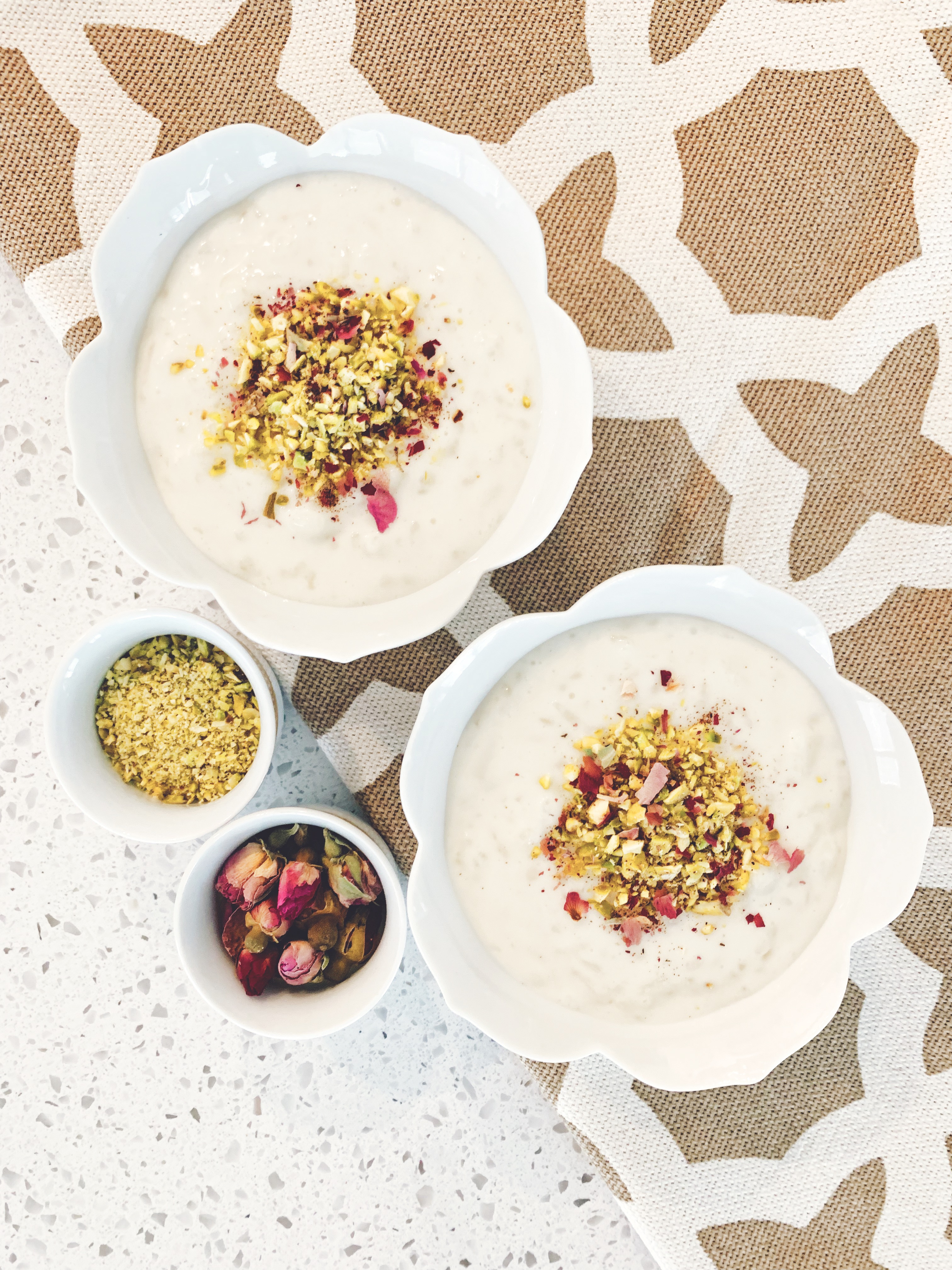 Rice pudding is a comfort food in so many cultures – growing up in the north of England it was a staple – typically served at school dinners warm with a dollop of jam atop it. Riz Bi Haleeb is typically served cold, but this version can be served warm if you desire. As with most desserts from the Middle East, it is typically finished with a floral water (orange blossom is traditional), but you can omit if it doesn't suit you.
The pudding can be made parve or vegan by simply substituting with non-dairy milk – the pictured rice pudding above was made with unsweetened almond milk. The addition of cornstarch helps to thicken the pudding when non-dairy or lower fat milks are used. I highly recommend using short grain white rice to give the best texture for the dish, and as rice cooking times vary depending on the grain.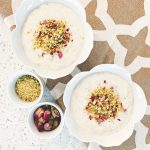 Print Recipe
Riz Bi Haleeb (Rice Pudding)
This simple, easy rice pudding can be prepared with dairy or non-dairy milk, and with or without floral essences. It is delicious served warm or cold, though cold is traditional.
Ingredients
4

cups

milk or non-dairy milk

Almond, oat, or coconut milks go great in this recipe!

1

cup

water

½

cup

short grain white rice

I use Kohuko Rose rice

1

stick

cinnamon

pinch

salt

½

cup

granulated sugar

1

Tbsp

cornstarch

2

tsp

orange blossom water

(Optional) I also like rose water in this dessert

¼

cup

pistachios, finely chopped

(Optional) For garnish. I also use crushed dried rose petals here.
Instructions
In a large saucepan add your milk, water, rice, cinnamon stick, and pinch of salt.

Heat over medium-high heat until the mixture begins to boil, then reduce to low heat to simmer. Simmer until the rice is cooked, stirring occasionally. This can take between 45 minutes to 1 hour, and can take longer at high altitudes.

Once your rice is fully cooked, add your sugar and bring the mixture back to medium-high heat, stirring frequently so that the rice does not stick to the bottom of the pan. This allows the sugar and milk to combine and the mixture to thicken. Once thickened slightly, remove the cinnamon stick.

If your mixture is still watery but all rice is cooked, you can add 1-2 Tbsp of cornstarch to enough water to form a slurry (make sure there are no lumps). Add this to the mixture and stir until the consistency is thick enough for your taste.

Remove from heat, add orange blossom water (or rose water) if using,

Cool on the counter to room temperature before placing in the refrigerator. Serve in individual cups or ramekins garnished with chopped pistachios (or a dollop of jam) if desired.
Notes
Adding the sugar last helps the rice to cook properly. If your rice is still crunchy on the inside continue to cook over low heat. Rice can cook much more slowly at higher altitudes where boiling temperatures are lower, so keep this in mind.