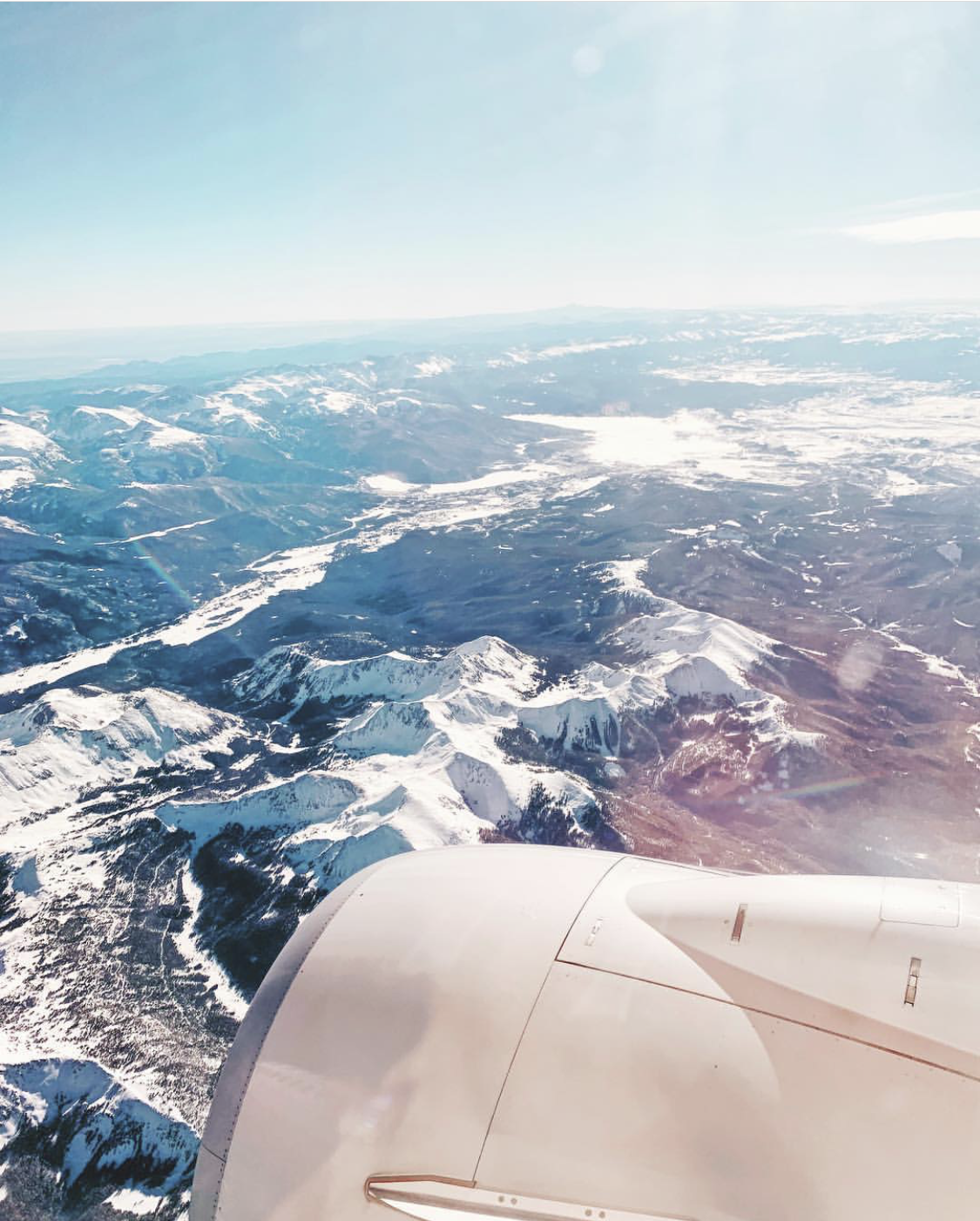 I work in tech, and my job is technically located in the Middle East. Because of this, I've become intimately familiar with fifteen-hour flights from San Francisco to Tel Aviv. I'd like to think my company thinks I'm so important that they fly me first class, but alas, they do not – and I am relegated to economy. Not even economy plus, just regular ol' economy, tiny, cramped seats and all. My family also takes at least one family holiday a year, and it's typically to the other side of the world somewhere, and we do it on a budget. My daughter was seven when we flew all the way to Indonesia from Denver, and she too is used to economy seating for hours on end. In this article I'll give you my pro tips for long-haul travel: what to wear, what to bring on board, and how to keep your kids happy.
If you want to skip to around the article – use these links:
What to Wear
Friends who know me would not consider me a 'function over fashion' type person, even in casual settings. I like being dressed nicely, even if I'm going to be sitting in coach for fifteen hours. However, on flights comfort is also essential – and my main advice is while most flights I'm on are relatively cold, you are still sitting for hours on end, and you're going to get sweaty. I don't care who you are, nobody smells great after flying for 12+ hours.
Apparel Basics
Leggings and Trousers for Travel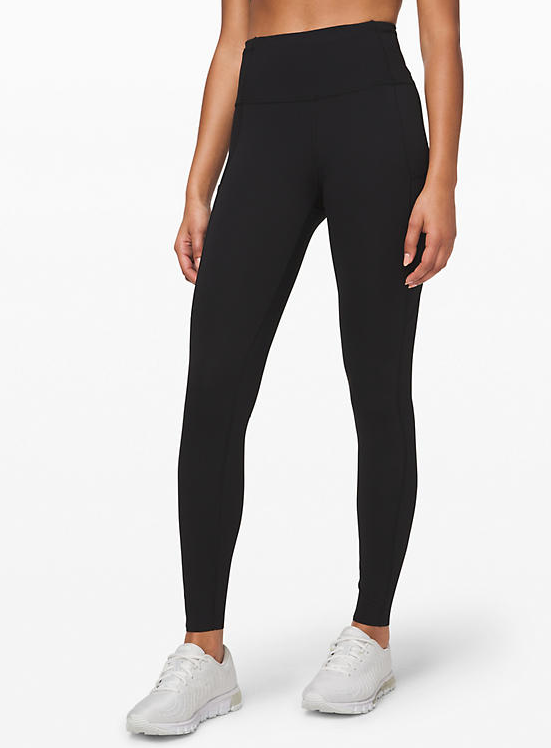 Do not wear jeans on a long-haul flight. You will, after several hours, realise your mistake and be miserably constricted. I know that people have feelings about the whole 'leggings as pants' movement, but I am a leggings kind of person. I bought a pair of breathable athletic leggings to wear when I travel, and it makes a huge difference. I love Lululemon's 'Fast and Free' tight (non-reflective) in black. They're high waisted, sweat-wicking, and breathable. They have side pockets which you can stuff your phone into while you're fumbling for your passport. They are, in my opinion, the perfect travel pant, but they have a price tag to match. A great budget alternative (though sadly without the pockets) are a pair of Uniqlo Airism leggings. I typically pair leggings with a breathable tank top and a long-length tunic style top above that. I always look put-together and feel completely comfortable in this outfit, even on really long flights.
If you are decidedly not a leggings as pants person, Lululemon also has some super cute and comfortable wide leg trousers or classic straight leg trousers. I highly recommend finding trousers that have pockets, are breathable, and have stretch – these are the key features needed for good travel trousers.
For men, Lululemon's ABC Slim 'Warpstream' trousers are sweat-wicking and stretchy, while still looking classic and presentable. They're nice enough to wear while traveling and at the office. They also have a hidden back pocket that you can keep your passport or phone in, so they're a great all-around travel trouser.
The Importance of Layers

Once, on a flight from London to Dallas, our flight was grounded due to a mechanical issue. Instead of de-boarding us, British Airways decided (for whatever reason) to keep us on the plane. For six hours. While they flew in a part from France. Then tested it. We sat on the tarmac, in direct sun, in what felt like a hot tin can. I was wearing a sweater, because it was England (even English summer is rainy, typically) and because I am always cold on flights. I had not planned to sit in a hot, unmoving plane with no climate control. It was, as you can well imagine, miserable – and I arrived in Dallas feeling disgusting. Don't make the same mistake as me – always, always, wear layers you can easily remove for flights.
I am a big fan of Uniqlo's Airism line, particularly if you're like my husband and prone to getting hot easily. Their tank tops are great for wearing under a t-shirt or long-sleeved shirt or tunic. Since I'm also a minimalist packer, I usually wear my jacket on the plane too (unless I'm traveling somewhere tropical where a jacket would not be needed, in which case I'll bring a sweater) to save on suitcase space. My Uniqlo Ultra Light Down jacket (or parka if you want a hood) is a travel essential for me – not only does it work in lots of different inclement weather, it crushes down into a small bag to save on space, or can be rolled into a makeshift airline pillow.
Functional Footwear

Footwear on airplanes should be two things: comfortable, especially as many airports require lengthy walks through to customs, et cetera, and roomy – do not wear your 'maybe a little too small' boots on a plane, because after sitting for hours on end you'll find that your feet have inevitably swollen – I speak from experience – there is nothing worse than getting off of a twelve hour flight and having to cram your swollen feet into a too-small pair of boots. Wear footwear you plan on using during your trip to save on suitcase space – if you're going somewhere it'll be wet, wear your boots – just make sure they aren't tight!
My travel shoe of choice is the Rothy's point (click here for $20 off of your first purchase) in black – which I have at this point walked over 500 miles in, and they're still going, and still comfortable. I've walked 20 miles in one day around Tokyo in them, and I love them. They're also machine-washable, so they come out looking like new every time. They are a little spendy, but they're my favourite classic travel / work / leisure shoe, and they last virtually forever. They also have rounded toe, and slip-on options if a point isn't your style.
I also make sure I always bring a pair of compression socks for the plane. I typically always remove my shoes and put these on, as I've found that they definitely make a difference on really long flights. Then I'll just slip on my shoes over them if I need to run to the bathroom during the flight. These also live in my carry-on permanently, and I wash them after each trip.
Extras, Just in Case.
My daughter and I took a flight to Paris last year from San Francisco. At the beginning of the nearly twelve hour flight as they were serving the first round of drinks, a woman ordered a glass of red wine. As she poured the bottle – you know where this is going, right? – into her cup, she knocked it – sending it directly into the lap of the woman sitting next to her… Who was wearing a cream sweater and light coloured jeans. She was still wearing it when we deboarded at Charles de Gaulle, twelve hours later – looking very unimpressed. I cannot stress enough how important it is to pack an extra outfit in your carry on, just in case the worst should happen.
On another flight my daughter was seated behind a man who spilled his entire XXL water bottle, absolutely soaking the floor and my daughter's socks and trousers. Lucky for us, I'd packed a backup set of clothes and she was clean and dry again in minutes. Had I not had the foresight to do this, she'd have been cold and miserable for a good long while on the flight. I cannot stress this enough:
Always. Always. Always. Pack. An. Extra. Outfit. In. Your. Carry-On.
(And maybe don't wear white.)
Carry-On Essentials
So you want to sleep?
Okay, I'm hardly a germaphobe – but I don't love the idea of using airplane-provided pillows and blankets. Not only are they not comfortable, I'm unsure of how clean they are (the last thing I need is to get sick while traveling), and I get really cold on flights, and that paper-thin blanket isn't really cutting it. Also, if you actually want to sleep an eye mask is essential – there's nothing worse than intending to sleep and the person next to you decides to pull an all-nighter on their brightly lit laptop (been there).

Eye Masks
I really like the gel type eye masks. I do love a silk eye mask and they look so elegant / are wonderful for your skin, but they don't do a great job of blocking out light from random angles that you find on an airplane. I have one of these, and it lives in my dedicated carry-on bag at all times.
Airplane Pillows & Blankets
There are a wide variety of airplane pillows out there, and it depends on your seat preference, generally. If you're an aisle seat kind of person (or you get stuck in the middle seat on a very last minute flight reservation on Air India – I'll save that story for another time) the TRTL pillow is your best friend. It provides neck support so you don't end up resting your head on some stranger's shoulder, and it is soft and washable. I am, however, a devotee of the window seat. I don't get up much during flights (and I'll typically wait for someone else to get up and go at the same time) and it gives me a wall to wedge my pillow in (I like this pillow, which rolls up into a compact tube) and sleep, undisturbed by people getting up and moving around. I also have a fleece travel blanket which rolls up, and I bring home and wash every time I travel so that I know it's clean.
Noise-Cancelling Headphones
We've all been on a flight with a screaming baby or child at some point – I once spent an entire red-eye flight to Colombia seated directly in front of an inconsolable baby (poor mama), and after that my husband gifted me a set of Bose noise-cancelling headphones. They are life-changing if you fly as often as we do. The headphones not only block the sounds of crying babies, but also the general loud ambient noise of being on an aircraft – which I find exhausting. If you're prone to sensory overload, these headphones are worth every single penny. If you can't justify the cost, or you're prone to forgetting electronic devices during travel, these budget-friendly headphones are a good option instead.
Spray Sanitizer
Again, while I hardly consider myself to be a germaphobe, airplane tray tables are notoriously gross. I always keep a spray sanitizer on hand to spray and wipe (using my drink napkin) down the tray table and the touch-screen of the entertainment system on board. I've had so many fellow travelers see me do this, then ask if they can borrow my spray! I like the Mrs. Meyer's lavender variety because it doesn't have a strong smell. After getting sick on multiple work trips, I've decided it's better to be safe than sorry and so I wipe everything down as soon as the drinks arrive. I sleep much better knowing my environment is clean, and the lavender scent might even help you to fall to sleep.
Airplane Foot Rest
For really long-haul flights (most of mine range from twelve to fifteen hours!) I highly, highly recommend this strange little foot rest contraption. It hangs over your tray table, and gives you a foot / leg rest, even in cramped economy seating. I've even had flight attendants ask me where I got mine! It makes a massive difference in comfort when sleeping – I'm able to sort of curl up with my feet in the padded sling and pass out pretty easily. It also folds up easily, and so it's a staple in my carry-on. I actually had to buy a second one because my daughter loves it so much that she stole mine!

The Comprehensive Long-Haul Carry-On List:
Your own travel pillow (this one if you're a window seat person like me, this one if you're an aisle person)
Your own travel blanket (this one if you're on a budget, this one if you are feeling a little more luxury)
A gel eye mask, like this one, which blocks out light well.
A pair of noise-cancelling headphones (I love my Bose QuietComfort, but these are a great budget option) or earplugs.
Spray sanitizer for tray tables and anything else you're going to touch.
An airplane foot rest if you're flying 8+ hours.
Get Some Beauty Rest.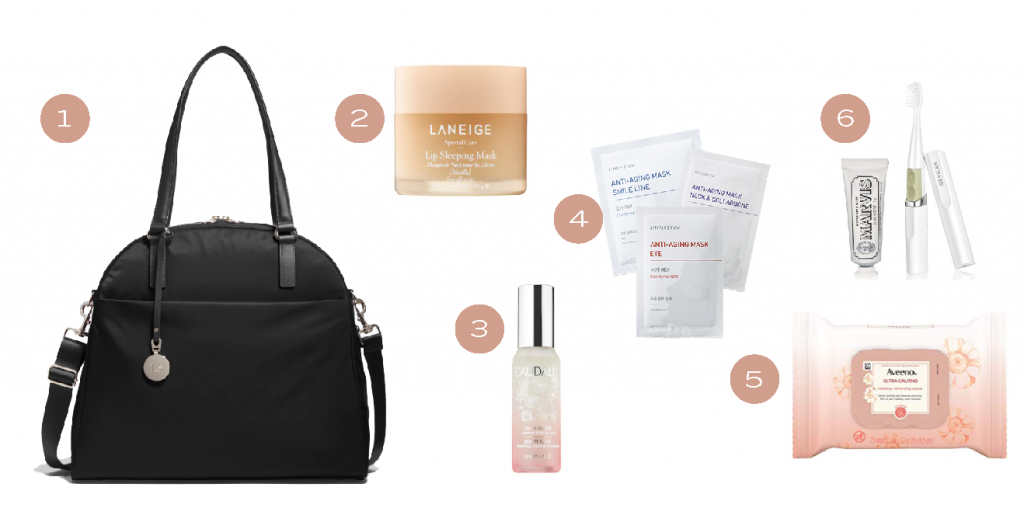 When I travel, I always keep a few small toiletries on my person – airplanes are very dry places, and so after twelve or fifteen hours your skin can feel positively parched. After eating dinner, I will remove any makeup I'm wearing with a pack of cleansing wipes, and put on a mask, or heavy moisturiser. Also – I have zero shame, and will absolutely don a full sheet mask on a flight. If you're not up for that or worried about your fellow travelers thinking you're insane, you can go with a spot treatment mask like these affordable under-eye masks from Innisfree.
A heavy-duty lip balm or lip mask is worth keeping in your carry-on. I keep this Laneige lip sleeping mask (I am partial to the vanilla) next to my bed and use it at night, but it's also always in my carry-on. Pop some on during a long-haul flight and wake up to super smooth, moisturised lips. I also like to keep a spray in my bag to help hydrate through the flight. My go-to is Caudalie's Beauty Elixir mini, but their grape water spray is inexpensive and also fragrance-free, so you won't offend anyone sensitive to smells.
You also definitely want to have a travel toothbrush in your carry-on. After my last meal on a long flight, and before landing, I always make a quick run to the bathroom to brush my teeth. You can also pack your own regular toothbrush if that's easier for you – and a travel sized toothpaste. That way you have the opportunity to quickly freshen up before landing. I also usually use another makeup removing wipe to remove any product I've put on, pop on a little BB cream and powder, and a swipe of mascara – just so that I feel like myself when I land.
Entertain Yourself.
I always try to bring a book with me when I travel, but sometimes work travel is last minute and I simply don't have time to find a book I like. I try to keep an Amazon wishlist of books I'd love to read someday (and I often check them out of the library instead of buying them, if possible), but if it's a last minute trip I try to ensure I have enough digital content to get me through my flight. Once, I flew on a transatlantic flight where there was a problem with the video screens in the seats – luckily I had downloaded two audio books and a Netflix series, so I had plenty to watch and listen to.
Bring that book you keep meaning to read.
Download podcasts you love before leaving for the airport.
Make a Spotify playlist of (offline accessible) music you love – I have a playlist I like to listen to on long journeys.
Download Netflix content you've been meaning to watch to your tablet or phone.
Download an audio book (Audible has a free trial!) or two before your flight.
If you enjoy drawing or writing, bring a small sketchbook or notepad and drawing instruments.
Bring Snacks.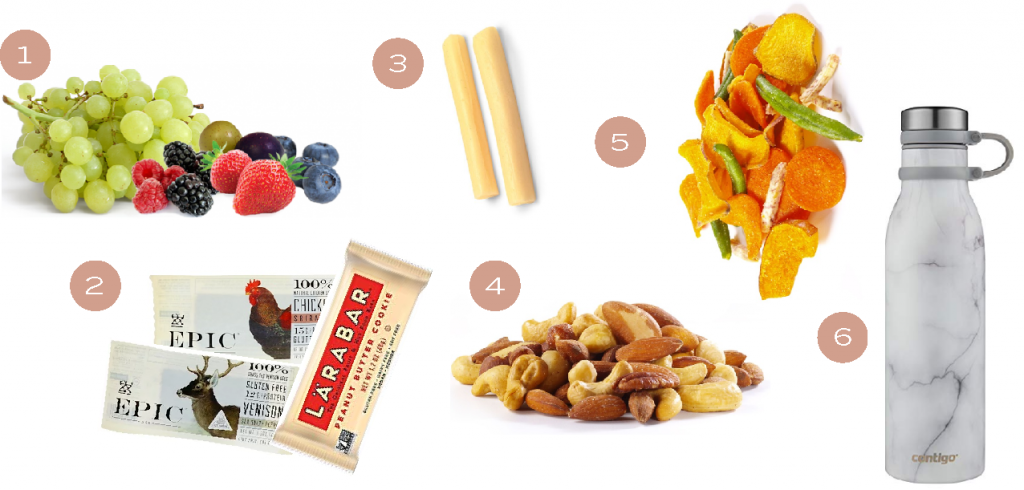 I typically order a special meal for my flights (I learned my lesson on a pork-filled flight from France many years ago), but food quality in economy class is usually pretty iffy. I nearly exclusively fly United these days, and their food can be downright inedible. Once, on a flight to Tel Aviv I was served a pasta in a grey, gluey sauce, that was sweet and tasted like cinnamon with unidentifiable chunks in it – essentially a kugel from hell. I was unable to choke it down, and so I spent the next ten hours subsisting on a single Larabar I'd luckily forgotten in my carry-on. Never again.
Now I make sure to bring actual food on a flight, so that I won't starve if the food is awful. I also always make sure I bring a water bottle, which I fill with water after passing through security. Sometimes I even bring my own tea (I'm British, after all). Here are some good options:
Fresh fruit (apple, tangerines, grapes, berries, dates, etc.)
Protein bars or dehydrated meat bars (I really like Epic's lamb and chicken bars)
Cheese sticks (mostly I bring these for my daughter)
Mixed Nuts (though given nut allergies, it may be best to check with anyone sitting close by that they are okay to eat)
Crackers or crunchy vegetable chips
A reusable water bottle, empty (fill after passing through security)
Long-Haul Travel with Kids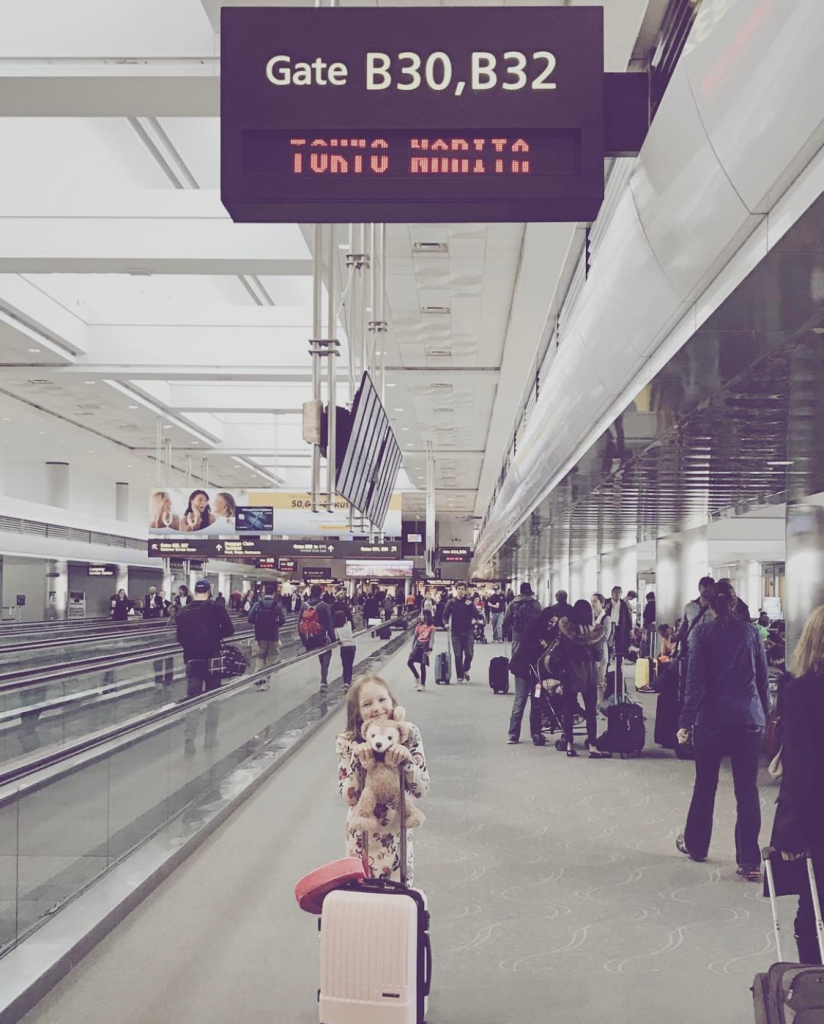 Admittedly, at the time of writing I only have one kid (if you don't include my husband). I grew up in a family that did a lot of long-haul travel, and we often visited relatives that were a 8+ hour flight away. We grew up as great travelers, partly because it was routine, but also because my mother would always make sure we were prepared before leaving. She was also terrifying (especially on an airplane for many hours with no smoking – sorry mum, if you're reading this) so we were well-behaved for that reason as well. You do not, however, need to strike fear into the hearts of your children to make them good travelers. Here are a few tips:
Bring Entertainment – load their iPad or tablet with offline games, their favourite (or new) films, or an audio book. Older kids (my daughter is nearly ten) may have favourite podcasts you can download in advance. Don't forget to bring headphones for their devices.
Get Them Excited About the Destination – long flights are hard for adults, let alone kids. I usually include a themed colouring book (and coloured pencils), and a fun kid's guide about the destination – or fiction book set in that locale.
Bring a Change of Clothes for Them, Too – remember when that passenger spilled water that soaked my kid? She would have been miserable if I hadn't packed a change of clothes. Kids are messy, prepare for the worst.
Bring Their Favourite Snacks – I'm not big on snacking between meals at home, but I let my daughter pick out her favourites before the flight so that she has something to look forward to (and if her airline meal isn't great. We generally have good luck with the kids meal options on most airlines).
Make them Comfortable, Too! – My daughter has her own travel pillow and blanket, and we let her bring a small comfort animal to fly with her. These items help her relax and get sleep on the plane.
A Final Word.
Despite all of these travel tips, sometimes things happen during travel that are unexpected. Delays, cancellations, less-than-considerate fellow travelers. The best thing you can do is to not stress about it and to try to have a positive attitude. Be kind to your fellow travelers. Maybe bring a small (edible, packaged) gift to your flight attendants (I usually bring locally made sweets or chocolates), as they have to work the entire long-haul flight instead of snacking and watching Netflix like you. Be nice to them, too.
Economy will never be first class, but you can still make the best of it. I still feel privileged to travel the world, even in economy – it's something few people have the opportunity to do. I hope these travel tips have given you some insight on how to make your next long-haul flight more comfortable, and if I've missed anything please comment below so I can include it! Bon voyage! And safe travels.