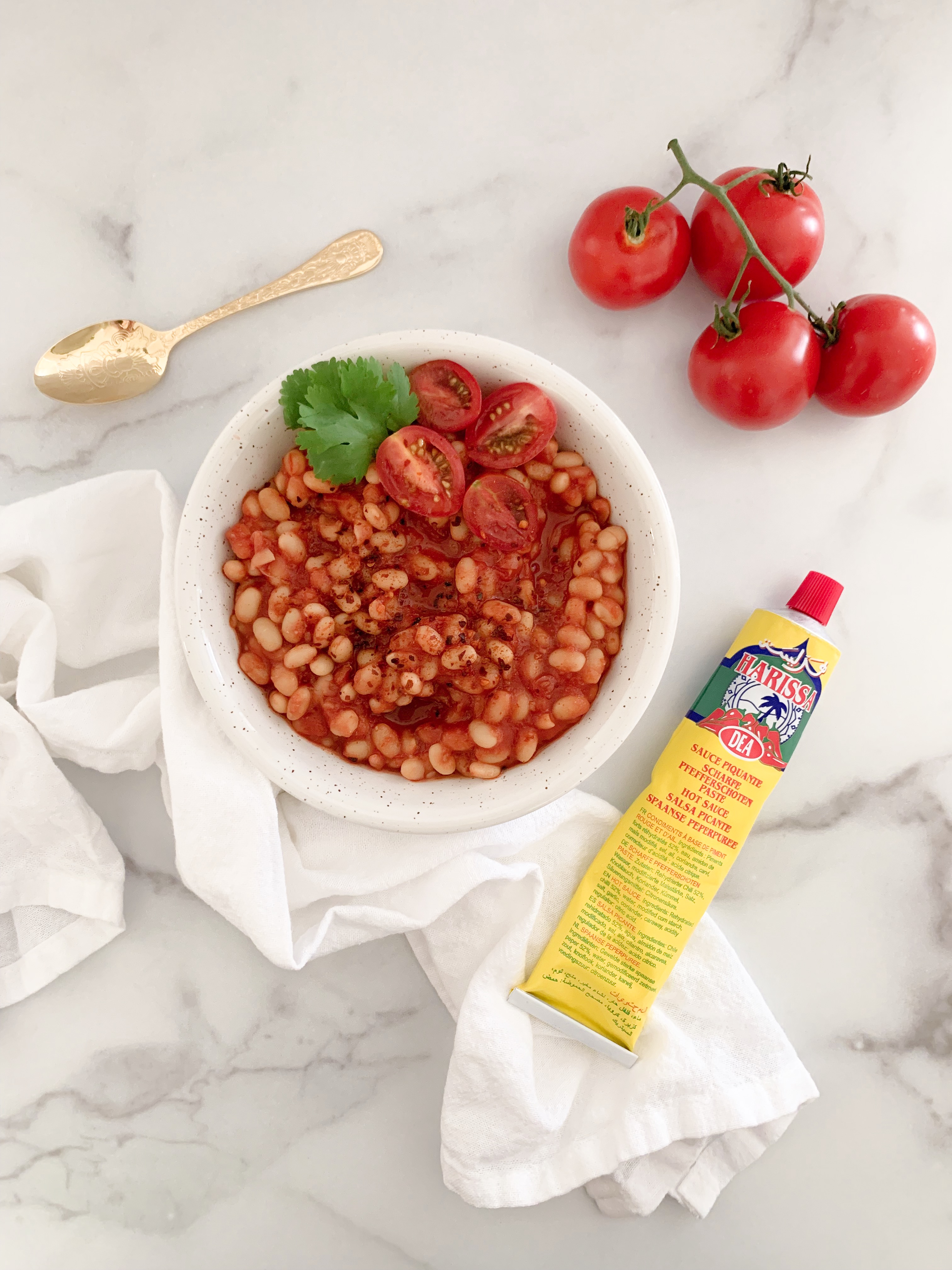 For those of you who don't know me personally, I grew up in Yorkshire, England. I have a soft spot for many English foods, especially as I live in the United States now. However, British food is often the butt of jokes. There's even a saying that goes:

"Heaven is where the police are British, the cooks are French, the mechanics German, the lovers Italian, and it's all organised by the Swiss. Hell is where the chefs are British, the mechanics French, the lovers Swiss, the police German, and it's all organised by the Italians."
I grew up on British food. It is indeed a smorgasbord of carbohydrates, often minimally seasoned, and likely from a tin. As a child in the British north in the late eighties, I remember (literally) crying at the tasteless, beige school dinners and undressed, wilted salads that were often placed in front of me. Classmates from primary school might remember a time when a dinner lady force-fed me a room-temperature semolina pudding, its thick, rubbery skin quivering on the spoon, while I sobbed. I should be scarred by British food, but now that I'm over a decade removed from England and living in America I miss a lot of the simple comfort foods I grew up on. One of those foods is a tin of Heinz beans poured over, well, anything.
Baked beans (of the tomato sauce variety, not the American variety which contain brown sugar and pork, typically) are ubiquitous in everyday British food. We eat them with a full English breakfast, we eat them on toast, we eat them on a jacket (baked) potato, we even eat them on pizza (I kid you not, next time you're in the UK check the frozen aisle of the supermarket for the Heinz beans pizza). This food, like most beloved British comfort foods, was likely something prevalent during war rationing, and so it stuck around forever. They are also cheap. In my youth you could get a tin of beans for 10p (around 25 cents at the time) and so they were a staple of families and poor students alike.
Now I live in America, and Heinz beans in my supermarket's 'ethnic aisle' (I know, I know) are $3.99 a tin, and of course, my daughter loves them, but I cringe at the thought of spending nearly $4 on what is essentially some beans with a bit of tomato sauce mixed in. So I decided to experiment and make my own baked beans at home in bulk. This way I can freeze them (the beans do break down a little upon defrosting, but not unpleasantly so) in individual portions and have them on hand for far, far less than what I'd spend in the supermarket. British expats rejoice! As long as you have a few basic ingredients on hand you can make beans that are almost indistinguishable from Heinz ones.
(If you're not interested in making your beans from scratch and want to skip to the harissa variety – you can do that by clicking here.)
First I'm going to teach you how to make British baked beans. From scratch.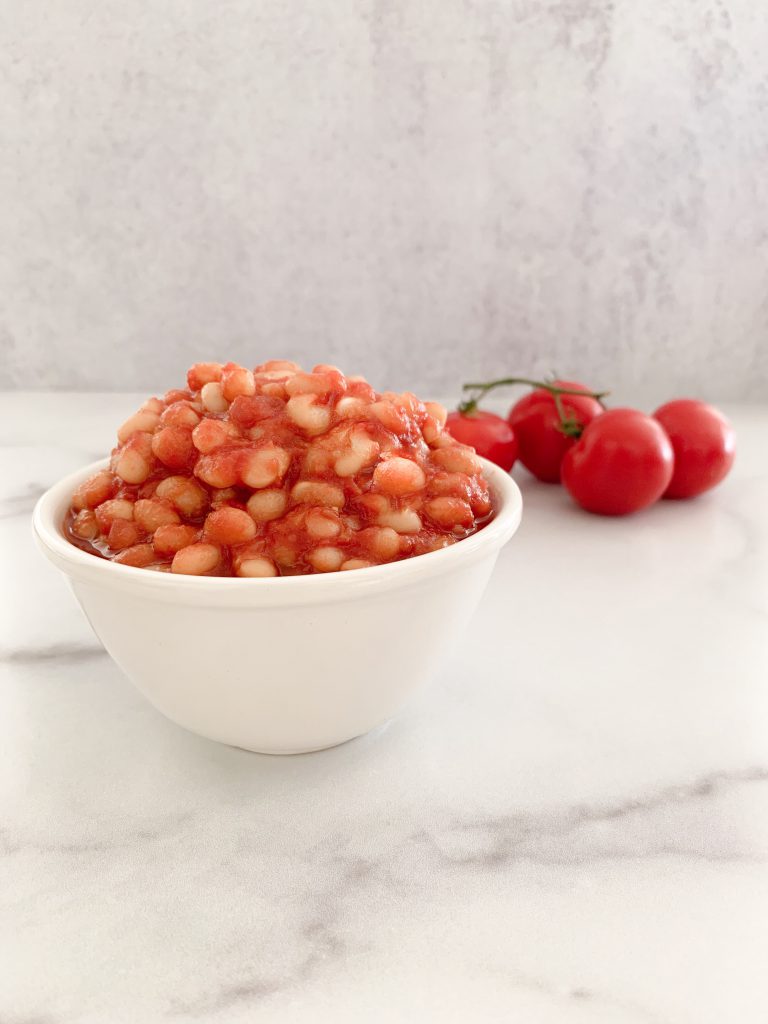 (If you want to skip to the British baked beans recipe, you can do that by clicking here.)
For my British readers, who will laugh at this since they have the luxury of popping down the road to Waitrose or Sainsburys and grabbing a tin of Heinz beans at ordinary British prices, if you want to make the harissa beans, you can of course simply add the harissa and a little cumin to your favourite brand of beans, heat, sprinkle with dry harissa seasoning (I love this one by NY Shuk) and you're ready to go. For the rest of us, or at least the expats cheap enough to make their own beans, here's how you do it.
First, you want the right kind of beans. The ones Heinz uses are small white haricot beans. You can use cannellini beans, but they are larger, softer, and it doesn't give the same beans to sauce ratio. Neither my local supermarket nor Whole Foods seemed to carry small white beans or navy beans, so I ordered online – these ones are absolutely perfect. They can also be used in a variety of other applications – bean salads, in stews and soups, or even cooked and ground into white bean paste as part of Japanese sweets (if you're an adventurous cook). Goya also has a tinned variety if dried beans aren't your thing (I'm a total bulk buyer / hoarder, so I love the savings and versatility of dried beans) but go with whatever is easiest and most convenient for you.
Next is the tomato sauce. I admit, I add a little Heinz ketchup for that authentic flavour. I also cook my beans with onions, garlic, and bay leaves – which gives a little extra flavour to the beans themselves. I also add a drizzle of olive oil – this helps mitigate the 'foaming' beans do when cooked:
Beans before cooking in the Instant Pot.

Beans after 30 minutes in the Instant Pot.
I cook mine, unsoaked in the Instant Pot (on pressure cook) for thirty minutes, with a natural release – this helps the beans keep their structure and shape after cooking. The tomato I included is optional. It didn't seem to add much flavour, so you can skip it. I mostly wanted to see the texture after pressure cooking (not bad, actually). Drain the cooking water from your beans and discard your bay leaves. The garlic and onion are now essentially puree after cooking, so you can keep those with the beans, they'll integrate into the sauce.
For your sauce, you'll want a large (28 ounce / 790g) tin of crushed tomatoes – with nothing added. You don't want fire roasted, you don't want ones with basil, just your ordinary tin of mushed up tomato (I'm partial to the San Marzano ones for their depth of flavour but any will do). Some Heinz ketchup (or any ketchup you like), and some tomato paste. A few spices, a little bit of salt and white pepper, and you've got a pretty close approximation of the Heinz ones. I make the sauce first then add the beans, cooking them on low heat in the sauce for just fifteen to twenty minutes to give the flavours time to work their way into the beans. They're not baked at all, despite the name.
Homemade British Baked Beans: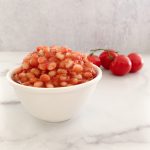 Print Recipe
Homemade British Baked Beans
When you can't find a tin of Heinz, this recipe will give you the British beans you know and love.
Equipment
Instant Pot (or a stock pot for cooking beans)

Large saucepan
Ingredients
For Dried Beans:
3

cups

dried small white beans

(600g)

2

Tbsp

olive oil

½

medium

onion, diced

2

cloves

garlic, minced

2

whole

bay leaves
For the Baked Bean Sauce:
28

ounces

tinned crushed tomatoes

(790g)

¼

cup

Heinz tomato ketchup

2

Tbsp

tomato paste

2

Tbsp

granulated sugar

¼

tsp

garlic powder

¼

tsp

onion powder

1

tsp

salt

½

tsp

white pepper
Instructions
To Cook Dried Beans (in Instant Pot):
Place (unsoaked) dried beans in Instant Pot. Add onion, garlic, olive oil, and bay leaves. Cover with enough water to fully submerge the beans, plus an inch or two – about six to eight cups water (1.5L).

Place on the lid, and set the Instant Pot to pressure cook for 30 minutes. Once the time has elapsed, allow the pressure to release naturally to preserve the shape of the beans.

Drain cooking water and discard the bay leaves, and make your sauce.
To Cook Dried Beans (on Stove):
Soak your beans in a large bowl, completely submerged, overnight – or for at least 8 hours. When ready to cook, drain and discard soaking water.

In a large stock pot place your beans, onion, garlic, olive oil, and bay leaves. Add 6-8 cups of water (1.5L or so). Bring to a boil, then reduce heat to medium high and simmer for about an hour – check the beans for doneness, and if needed, cook for up to another hour.

Once fully cooked, drain cooking water, discard bay leaves, and make your sauce.
For the Sauce:
Add all of your ingredients to the saucepan, and over medium heat bring to a simmer to allow all the flavours to combine. Add more ketchup if needed (I won't judge you). Once the sauce tastes good, add your beans and allow to cook for 15-20 minutes until they take on the flavour of the sauce. You may wish to add more salt at this point. Remove from heat and serve warm. You can also portion and freeze for up to three months.
Notes
This recipe makes a lot of beans, which I recommend portioning into small containers and freezing. The recipe can easily be halved if fewer beans are required.
These beans will keep in the freezer for up to 3 months.
If you're looking to spice up a full English breakfast, or beans on toast and want something with a bit more flavour, you can fancy up your baked beans with a little seasoning and some harissa paste, for something that's still British, but that doesn't reinforce the stereotype of bland food. It's perfect with eggs, sauteed mushrooms, and merguez sausage as a North African take on a full English breakfast:
Harissa Baked Beans: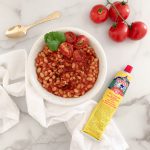 Print Recipe
Harissa Baked Beans
These spicy beans in a harissa tomato sauce are great for breakfast, on toast, or even as part of a mezze.
Ingredients
28

ounces

British baked beans in tomato sauce

(790g, or two standard size tins)

2-4

Tbsp

harissa paste

(taste yours, as they vary in spiciness)

½

tsp

ground cumin

1

tsp

dried harissa spice

plus more, for garnish
Instructions
In your saucepan combine all ingredients over medium heat, until lightly simmering. Once fully heated and combined remove from the heat and serve as part of breakfast, or a mezze.