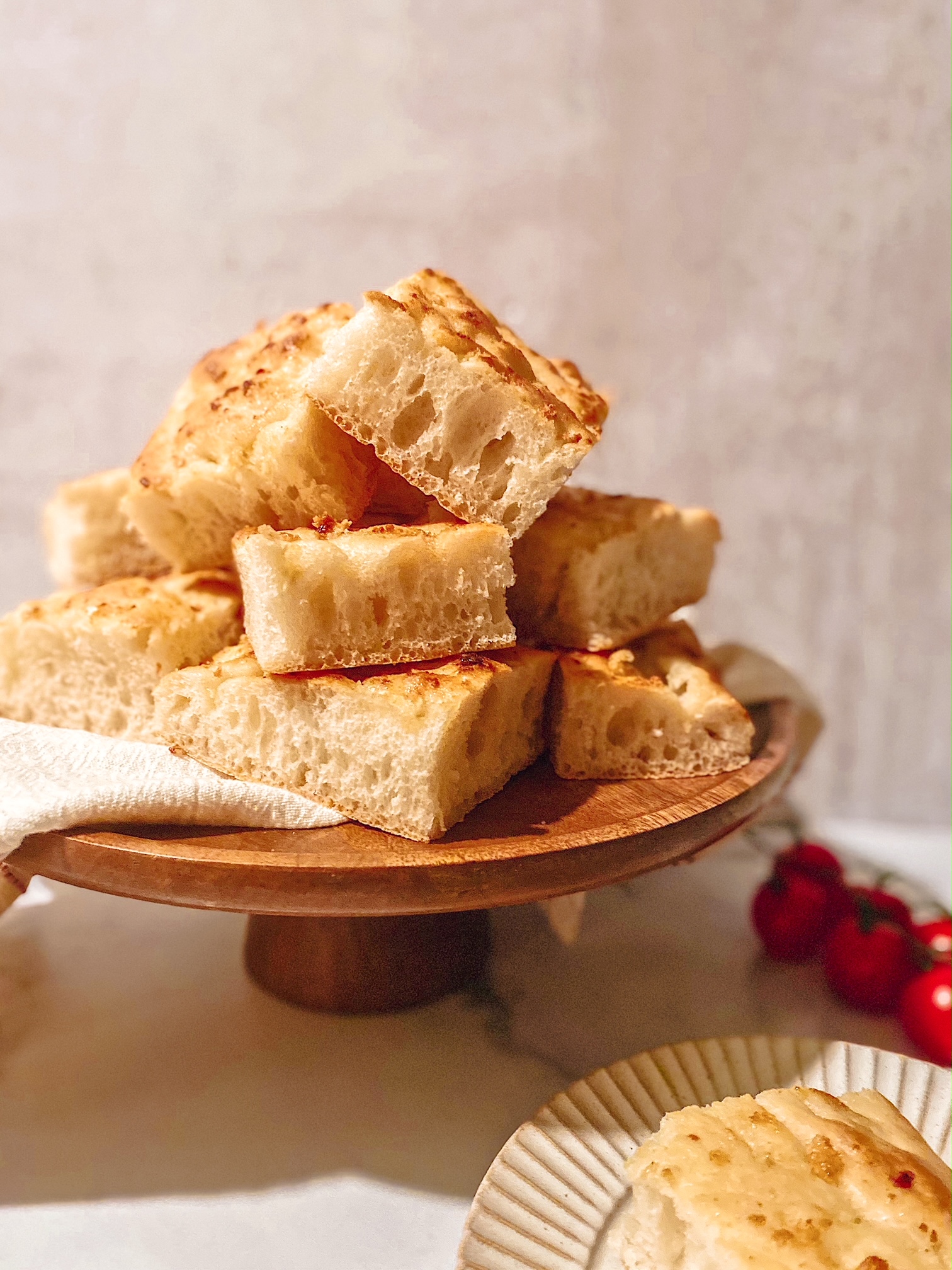 In my previously documented adventures with coronavirus-induced anosmia (and then parosmia), the taste of garlic was one of the first things I noticed tasted 'wrong', after onions. This presented a problem because we, as a family, eat a lot of garlic.
It has taken months, but I am finally able to eat garlic again and have it taste normal, and so when we had a spaghetti dinner to use the last of our homemade marinara from our garden tomatoes, I thought this quick, easy talami bread recipe adapted into a garlic bread would be absolutely perfect. This recipe is parve (so it can be eaten with a meat meal if you keep kosher), and totally vegan.
This recipe does use toum, a Lebanese garlic sauce made from garlic, oil, salt, and lemon. Trader Joe's actually does a pretty decent toum – branded as garlic dip, if you happen to live near one and don't fancy making it yourself. If you don't have any on hand, just substitute with a little more olive oil – maybe with a little garlic paste mixed in if you do have that.
This bread is seriously foolproof, and since it only requires one proofing, is a relatively quick way to get fresh, hot bread on your table, even if you've never baked a loaf of bread in your life.

NB. This recipe is similar to one provided by Maureen Abood, at her website, and although the recipe below utilises some different ingredients (including dairy), is another great option for a garlic bread style talami / talame bread.
Making Talami / Talame
A few things to note – your dough is going to be sticky, don't add more flour. I know this seems counter-intuitive, especially if you bake bread regularly, but trust me on this one. You want this loaf to be soft and pillowy, and extra flour isn't going to help that. I typically use a stand mixer for the dough, and then pour onto the baking sheet, using well-oiled hands to spread it out into one large loaf that covers the pan. After an hour or so of proofing, your bread should be ready to top with the garlic mixture – and then the fun part, using your fingertips to create little divots in what will become the super golden, garlicky crust:
Once you've cooled your bread loaf (I recommend a wire rack), you can slice into individual pieces, ready to serve.
Recipes for Talami, and the Garlic Topping: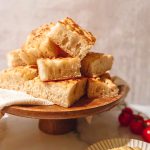 Print Recipe
Garlic Topping for Talami / Talame Bread
Coat the top of your talami loaf with this before baking to make a delicious Lebanese style garlic bread.
Ingredients
1

Tbsp

prepared toum

you can omit and substitute with more olive oil if you don't have any on hand

1

Tbsp

good olive oil

8

cloves

garlic, finely chopped

½

tsp

garlic powder

I like the roasted garlic powder from the Spice House

½

tsp

sea salt
Instructions
Combine ingredients together. Once your bread has proofed for the first time, evenly coat the top of the bread with the mixture using your hands. Afterwards, use your fingertips to make divots in the dough before baking (see talami recipe).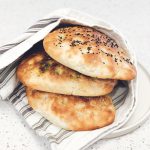 Print Recipe
Lebanese Talami / Talame Bread
This Lebanese flatbread is the perfect accompaniment to a bowl of lentil soup, or dipped in olive oil.
Ingredients
1

package

active dry yeast

(2 ¼ tsp)

2

Tbsp

granulated sugar

¼

cup

warm water

105°-110° Fahrenheit

2

cups

warm water

105°-110° Fahrenheit

4¼

cups

unbleached, all-purpose flour

1

Tbsp

kosher salt

2½

Tbsp

oil

any high heat oil (like canola, safflower) works well
Instructions
Combine your yeast, sugar, and ¼ cup warm water in the bowl of your stand mixer. Stir gently to combine and let sit for 10 minutes to allow the yeast to activate. After 10 minutes your yeast should be bubbling / frothy.

In a separate bowl, combine your flour and salt – stir to combine.

Attach the paddle to your mixer and add the rest of the water and 2 cups of flour, using low speed to combine. The dough will be sticky, resist the temptation to add more flour!

Add the remaining flour and beat on medium high for 5-7 minutes. The dough may travel up the hook, or cause the machine to shake – so keep your eye on the mixer during this time.

Prepare a large baking sheet / pizza stone / pizza tray with parchment. You can scrape the dough out using a spatula onto the baking sheet. Using 1 Tbsp of the oil and your hands (you want your hands to be oily), either flatten as one large loaf or separate the dough into four pieces with your (well-oiled!) hands. Round and flatten each piece slightly and place on the parchment. Take some more of your oil and lightly pat the tops of each dough round with it – this helps prevent the plastic from sticking and gives a nice golden crust at the end.

Cover with plastic wrap and a tea towel and leave in a warm place to rise for an hour and a half.

Preheat your oven to 425° Fahrenheit (or 400° if convection).

After the dough has risen, remove the plastic and use your fingertips to create little divots in the dough. Pat the remaining oil into the tops of the dough and sprinkle with sesame, za'atar, nigella, or whatever herb or seed you choose.

Place the tray into your preheated oven for 20 minutes, or until the bread is risen and golden brown.