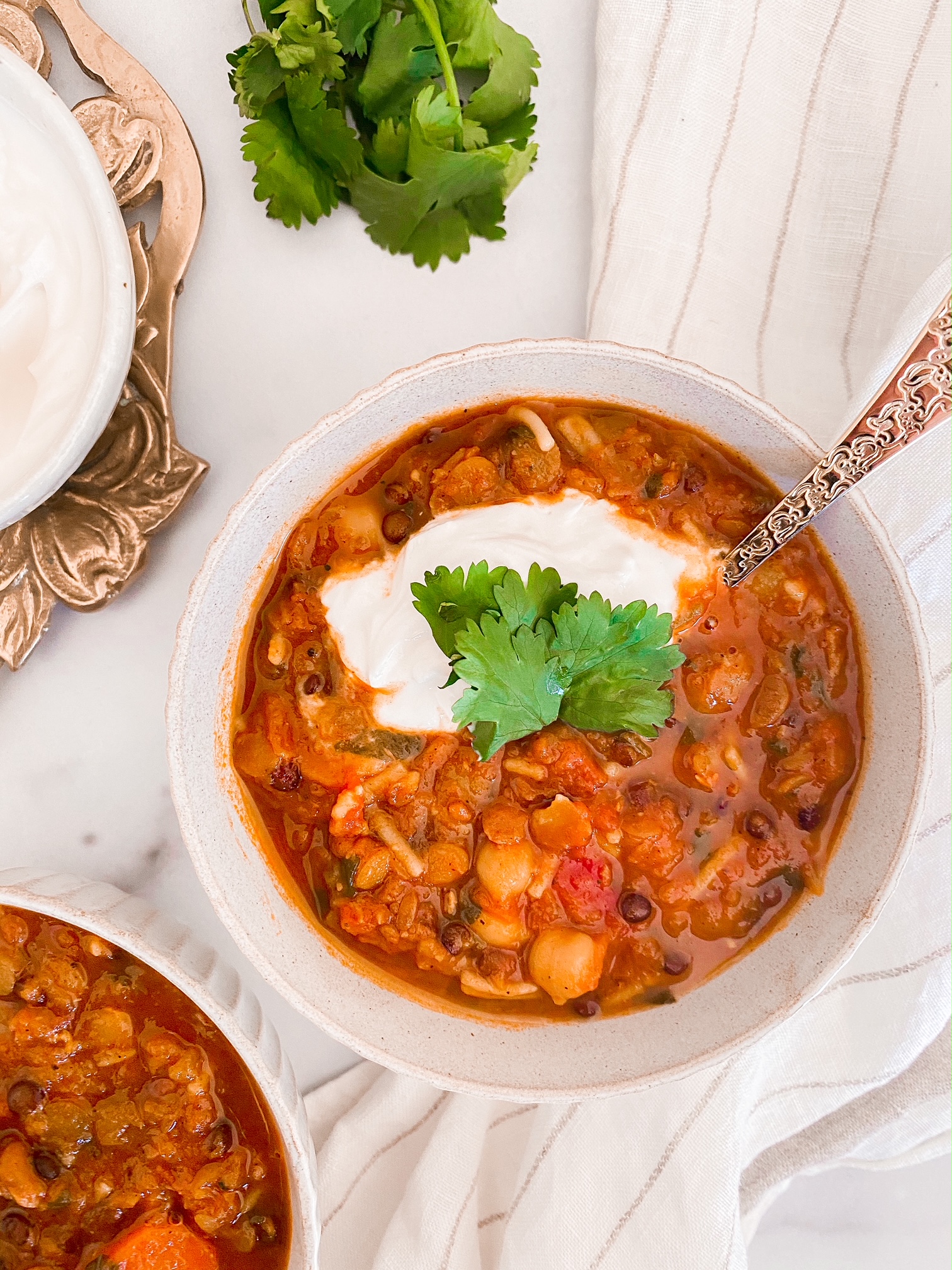 The weather here isn't bitterly cold this winter, a welcome reprieve from our sometimes intense Colorado weather, but we're still eating soup pretty regularly, and harira is one of our favourites for its simplicity and the fact that it's quick to prepare.
Harira is a tomato-based Moroccan soup seasoned with a variety of different warming spices. While traditionally harira contains meat (you can add stew meat, chicken, or ground meat like lamb or beef), it is still delicious and healthy without it – as I've done here. Since our family is trying to cut down on meat (for health, environmental, and budget reasons) we typically eat this soup as a main course without any meat added. As is, the recipe is totally vegan (and parve), and can be served as a hearty meal with fresh bread, or as a starter. (If you decide you want to add meat, brown the meat in the pan, remove, and then add when you add the broth – this will ensure it becomes tender as the soup cooks). Every family has a slightly different take on this soup and so often recipes will vary, but this one is very typical so if you've enjoyed harira in Morocco the flavour should be familiar to you.
Often harira is thickened with smen (a type of salted, fermented butter) and flour, but since this soup is already quite thick, and to avoid dairy I have omitted them. I like to use harissa paste in my harira, since I like a bit of spice, and you can definitely up that here if you desire – but if you prefer a milder soup you can omit it. I really love NY Shuk's harissa with preserved lemon here as it is a little spicy and tangy, but any harissa will do. You can also add other vegetables – I like carrots, but celery is also good here, bell pepper, hot peppers if you like things spicy, or any other vegetable you desire will probably work here – though I would avoid starchy vegetables since the chickpeas, lentils, and pasta (or rice) provides plenty of that.
I serve the harira with laban (plain yogurt) and fresh herbs (chopped fresh coriander/cilantro and/or parsley are great here). We typically eat this with bread, Lebanese talami or traditional Arabic khubz work well with this recipe!
Harira Recipe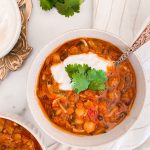 Print Recipe
Harira – Moroccan Tomato & Lentil Soup
This hearty tomato-based soup features lentils, chickpeas, and pasta (or rice) for a filling vegetarian meal or as a starter.
Equipment
A large stockpot (5 quarts), or Instant Pot
Ingredients
2

Tbsp

good olive oil

1

large

yellow (or sweet) onion, grated

1

Tbsp

dried ginger, ground

1½

tsp

black pepper, freshly ground

1

tsp

turmeric, ground

I love Diaspora Co's Pragati turmeric for this recipe

½

tsp

coriander, ground

½

tsp

cinnamon, ground

(or 1 cinnamon stick, whole – remove before serving)

3

Tbsp

tomato paste

½

Tbsp

harissa paste

(or more, if you prefer it spicier) I like NY Shuk's harissa with preserved lemon for this recipe

4

cups

vegetable broth

(2 pints or 946ml) You can also use beef broth here, I use 'Better than Bouillon' brand

28

ounces

tinned crushed tomatoes

(790g)

2

cups

water

(1 pint or 473ml)

1

cup

green or brown lentils

(190g) I use 3/4 brown lentils and 1/4 black lentils for texture

16

ounces

chickpeas, tinned – rinsed and drained

(454g)

2

medium

carrots, peeled and sliced into rounds

¼

cup

broken vermicelli noodles or white rice

(50g)

2

tsp

salt

(or more, to taste)

½

cup

cilantro (fresh coriander), roughly chopped

(20g) plus more for serving

½

cup

flat leaf (Italian) parsley, roughly chopped

(20g) plus more for serving
Instructions
In your stock pot, over medium heat, add your olive oil. Wait until the olive oil has warmed, then add your grated onion and cook for 5-7 minutes, until it is soft and translucent.

Add all of your spices (and more olive oil if needed to coat the mixture), and continue to cook until fragrant (1-2 minutes).

Add your tomato paste and harissa, and stir until combined – you'll have a thick paste at this point.

Now add your broth, tomato paste, and water. Stir to combine. Add your carrots and dried lentils, stirring well, and turn the heat down to low. Simmer, covered, for 40 minutes until both lentils and carrots are soft. You may need to check it mid-way and add a little more water if the soup looks too thick.

Once your carrots and lentils are soft, add your chickpeas and pasta, and cook for another 5-10 minutes until the pasta is al dente, or soft enough for your liking. Stir in your fresh herbs, and salt to taste. Simmer for another couple of minutes, and serve garnished with fresh herbs.
Notes
This soup will keep in the fridge for about five days, and freezes well.
I like this garnished with lots of fresh herbs, topped with a little yogurt, and with talami bread served alongside. It is very hearty and suitable as a main meal.