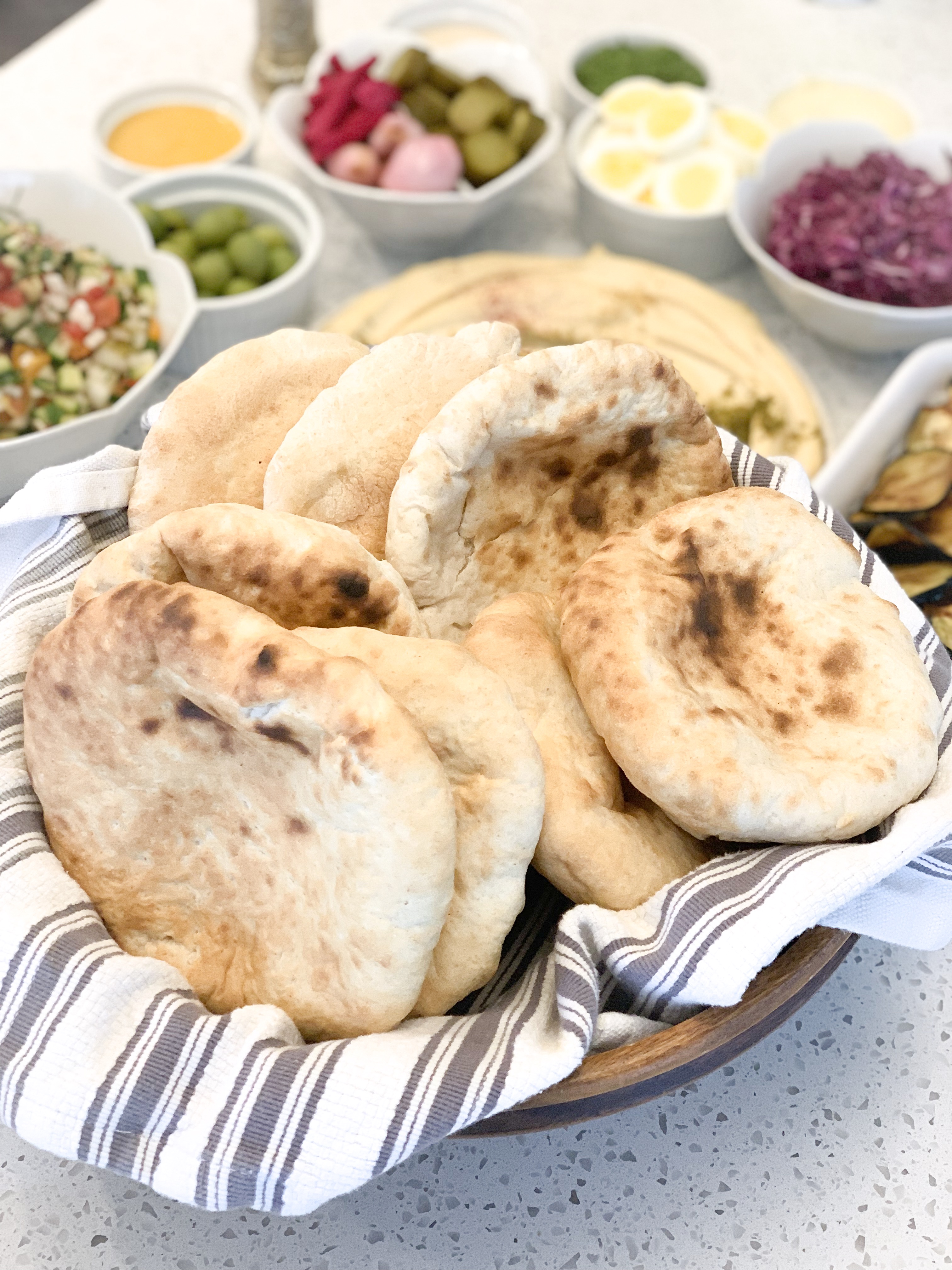 Last night was sabich night at our house. Sabich is a fried aubergine (eggplant) sandwich which has its origins in Iraqi Jewish cuisine. While I count us very lucky to live a short-ish drive from an Arab supermarket, I didn't have time to go there to buy bread and so I made my go-to recipe. Making this type of bread (khubz in Arabic, pita – as it is more widely known from Greek) is surprisingly simple, and you'll likely never want to buy it from the supermarket again!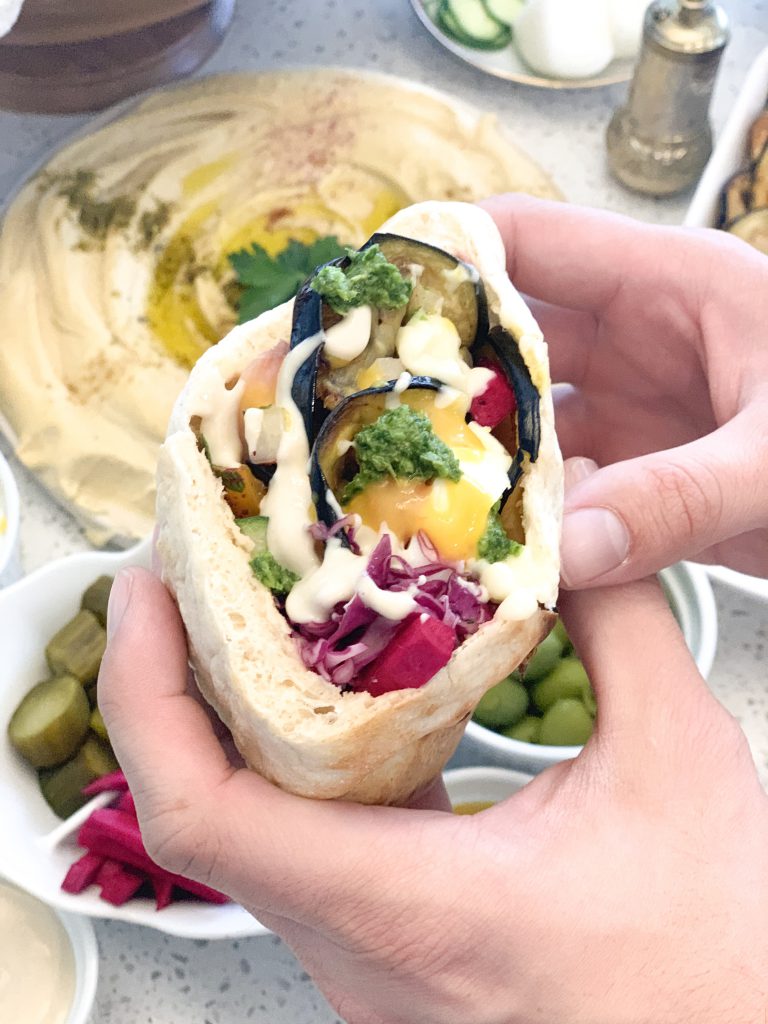 This recipe involves a good deal of proofing, but it's worth the end result. I use a little whole wheat flour added to the bread flour (I like King Arthur flours personally) to give it a little more texture / chew – but feel free to substitute with regular white flour if you don't have it on hand. This recipe makes eight standard sized breads, but if you have a mixer large enough to accommodate you should double the recipe as these freeze really well!

These pita are perfect for stuffing, or simply for ripping into pieces and dipping into homemade hummus, baba ghanouj, or muhammara. The broiler method of cooking them lends a subtle smokiness, that is nearly as good as a wood-fired oven. We live in an apartment with a very sensitive smoke detector, and my neighbours were probably certain I'd set my kitchen on fire, but it was absolutely worth it. Sorry, neighbours. I'm hoping to try these on a wood fired grill soon and will report back with the results.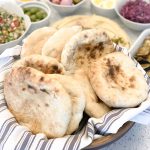 Print Recipe
Khubz Arabi – Pita Bread
This fluffy hollow bread is perfect for stuffing with whatever you like.
Ingredients
1 ¾

cup

warm water

1

tsp

active dry yeast

2

Tbsp

oil (plus extra for greasing bowl)

safflower, organic canola, sunflower, or any other mild tasting oil

4

cups

bread flour

¼

cup

whole wheat flour

can be substituted with all purpose, if needed

3

tsp

kosher salt
Instructions
Preparing the Dough:
Place your yeast, warm water, and oil in the bowl of your stand mixer, or a large mixing bowl. Allow to sit for 5-10 minutes.

Add your flours and salt to the yeast mixture, and using a dough hook (or a spatula), mix the ingredients until a dough forms, occasionally scraping any flour on the sides of the bowl. Using a dough hook or your hands – knead (stand mixer: medium speed) for 4 minutes until the dough is pliable.

Place in a lightly oiled bowl, cover with a cloth, and allow to rise for one hour.

Remove from the bowl, fold each side towards the middle to form a round, flip upside down, then place back in the bowl and rest for another hour.

Repeat the folding again, and then rise for a final time – for at least 2 hours (or in the refrigerator for up to 2 days – make sure to oil the top of your dough if you do this so that it doesn't harden, and cover the dough with plastic wrap.
Baking the Bread:
Preheat your oven and either a baking stone or a sheet pan to 500°F/260°C. Set a timer for an hour. Place the baking stone / sheet close to the broiler (but no closer than 6" (15cm) from the coils, as you do not want the bread to puff up and touch it / burn.

Create a log shape with the dough and cut into eight equal parts (I use a kitchen scale to help ensure they are evenly-sized. Knead each piece and shape into a ball, then roll thinly until they are around 8" (20cm) in diameter.

Once the hour of oven heating has elapsed, turn on your broiler. Two or three at a time (depending on size) drop your flattened rounds on to the stone / sheet. They will take anywhere between 30 seconds to 2 minutes to puff up and cook / brown. Once one side is almost fully browned use tongs to flip it over and cook the other side.

Place cooked pita in a bowl or plate with a clean cloth to cover and keep warm.