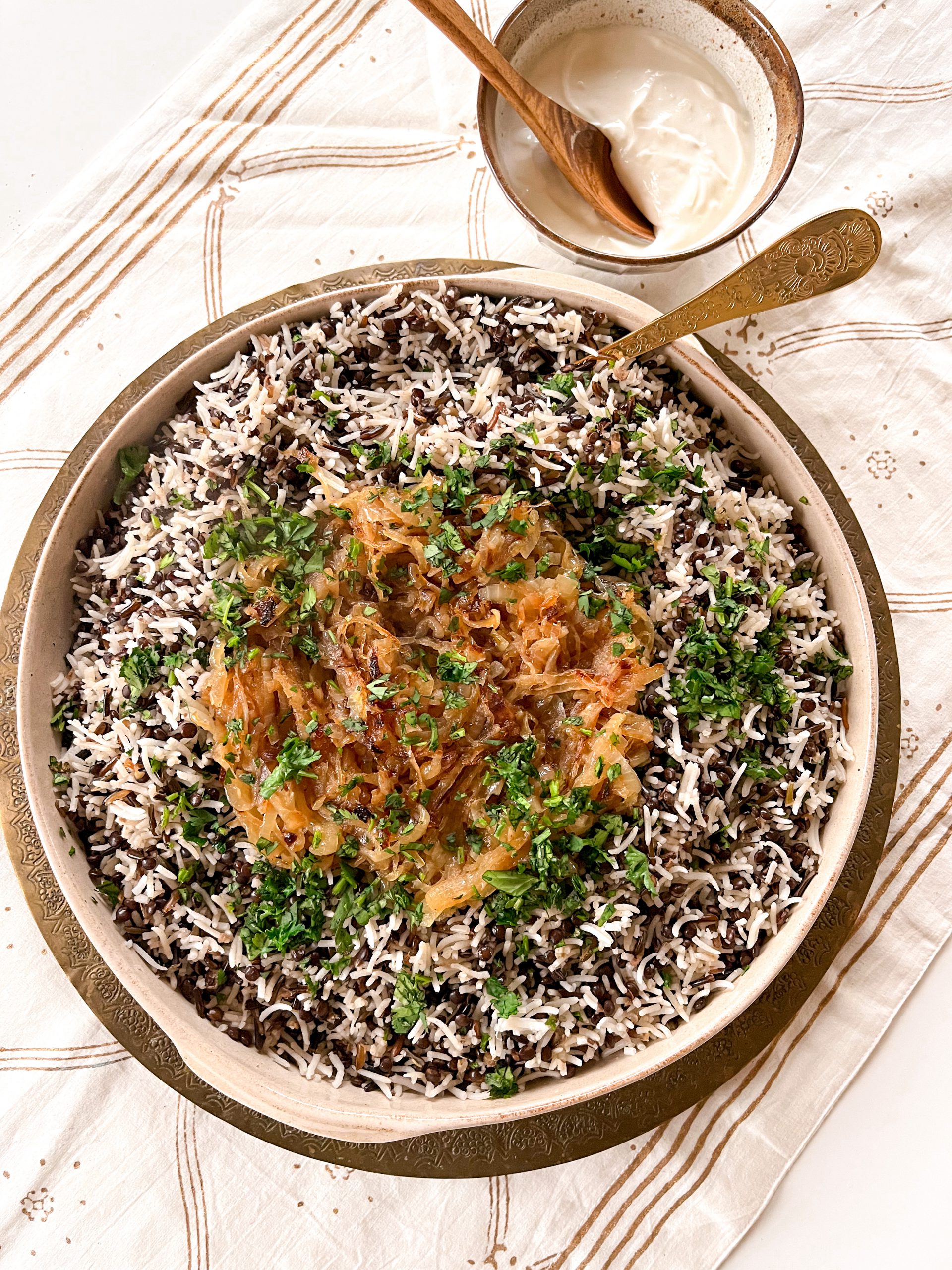 Colorado has decided that in May it is still actually winter (it snowed yesterday), and thus instead of summery salads and grilled things I'm making comfort food (that is to say: delicious carbs). Mujadarrah is a basic 'peasant' dish of rice and lentils, and is traditionally topped with caramelised or fried onions. During university, this was my go-to food (I jokingly refer to it as the ramen of the Middle East), as it's incredibly simple and inexpensive but filling.
In this dish I've used black 'caviar' lentils, but I also love French green lentils. You don't want to use softer red or yellow lentils, as they'll turn to mush. This recipe makes a lot of food – easily enough for six to eight adult-size servings. I like to pair with Greek yogurt mixed with toum (or even fresh garlic or even garlic powder in a pinch) and salt, and a handful of parsley or fresh coriander to add some colour. While it's not the most beautiful dish, it's hearty and comforting. Without the yogurt (or substituting a vegan Greek yogurt) this dish is both parve and vegan. If you absolutely must have meat, it can easily be paired with leftover hashweh (ground meat) from other recipes.

I've taken to substituting a third of the lentils with wild rice (which I cook separately in a pan of vegetable broth as it takes quite a long time to cook – around 40-50 minutes), which is certainly not traditional but helps add essential amino acids which are beneficial to health, as well as a nice texture to the finished dish.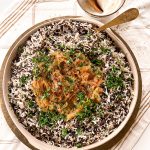 Print Recipe
Mujadarrah
Middle Eastern rice and lentil dish topped with caramelised onion.
Ingredients
For the Caramelised Onion:
¼

cup

olive oil

4

large

sweet onions, chopped into thin rounds

yellow / brown onions are also good

1

teaspoon

salt
For the Mujadarrah:
1 ½

cups

French green lentils

or black lentils

1

cup

basmati rice

3 ½

cups

vegetable broth

or water

1 ½

tsp

salt

1

stick

cinnamon

1

tsp

cumin

½

tsp

allspice

½

tsp

white pepper

or black pepper
For Serving:
¼

cup

Greek yogurt with toum, or garlic powder and salt

optional, to garnish

¼

cup

parsley

coarsely chopped
Instructions
For the Caramelised Onion:
In a large, deep pan (such as a Dutch oven) add your olive oil and heat to medium. Once it is sufficiently hot, add your sliced onion and salt.

Monitor the onions, moving them around the pan every 2 minutes or so to prevent burning. Saute until they are fully soft and caramelised – this can take 30 to 40 minutes. Be patient, as you don't want to burn them.

Once your onions are ready, remove from the pan into a separate bowl and leave to rest while you prepare the mujadarrah.
For the Mujadarrah:
Wash and inspect your lentils and rice to ensure there are no rocks or other unpleasant things lurking in them.

In the same pan you used for the onions, add your broth to deglaze any stuck on onion bits, and bring to a boil.

Add your lentils and spices and cook for 10-15 minutes over medium high heat until they are al dente (that is, not rock hard!). Skim off any scum from the lentils.

Once lentils are somewhat softened, add your rice and and continue to cook until all water is absorbed and your rice is fluffy (roughly 20-30 minutes). Remove the cinnamon stick once all water is gone. You will want to stir to ensure the rice doesn't burn to the bottom of your pan.

Serve topped with the caramelised onion, yogurt, and parsley.
Notes
While short grain rice is traditional, I prefer the texture of long grain rice in this dish. 
* This recipe was updated with new photos and some additional information in March 2022.