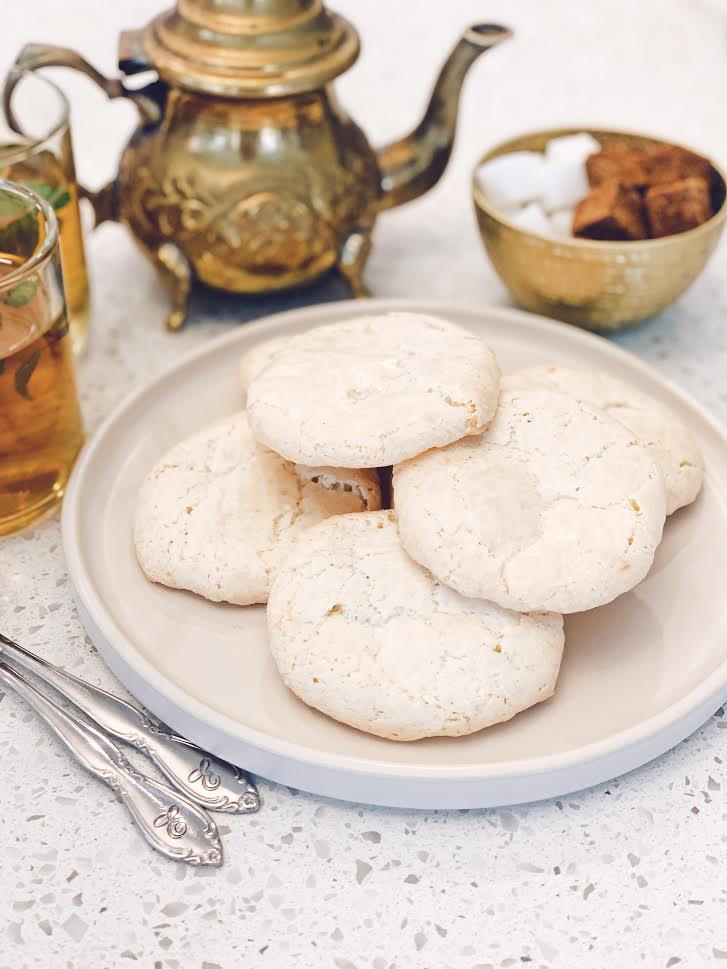 My husband and I attended an Easter gathering at a friend's house, which happened to fall during Passover. I brought these kosher for Passover macaroons (mostly for me, so I'd have something for dessert) but also in case anyone else happened to be sensitive to gluten or dairy (as this recipe contains neither). A few moments in to the dessert course the host overheard many people asking 'who made these white cookies?' that she had to find me to pass on the recipe.
Coconut macaroons are popular in the United States during Passover, where Ashkenazim make up the vast majority of American Jews. While I absolutely love a good coconut macaroon (Ina Garten's recipe is a favourite) I find them a bit heavy, where these are lighter with a crispy outside and soft centre. These Syrian macaroons have their origins in the Ottoman empire – where they were called louzieh – from the Arabic word for almond: لوز / louz. Mizrahi Jews adopted them as a Passover treat, as they are free from grain.
These almond macaroons are simple to make and while they're not especially beautiful, their delicate almond and orange blossom flavour is a perfect addition to your Passover dessert table, or for any time of year.

* Please note – this recipe contains confectioner's sugar (powdered sugar) which some Jews do not consume during Passover as it contains corn. If corn cannot be consumed you can substitute with this recipe.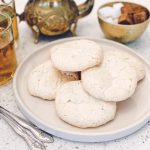 Print Recipe
Syrian Almond Macaroons
These simple almond macaroons are perfect for Passover.
Ingredients
egg whites from 3 large eggs

room temperature

pinch

salt

200

grams

ground blanched almonds

(7 ounces – just under 2 cups)

200

grams

confectioner's sugar

(7 ounces)

1

tsp

fresh orange zest

1

tsp

orange blossom water
Instructions
Separate the whites from three large eggs, and sit at room temperature for 30 minutes.

Preheat your oven to 300° (150°C).

Beat your eggs on medium-low in a stand mixer, or with a hand mixer until foamy. Add your salt, and continue to beat at medium speed for another 5-8 minutes, until stiff peaks have formed.

Add in your confectioner's sugar and ground almonds, one tablespoon at a time, stirring gently with a spatula to combine. Add orange zest and orange blossom water, and stir gently to incorporate it into the mixture. The egg mixture likely won't be fluffy anymore, but that's okay. Do not over-mix.

Using a tablespoon, drop the mixture on to a parchment lined baking sheet, leaving at least 1.5 inches between them. Bake for 20 minutes until just slightly golden on the edges, then let rest for 10.
Notes
Grind your almonds in a (clean) coffee grinder or spice grinder to get a medium to coarse grind. Commercially produced almond flour is typically very fine and the texture may not be the same.
Confectioner's sugar is not kosher for Passover for Ashkenazim as it contains kitniyot. Use a substitute (like the one linked in the blog post) if necessary.