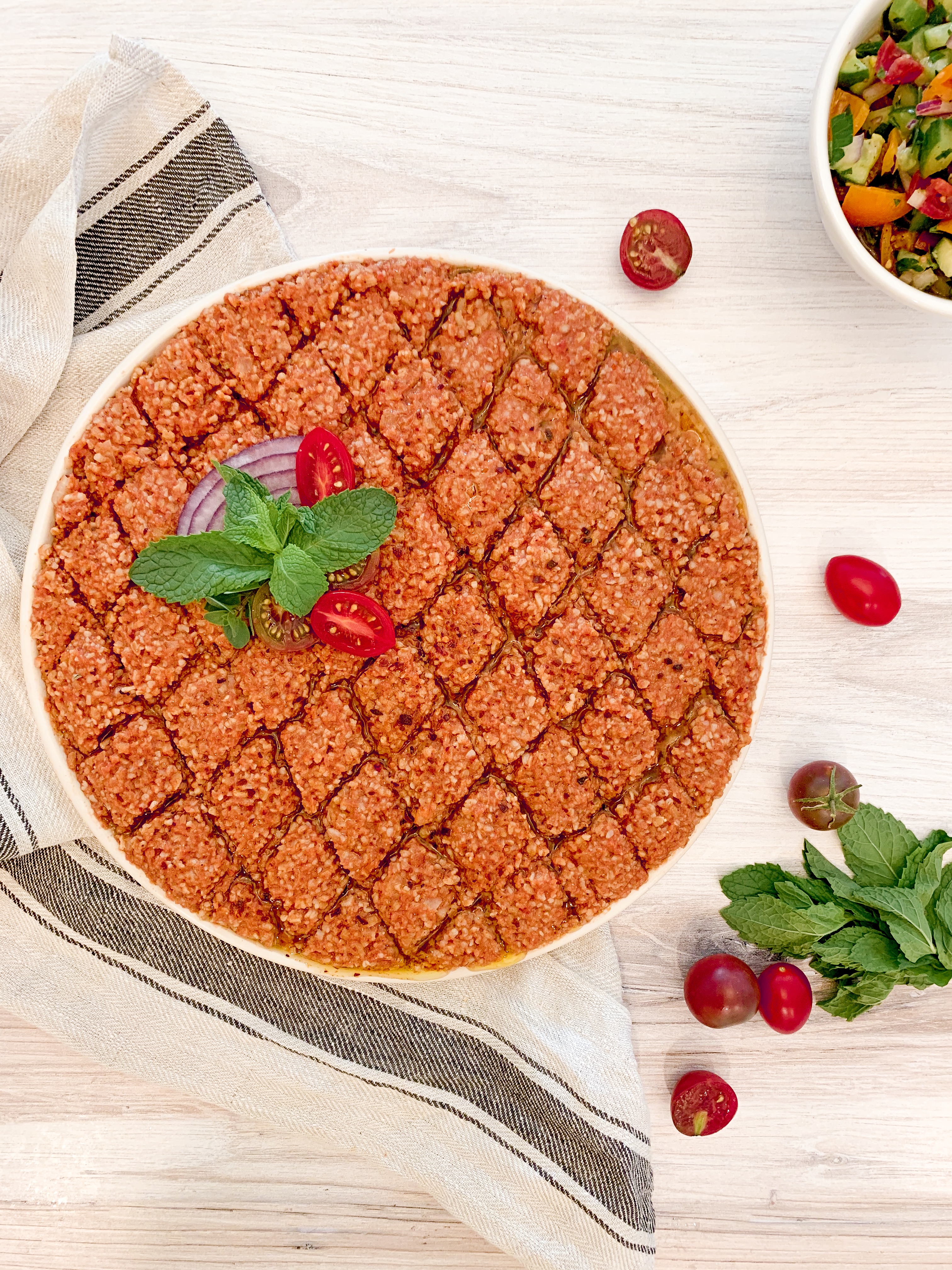 Summer is in full swing, and the last thing I want to do is heat up my kitchen, so we've been firing up the Instant Pot most evenings and eating a lot of salads. Our family is also trying to eat fewer meat meals, for health, budget, and environmental reasons – and so this vegan kibbeh is the perfect, healthy summer alternative to kibbeh nayeh (or raw kibbeh – think Lebanese lamb tartare). At first glance you could totally mistake this plate for the real deal, but it's brighter and fresher tasting – ready to be scooped up with homemade khubz / pita.
Kamounet banadoura is not a meal you'll find in a Lebanese restaurant, at least outside of Lebanon – it's a family dish that's mostly found in the South. It features the same kibbeh spice as a meat kibbeh – known as kamounet – from the Arabic word for cumin: kamoun (كمون) as well as burghul (or bulgur), though for this dish the darker (red) variety is used (you can absolutely use lighter burghul if it's all you have on hand, the colour will just be slightly lighter). Textures can range according to tastes – our family likes it pretty blended, but others prefer it chunkier, with larger pieces of tomato and onion. You can adjust the texture in the food processor to your preference, before adding the burghul. Because of the liquid in the tomatoes, there is no need to soak your burghul beforehand.
We enjoy spicy foods and so we like to add a half a Serrano pepper to the mixture) and garnish with a sprinkling of Aleppo pepper, but this is of course optional. Traditional garnishes are a drizzle of good olive oil (of course), fresh mint, parsley, and extra onion and tomatoes.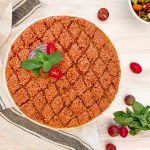 Print Recipe
Kamounet Banadoura (Vegan Tomato Kibbeh)
Kamounet banadoura is a southern Lebanese kibbeh made of tomatoes, which is vegan, healthy, and delicious. Add this colourful plate to your mezze table for vegans and omnivores alike.
Equipment
Food processor (not needed if you prefer your kamounet banadoura chunky!)
Ingredients
6 to 8

medium

tomatoes, peeled and chopped

(around 300g)

1

small

yellow onion, finely chopped

3

stalks

fresh mint

¼

cup

fresh parsley, coarsley chopped

2

Tbsp

tomato paste

2

Tbsp

olive oil

plus more, for serving

½

Serrano pepper (optional), seeded and chopped

if you like spicy foods

1

Tbsp

kamounet (kibbeh spice)

recipe below

½

cup

dark (red) fine burghul / bulgur

(110g) ordinary (light) burghul is also fine

salt and pepper to taste

Aleppo pepper (optional)

for garnish
Instructions
If you prefer your kamounet banadoura chunky, you need not use a food processor – just chop and combine ingredients.

In a food processor, combine tomatoes, onion, mint, parsley, tomato paste, olive oil, serrano (if using), and kibbeh spice. Pulse until desired consistency is reached. (It may be rather liquidy, don't worry – once you add the burghul it will soak up this liquid and become thicker (like hummus).

Pour into a bowl, and mix in burghul and stir. Add salt and pepper to taste. Let the mixture sit (either in the fridge or at room temperature for 15-20 minutes) to allow the burghul to absorb the liquid and soften.

Garnish with herbs and sprinkle with Aleppo pepper (if desired). Serve with fresh, warm khubz / pita bread.
Notes
If you only have coarse burghul you can grind to a finer consistency if desired in a spice grinder, Vitamix, or (clean!) coffee grinder.
Another variation is to add a quarter cup of finely chopped walnuts to the mix at the end with the burghul, if desired.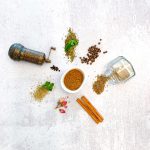 Print Recipe
Kamounet (Kibbeh Spice)
Kamounet, or kibbeh spice, is used to season various types of kibbeh. Recipes vary from family to family, so feel free to adjust this one to your tastes – the only essential ingredient is cumin (kamoun in Arabic).
Equipment
Spice (or clean coffee) grinder or mortar and pestle
Ingredients
4

Tbsp

cumin seeds

2

whole

cinnamon sticks

10

black

peppercorns

4

dried roses

1

Tbsp

dried marjoram

1

Tbsp

dried spearmint

1

Tbsp

allspice berries
Instructions
Grind all ingredients, store in a cool, dark place.
Notes
This recipe will make enough for 5-6 family sized batches of kibbeh.