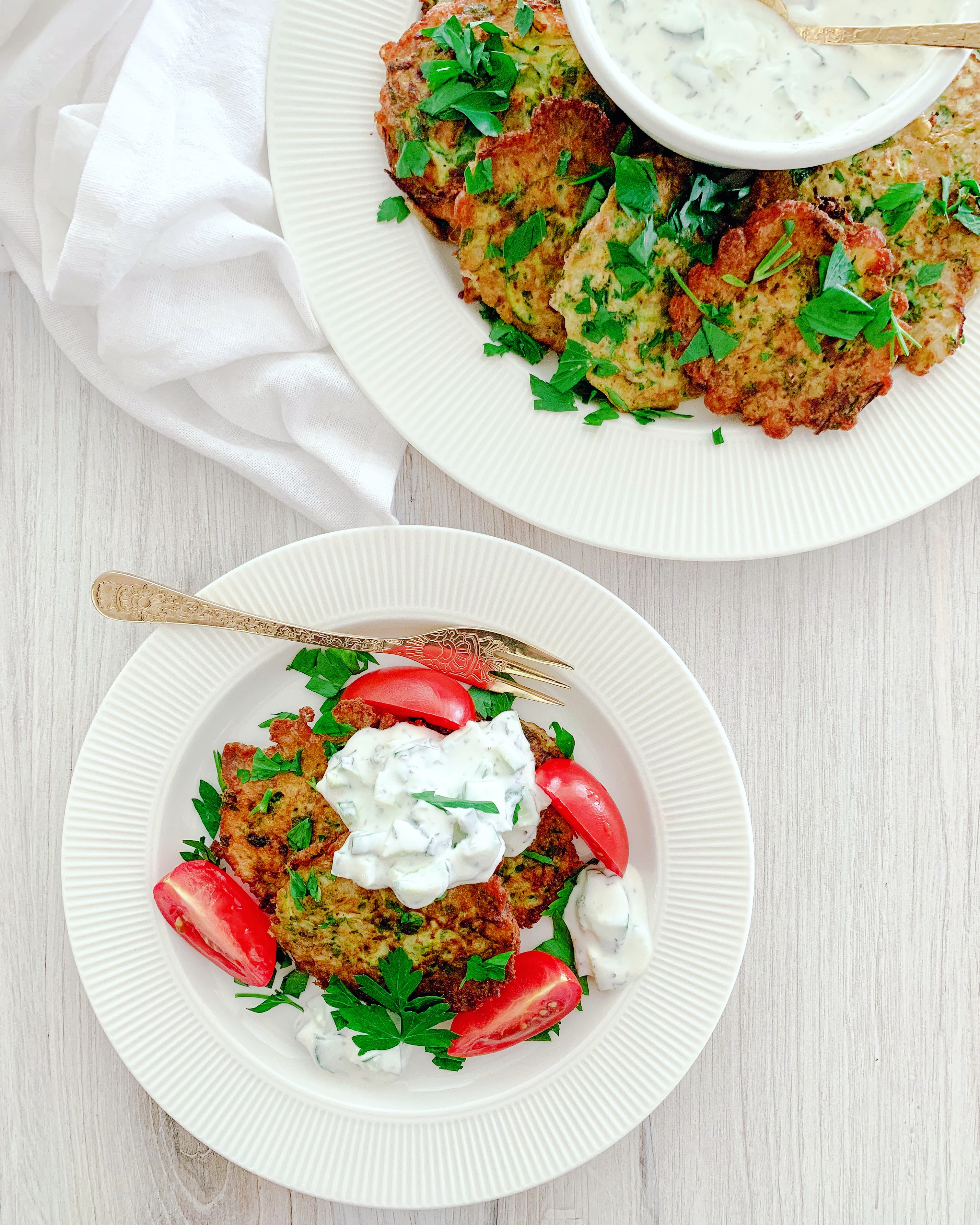 Ejjeh (pronounced eh-zhey) are small omelettes / savoury egg pancakes (much in the style of an Asian scallion or kimchi pancake) typically filled with fresh herbs and in this case, kousa or zucchini. They can be served as a mezze, an appetiser, a side dish, or even a main course. They can be eaten for any meal, but I enjoy them as a light lunch, topped with a generous amount of laban (yogurt) with garlic or homemade kh'yar bi laban (cucumber yogurt dip), sliced tomatoes, and fresh bread. I usually make these after we've had kousa mahshi (stuffed zucchini) or kousa bil laban (stuffed zucchini cooked in yogurt), since they are a great way to utilise the removed inner core of the kousa – in my house, nothing goes to waste!
I didn't have any kousa on hand (a trip to the Middle Eastern supermarket is in order this weekend!) but I did have regular courgette / zucchini since they were on sale at my local supermarket instead. If you don't have cores from making kousa, you can simply grate 220g (about 1.5 cups) of courgette and use it instead. It's a great way to use up zucchini / courgette you have rolling around in your fridge's produce drawer. You'll want to strain your kousa / zucchini first – I put mine in a cheesecloth bag and twist the top, then squeeze out as much water as I can). Mix your eggs, crushed garlic (or toum!), baharat (Middle Eastern spice blend, recipe here), salt, flour, and baking powder first. Once you've blended them well, add in your drained kousa (or zucchini), parsley, mint, and onion, then stir thoroughly to blend (I also threw a little Aleppo pepper on top for added kick):
Egg mixture blended, add your herbs, onion, and kousa.

Stir thoroughly.
Using a heaped tablespoon for each ejjeh, I place into a pan with the bottom generously coated in olive oil over medium heat. I have also seen people make bite-sized, rounded ejjeh in an ebelskiver type pan, but I do not own one. You'll want to fry each side for about 1 1/2 to 2 minutes, until lightly browned. Place on a paper-towel lined plate to cool to room temperature. Traditionally, these are served alongside laban (or thick Greek style yogurt) flavoured with crushed garlic, but I've gotten a little fancy and added a cucumber yogurt dip – kh'yar bi laban instead. If you're serving these alone, add fresh tomato slices (as I've done here) and warm Arabic bread; I like the presentation above, garnished with fresh herbs – as it reminds me of the colours of the Lebanese flag!
These also freeze well, and I find it's a good way to get my husband to eat eggs and vegetables on the go (they don't have a strong egg flavour on account of the herbs, so even egg haters will like them) – I'll often tuck them into pre-made breakfast sandwiches with a homemade turkey sausage patty that he can take to work, heat up, and eat at his desk. Even alone, they are a great meal-plan breakfast that can be frozen and reheated, adding a fresh salad or protein-filled Greek yogurt for a complete meal. If gluten isn't an option or you're low-carb, substitute the flour with almond flour and a half teaspoon of your starch of choice (potato, tapioca, corn) instead – I have done this before and it works great.
Print Recipe
Ejjeh Kousa (Lebanese Zucchini Herb Omelettes)
These simple, delicious omelettes are a great way to use kousa cores, or leftover zucchini.
Ingredients
4

large

eggs

1

whole

garlic clove, crushed

(or 2 tsp toum)

½

tsp

baharat

(Lebanese seven spice)

1

tsp

fine sea salt

¼

cup

all purpose flour

¼

tsp

baking powder

¼

cup

fresh parsley, coarsely chopped

(small handful) plus more for garnish, if desired

4

stems

fresh mint, coarsley chopped

1½

cups

kousa cores or grated zucchini / courgette

(220g)

½

small

onion, finely chopped

¼

tsp

Aleppo pepper (optional)

¼

cup

olive oil, for frying
Instructions
In a medium bowl, add eggs, garlic (or toum), baharat, salt, flour, and baking powder. Stir thoroughly to combine.

Drain your kousa or zucchini by placing into a cheesecloth bag and pressing all of the water out. Put the drained kousa, parsley, mint, and onion in to the bowl. Add Aleppo pepper if using. Stir thoroughly again to combine the egg with the other ingredients.

In a frying pan over medium heat, add a generous amount of olive oil to fully coat the bottom. Once it is hot, pour a heaping tablespoon of batter for each ejjeh. Fry 1½-2 minutes each side, until golden brown. Cool on a paper towel lined plate.

Serve at room temperature with laban (yogurt), fresh tomatoes, and bread.