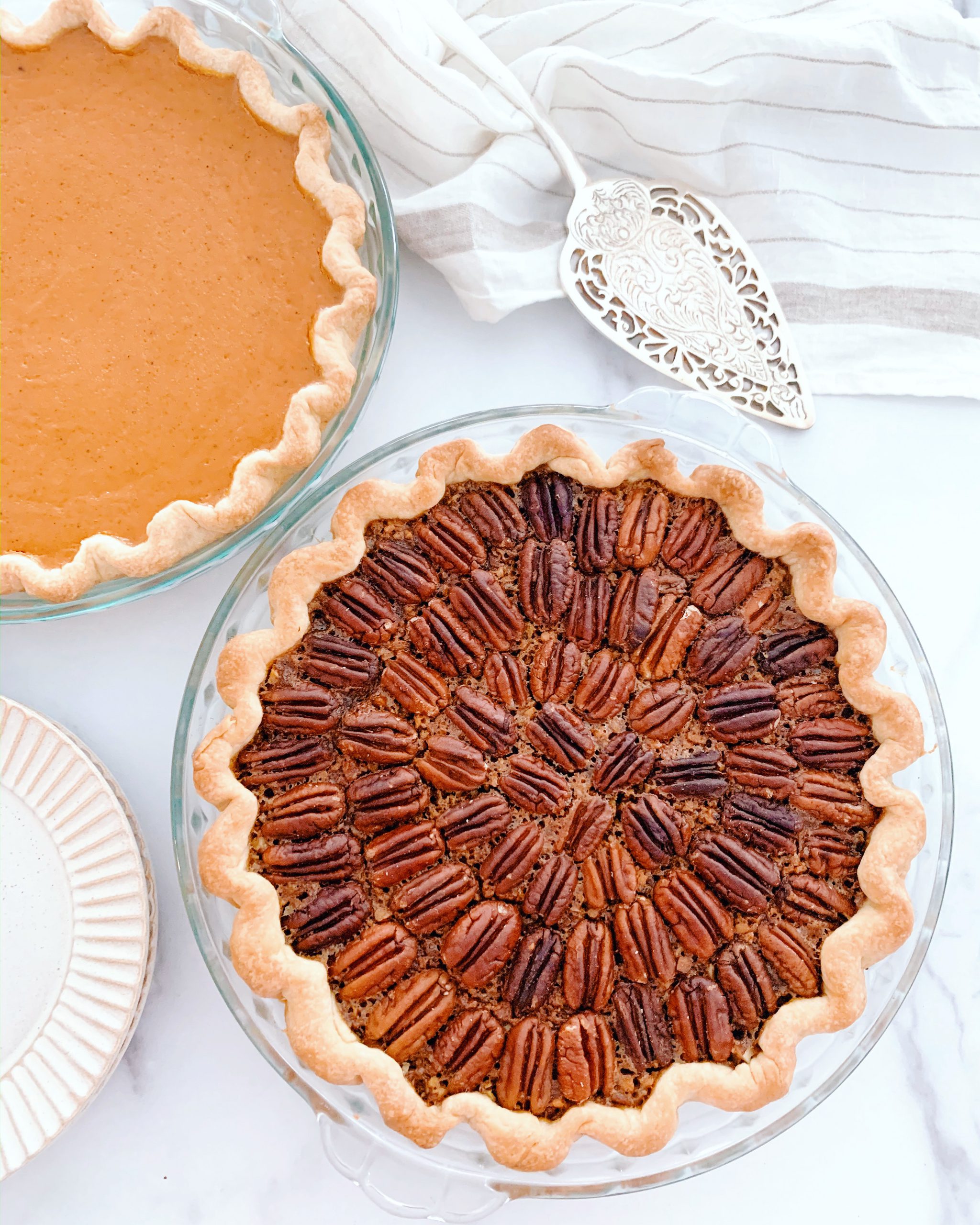 Date syrup, sometimes called date honey, date molasses, rub, or silan, is one of my favourite things. It's the 'jelly' to the peanut butter and jelly of the Middle East (date syrup and tahini on bread is magical). It has a rich sweetness and depth of flavour that corn syrup doesn't – and its flavour profile works perfectly with the pecans. I don't have a strong opinion on regular ol' corn syrup personally, but I do think it's kind of bland, and doesn't add much beyond texture to the pie. You can use either corn syrup or golden syrup here (being from Yorkshire, I prefer the golden syrup – but I understand it's not always easily sourced in the US).
The one strong opinion I do have on pecan pie is that it should actually contain a lot of pecans (my daughter is against this and prefers the goopy pies that she picks the pecans off of, *sigh*), and this pie doesn't disappoint in this respect. It uses finely chopped pecans in the filling over quartered pecan pieces – then topped with the nicest looking pecans from the bag on top, which get all toasted and perfect. It's my absolute favourite Thanksgiving leftover, served with a cup of strong black coffee for breakfast. Pie for breakfast during the holidays is totally a thing, right?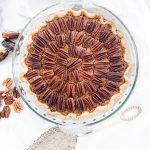 Print Recipe
Date Syrup Pecan Pie
This pecan pie is made with date syrup and golden syrup for a super rich pie packed with pecans.
Ingredients
For the Pie Crust:
1¼

cups

all purpose flour

(160g)

½

tsp

fine sea salt

½

Tbsp

granulated sugar

1

stick

unsalted butter

(4 ounces / 113g) for parve / non-dairy, use vegan butter

¼

cup

cold water
For the Pecan Filling:
½

cup

pecans, finely chopped

(63g)

1

cup

pecans, quartered

(125g)

1

cup

pecan halves

(125g)

3

eggs

beaten

¾

cup

Lyle's golden syrup (or light corn syrup)

(255g)

¼

cup

date syrup

(85g)

¾

cup

dark brown sugar

(150g)

3

Tbsp

unsalted butter, melted

for parve / non-dairy, use vegan butter

¼

tsp

fine sea salt

½

tsp

vanilla extract or paste
Instructions
For the Pie Crust:
In a large bowl mix your flour, salt, and sugar until combined. Add the butter, cut into small pieces, and use your fingers to add the butter to the flour mixture. Once the flour is mostly incorporated (some small pieces of butter are okay!) add your water one tablespoon at a time. It should make the consistency doughy, but depending on your location and flour you may need a little extra water. Once the dough comes together, place on parchment or plastic wrap, and wrap it for the fridge.

Place the dough in your fridge for at least an hour (it can also be frozen if using it for later!) and then roll out for your pie. Once you've rolled it out and placed it in the pie plate, place in the freezer for ten minutes while the oven pre-heats.



Preheat your oven to 350°F (175°C). Remove the pie from the freezer and use pie weights (or line with parchment and fill with rice or dried beans / lentils). Bake for 15 minutes and remove from the oven to cool while you prepare the filling. (Leave the oven set to the same temperature for the pie.)
For the Filling:
Separate your pecans. I like to pick out the cup of pecan halves first (so I can pick the best looking ones for the top of the pie), then chop your quartered pecans, and finely chop another half cup of pecans for your filling.

In a mixing bowl add your eggs, golden and date syrups, brown sugar, and salt. Add the melted butter and stir to combine. Add your crushed pecans and mix thoroughly.

In the pre-baked crust, add your quartered pecans on the bottom and then fill with the prepared pie filling. Top with the pecan halves. Bake at 350°F (175°C) for around 50 to 60 minutes, or until the center is firm and the top pecans are toasted. Cool for one hour or more before serving.