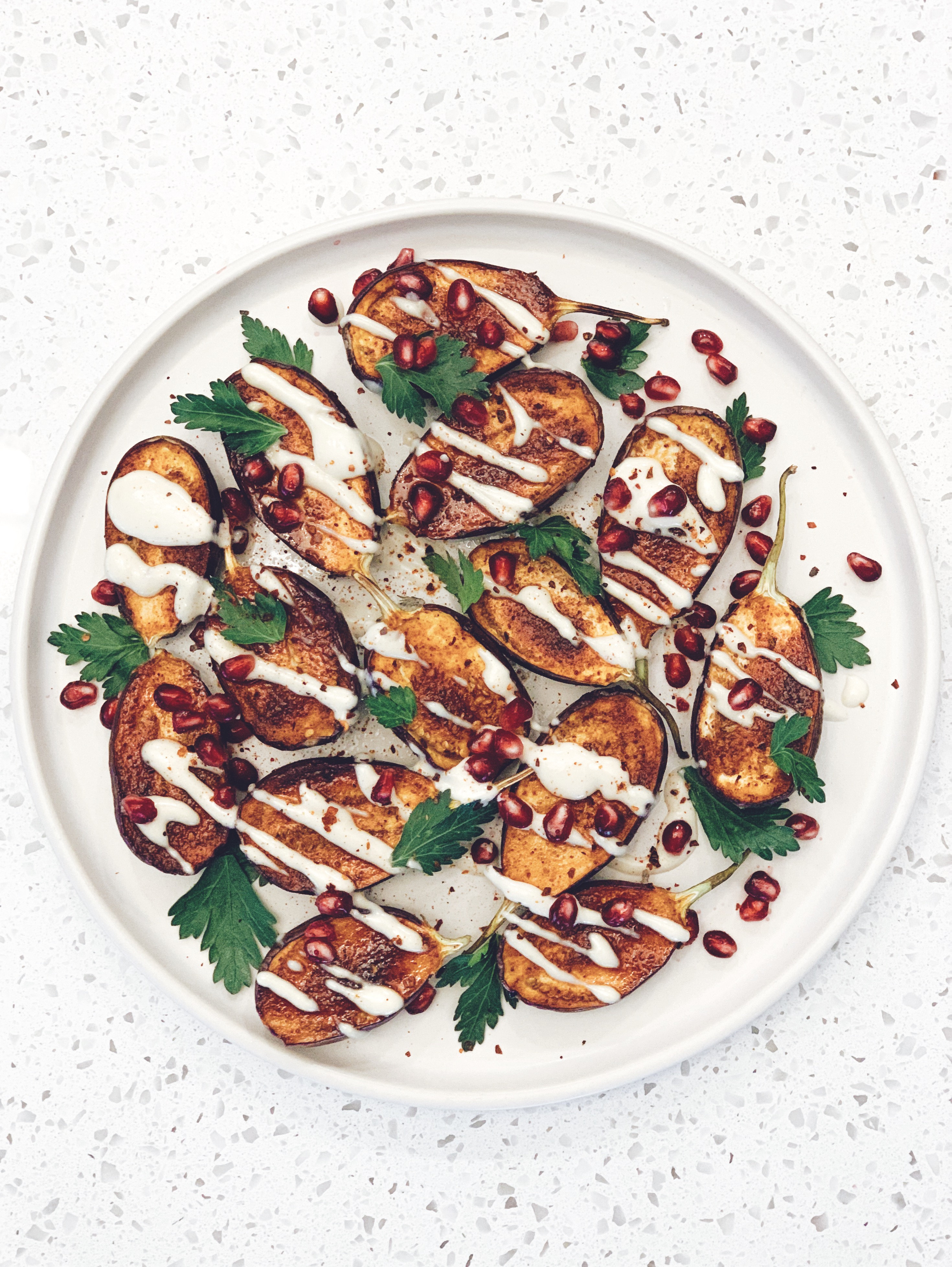 Aubergine (or eggplant) is one of my absolute favourite vegetables. Typically when I put out an aubergine dish for mezze it's sliced into rather large rounds. These Indian (or baby) aubergines are quick to roast, easy to eat, and of course make a beautiful presentation on the plate.
I am always sure to 'sweat' my aubergine / eggplant before I roast it – thus removing any traces of bitterness. Slice and salt your aubergine liberally, leave to sit for a half an hour or so – then rinse and dry before applying any oil or seasoning and roasting.
This recipe can easily be adapted to a completely vegan dish if agave nectar or maple syrup is used in place of honey. For this recipe I used my favourite harissa from NY Shuk, as well as their rose harissa dry spice to finish. If you can't find dry harissa to top this dish with a combination of dried ground sumac and Aleppo pepper flakes works perfectly as well – and if you don't have those either, a spicy or smoky paprika works great, too.
Print Recipe
Roasted Indian Aubergine with Harissa Glaze
Roasted baby eggplant glazed with a harissa and honey mixture.
Ingredients
8

Indian (or baby) aubergine

2

Tbsp

kosher salt

1

Tbsp

harissa paste

I recommend NY Shuk's harissa

1

Tbsp

honey or maple syrup

Agave nectar can also be used

2

Tbsp

tahina sauce

(see recipe below)

2

Tbsp

flat leaf parsley leaves, torn

2

Tbsp

pomegranate arils

pinch

sumac, Aleppo pepper, or dry harissa seasoning

(optional) for garnish
Instructions
First, slice your aubergines lengthwise. Lay skin side down on a plate and sprinkle the cut tops of the aubergine with the kosher salt. Let sit for 20-30 minutes to allow the bitterness to sweat from the aubergines. After this, rinse the aubergines and dry them.

Preheat your oven to 425° Fahrenheit. Prepare a baking sheet with parchment paper and oil lightly with a high heat oil.

Mix the harissa and honey (or maple syrup) and brush the tops of each aubergine with the harissa glaze.

Roast for 30 minutes or so, checking in the last ten minutes to ensure they do not burn.

When fully cooked, remove from the oven and dress with tahina, parsley leaves, pomegranate arils, and sprinkle with either dry harissa seasoning, or a mixture of sumac and Aleppo pepper flakes.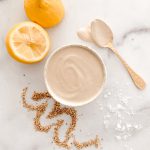 Print Recipe
The Perfect Tahini Sauce
This creamy tahini sauce has the perfect balance of lemon and garlic – with no bite.
Equipment
Food processor or blender
Ingredients
6

whole cloves fresh garlic

juice of two lemons

¼ cup (60ml)

½

cup

good tahina

½

tsp

honey

can be replaced with agave to ensure it is vegan

¼

cup

ice water

(60ml)

¼

tsp

salt

to taste
Instructions
Juice your lemons and peel your garlic cloves. Add to the bowl of your food processor or blender.

Blitz the lemon juice and garlic until it forms a thick liquid. Leave to sit for 15 minutes.

Pour the lemon garlic liquid through a mesh strainer, into a small bowl. (Use this pureed garlic for another recipe!)

Rinse the bowl of your food processor and then return the lemon juice to the bowl. Add tahini, honey, and salt.

Blend until it forms a thick paste, then add water, a tablespoon at a time, until you have a pourable tahini / tahina sauce.
Notes
This makes roughly a cup of tahina, and will keep in the fridge for about a week (if it lasts that long). 
The taste of your tahina sauce will largely depend on the quality of your tahina, use the good stuff.