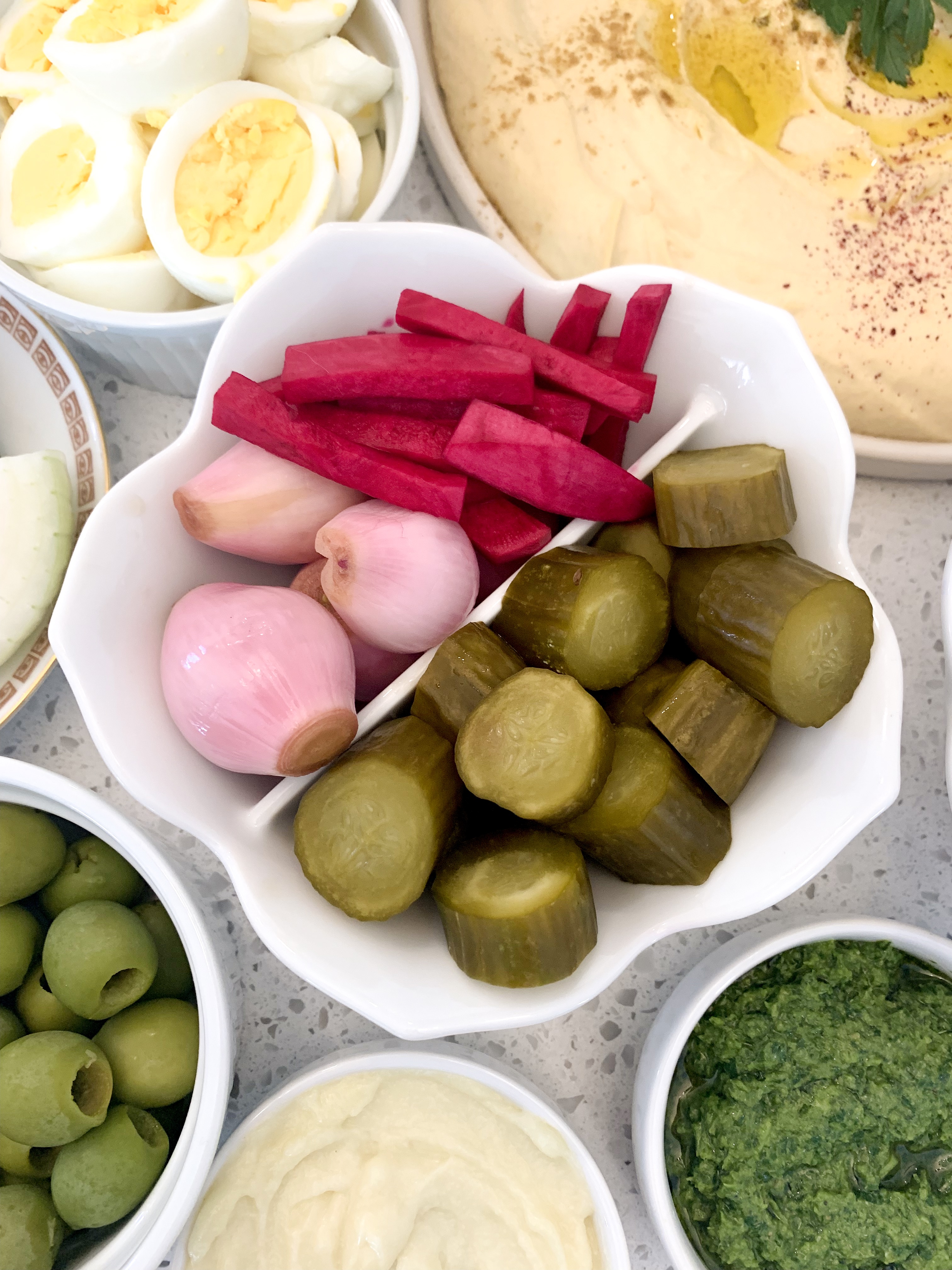 No holiday is ever complete in our family without a bowl of pickles and olives. While you can certainly buy these pickles at the store, there's something truly special about opening a jar of your own homemade pickles, not to mention it tends to be far less expensive – and it allows you the fun of experimenting with different spices! These pickles are great eaten on their own, but also stuffed into shawarma or falafel wraps, or as part of a mezze table. These take a bit of patience (about a week) but I guarantee they're worth the wait.
Kabees are those neon-pink turnip slices you find on every Lebanese table, and they're my absolute favourite. The gorgeous pink colour comes from a small beet, tucked into the jar with the turnips. The shallots are bright and sweet, reminiscent of the British favourite – pickled onions (in malt vinegar) with with a Middle Eastern twist – the sumac makes these bright and almost lemony in contrast to the sweet brine. The Persian cucumbers are kept crisp using either fresh grape leaves (found at your local Middle Eastern supermarket) or a black tea bag tucked into the bottom of the jar. You can ferment these longer if you love a super sour pickle, but I find they're perfect after just 5 to 7 days.
You'll need canning jars (you can even re-use food jars) that you'll want to sterilise, and since the kabees and the cucumbers are lactofermented, you'll want to use canning weights to keep the veggies submerged – there is nothing worse than going through all of the effort of making beautiful pickles then finding them covered in black mould (not to mention, it will make you ill).
---
Looking for Lift?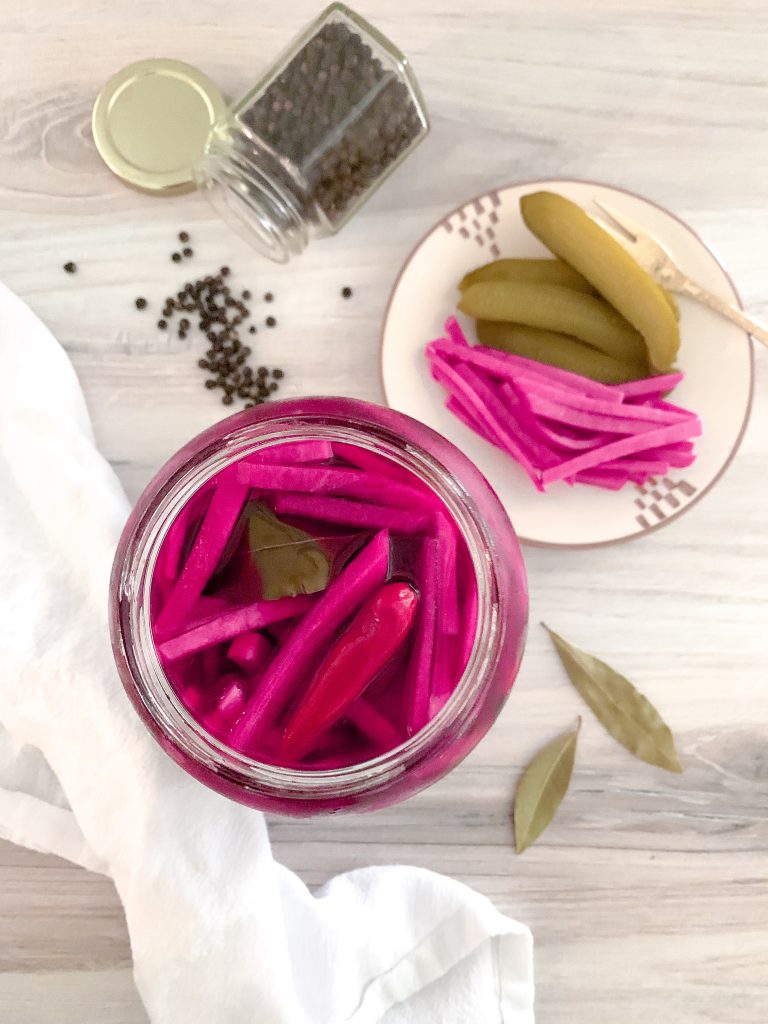 The recipe for kabees el lift (those delightful hot pink pickled turnips) has been updated and moved to its own recipe page, which you can view by clicking here.
---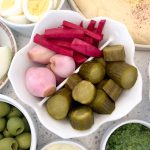 Print Recipe
Whole Pickled Sumac Shallots
Whole pickled shallots in a sweet and sour brine.
Equipment
Canning Jar(s)

Canning Weight
Ingredients
15-20

small

shallots

peeled and ends removed

1

cup

white vinegar

2

Tbsp

balsamic vinegar

optional, adds depth of flavour

¼

cup

brown sugar

¼

cup

granulated sugar

2

Tbsp

kosher salt

4

cloves

garlic

sliced

1

tsp

white peppercorns

black can be substituted

1

tsp

coriander seed

1

tsp

sumac

2

bay leaves
Instructions
Peel and trim the ends of the shallots, but leave whole.

Place vinegar, balsamic, sugars, and salt in a small saucepan. Over medium heat ensure that the sugar and salt are dissolved. Add the shallots and bring to a boil. Once boiling, remove from heat.

Place garlic, peppercorns, coriander seed, sumac, and bay leaves in your canning jar. Pour shallots and brine into jar. Place a canning weight over your shallots.

Close jar and place in the refrigerator. Leave for seven days. After seven days, test a larger shallot to ensure it is pickled all the way through – if so, you can serve.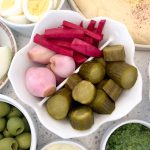 Print Recipe
Pickled Persian Cucumbers
These half sour Persian cucumbers are crisp and delicious.
Equipment
Canning Jar(s)

Canning weight(s)
Ingredients
6-8

small

Persian cucumbers

blossom end removed

2

cups

water

1

Tbsp

kosher salt

1

tsp

granulated sugar

1

Tbsp

apple cider vinegar

2

fresh

grape leaves

OR one black tea bag

2

bay

leaves

2

whole

cloves

1

sprig

fresh dill

4

cloves

garlic

sliced

1

tsp

peppercorns

I do a mixture of black and white

½

tsp

sumac berries

(optional)
Instructions
Wash and remove the blossom ends of your cucumbers. I leave mine whole, but you can slice if desired.

Place water, vinegar, sugar, and salt in a saucepan over medium heat, until all salt and sugar are dissolved.

Place your grape leaves (or black tea bag) in the bottom of the jar and add your bay leaves, garlic, dill, peppercorns, cloves, and sumac berries in the jar. Add the cucumbers until tightly packed.

Pour brine over cucumbers, place a weight on top, and close the jar. Place in a cool dry place for 5 to 7 days. You may need to open the jar daily to release some of the gases. At 5 days, check to see if your pickles are sour enough, then move to the fridge and enjoy!