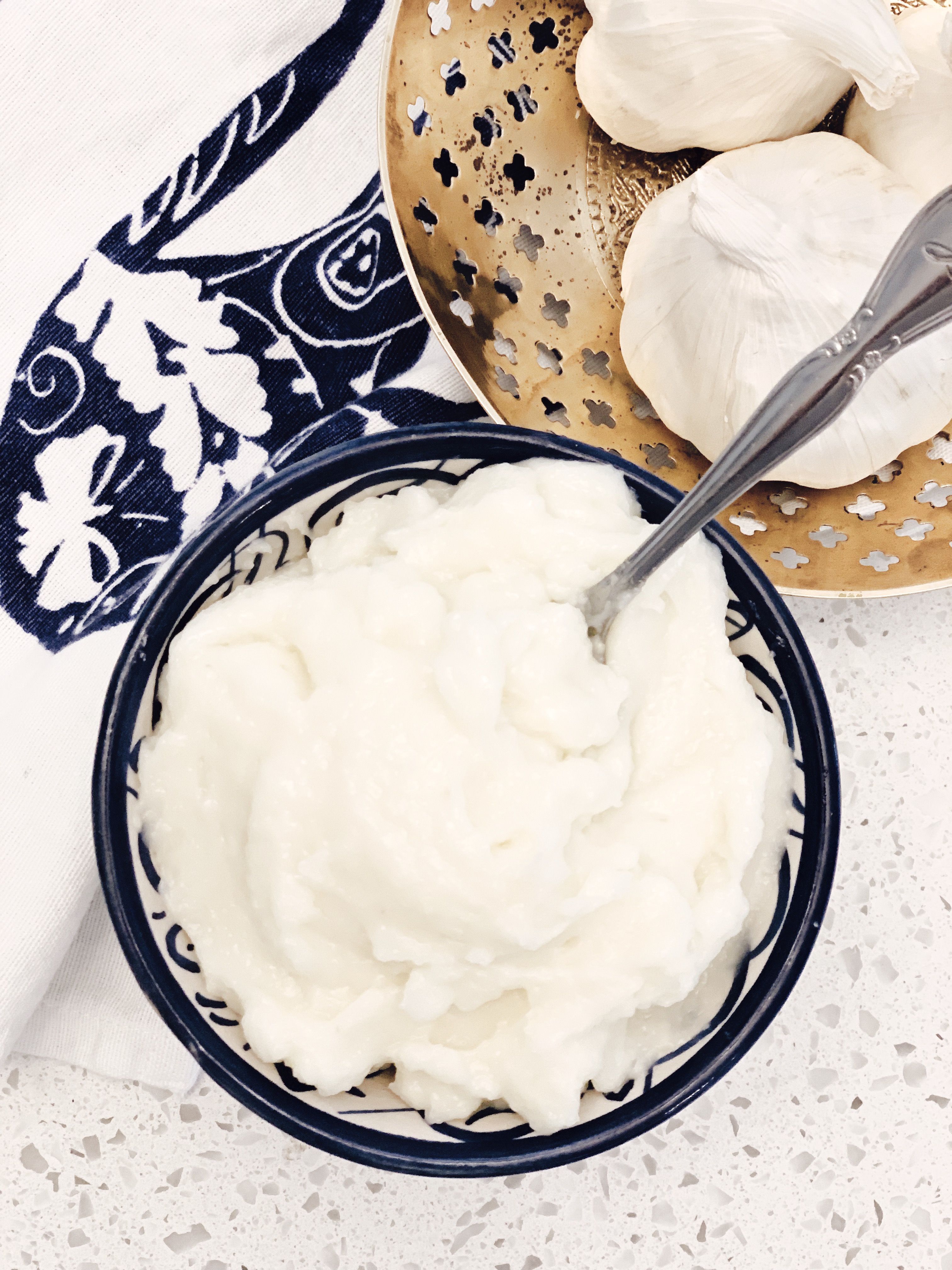 Toum is perhaps the most versatile Lebanese condiment; it consists only of fresh garlic, salt, oil, and lemon juice. When made correctly, it is light and fluffy – the consistency of a light mayonnaise – but packed with garlic flavour. It is good on meat, vegetables, in sandwiches – or even to dip French fries into. Because my family are garlic lovers, there is always a jar of homemade toum in our refrigerator. The word toum is simply the Arabic word (ثوم) for garlic.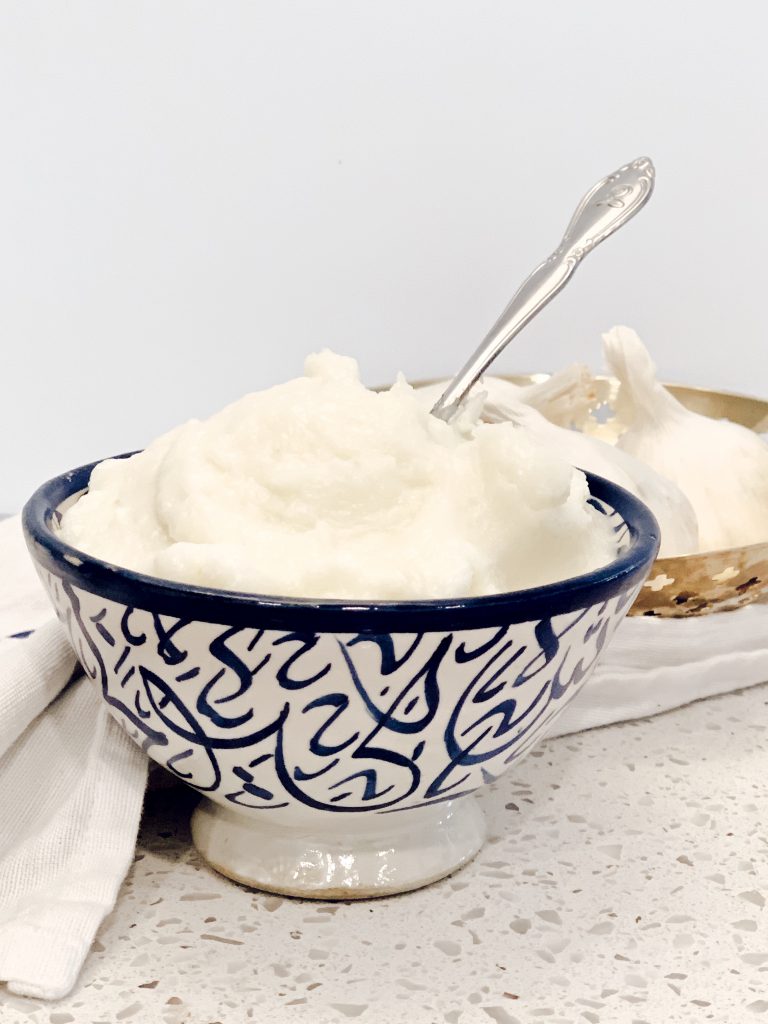 Toum, while containing only four ingredients, is a labour of love to make. It requires peeling a good deal of garlic and slowly adding oil to the mixture to give it time to emulsify; add the oil too quickly and you'll find yourself with a mix of garlic pieces and oil – delicious certainly, but not toum. The general rule for making toum is: you can never over-mix, so keep that food processor running. It can take some time to get the garlic fully blended, with repeated scraping down the sides and blitzing again and again before adding the oil, and so patience is needed -though I promise you will be rewarded for it.
My recipe makes a good deal of toum, but after you taste it you will be glad you made so much. It will keep in your fridge for about four weeks, though it will likely be eaten before then. Don't be alarmed if your toum has a strong flavour at first – this is largely dependent on your garlic's flavour (try to find the freshest garlic you can) – after a day or two in the fridge any sharpness will mellow considerably.
You'll want to use the little cup in the top of your food processor – it's equivalent to a half cup measure – and it has a little hole in the bottom, which allows the oil to flow through slowly and evenly so that your emulsion does not break (there's nothing worse than your toum emulsion breaking!) Below I've documented the different stages of toum as you blend it.
The stages of making toum:
Place your garlic, salt, and lemon juice in the processor bowl.

The garlic is almost small enough to add oil. Keep processing and scraping the sides until it's almost a paste.

Nearly there! Add just another half cup of oil to make it extra fluffy!
The salt is really key here, as that significantly helps boost the 'fluffiness' of the toum. As much as I try to steer clear of too much sodium, I've made the toum with less salt and it resulted in a creamy, more liquid toum than the one shown here – still tasty, but it lacked the fluffiness of a good toum. Plus, you're using this as a condiment, right… Not eating it with a spoon…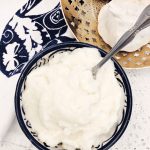 Print Recipe
Toum
Equipment
Food Processor (Full Size)
Ingredients
1

cup

fresh garlic, peeled

roughly equivalent to 2-3 heads

½

Tbsp

kosher salt

1

Tbsp

fresh lemon juice

1½-2

cups

neutral flavoured oil

safflower, organic canola, or sunflower are good here
Instructions
Peel your garlic and place in the food processor with the kosher salt and lemon juice. Blend this together, scraping down the sides (this may take 5-6 times) until the mixture becomes a paste.

Once your garlic is a soft, smooth paste, add a teaspoon of oil into the cup in your food processor (while running). Scrape down the sides after it is combined, and repeat this one more time.

After adding the 2 teaspoons and combining thoroughly, run your processor again, adding a half cup of oil (the full processor cup – the little thing that slides in on the top with a hole in the middle) at a time.

You will use between 1½ to 2 cups of oil, until the mixture takes on a thick, fluffy texture – like a fluffy mayonnaise. Once this occurs, you can remove and refrigerate the mixture.
Notes
It may take a day or two for strong garlic to mellow in the toum. This will keep up to four weeks in your refrigerator.