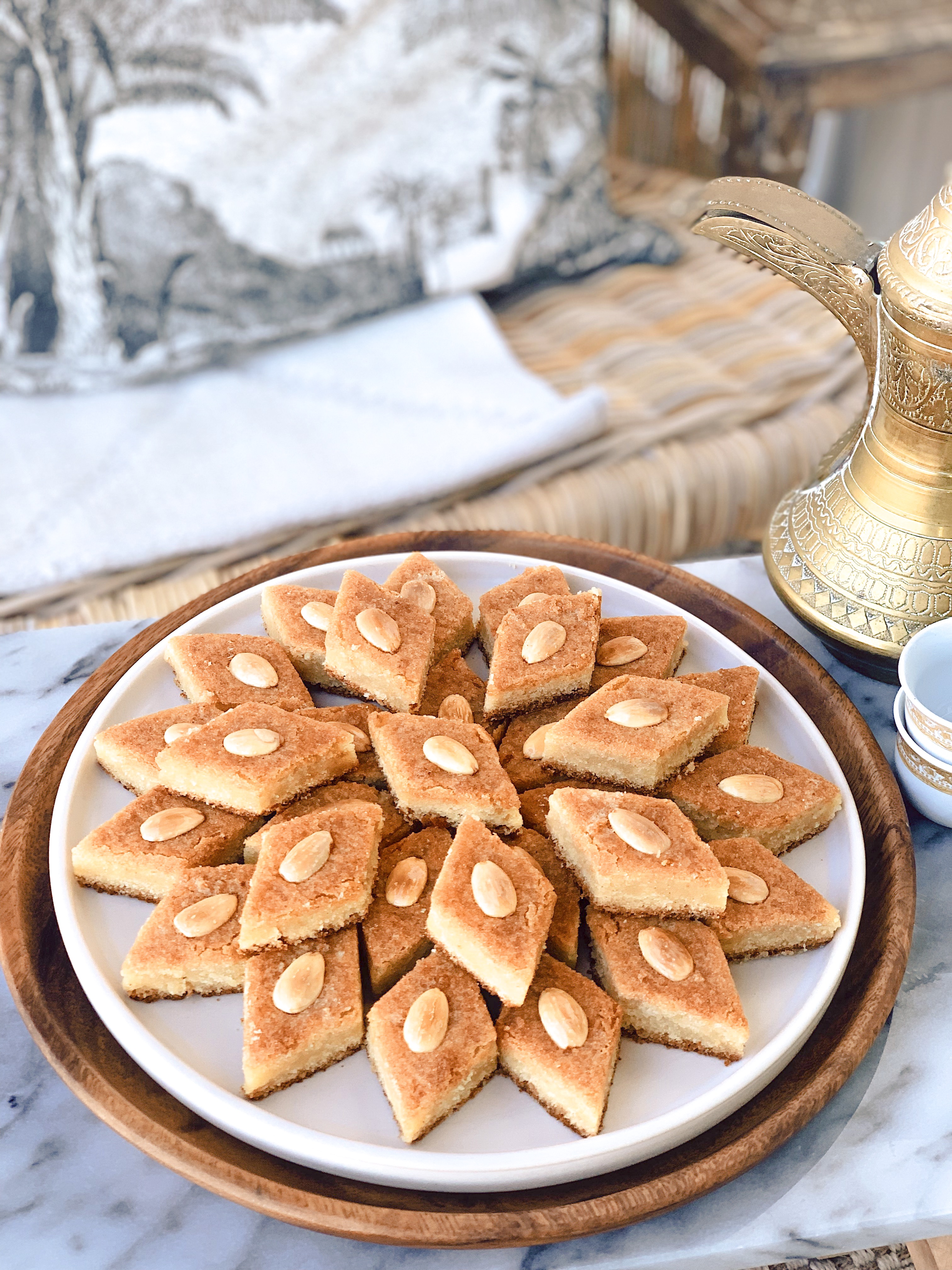 Namoura (or basbousa, as it is known in Egypt) is a traditional dessert made from semolina (the flour one typically thinks of for making pasta). It's a relatively simple dessert with only a few ingredients, but it's soaked in syrup fragranced with orange blossom water, and includes a little bit of shredded coconut, which gives it a delicate but rich flavour. The texture of namoura is a crisp exterior with a creamy, syrup soaked interior – some are more like cake (made with yogurt), whereas this recipe is more soft and creamy in the centre (it really depends on your preference – we happen to prefer the creamy kind). It's also egg-free, which means it's super easy to make vegan / parve (I've included two recipes below, one of which is completely vegan) if those things are a concern.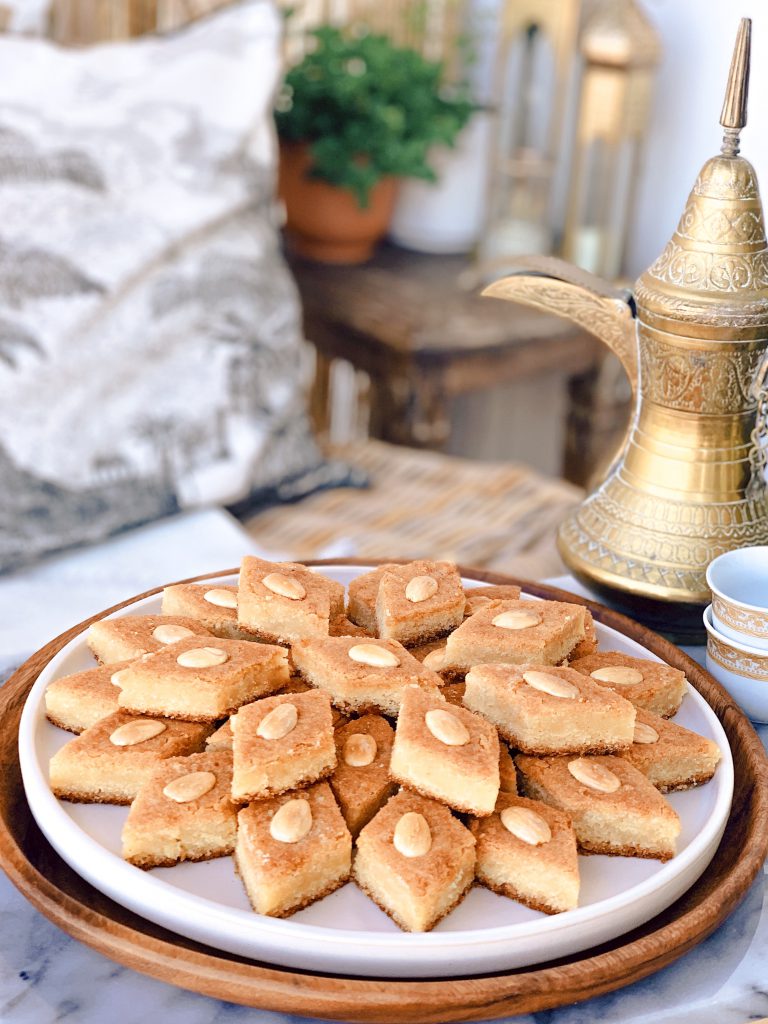 Namoura is certainly not a health food, but it is typically portioned into small slices, meaning even those who don't typically eat dessert can enjoy a small sweet bite. It is perfect served with dark Turkish coffee with hel (cardamom). Another thing to note is that if you're not a 'coconut person' (like my husband), the taste of coconut is not strong in this dessert, and just adds texture and richness – even my coconut-hating husband approved of these namoura. It's also important to use unsweetened desiccated coconut as these are soaked in syrup, and so we really don't need to add any more sugar to the mix!
While medium-grind semolina is preferable for texture (I buy a coarse grind from the Arab supermarket and blitz in my spice grinder) it is often difficult to find in ordinary American supermarkets. You can use semolina flour (like that used for pasta) but the texture will be a bit different – a little denser, but not bad. It's a very subtle difference that maybe only I would notice, so if you have one variety on hand, don't worry, your namoura will still be delicious.
Because semolina is high in gluten (which is what makes it great for pasta) this is a batter you do not want to over-mix. You'll want to pour your semolina and coconut into a bowl, then coat well with your ghee or vegan butter / coconut oil before gently adding the liquid. In the interest of texture, I also use my spice grinder to grind the coconut so that it's fully integrated into the mix (which is probably why my husband can't detect the coconut). Additionally, when you pull your namoura from the oven, it might look slightly pale still – don't worry, once you add your syrup you'll notice it changes colour – this is a recipe that definitely does not benefit from being overcooked, so once it's light golden on top you should be good to go.
This is one of our favourite desserts to bring to a party, especially as these are ingredients we always have on hand – so its perfect for a last-minute dessert that looks like it came straight from a Middle Eastern bakery.
VEGAN / PARVE INSTRUCTIONS
To make this nammoura vegan, you'll want to replace the ghee with 75g coconut oil, melted and 75g vegan 'butter'. Instead of honey, you'll want to use either Lyle's golden syrup (if you're British), corn syrup (if you're American) or agave nectar. For the milk any rich non-dairy milk can be used, though I suggest coconut or almond – you can even use water in a pinch, as it doesn't affect the recipe much.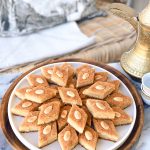 Print Recipe
Namoura
Namoura (or basbousa) is a syrup-soaked semolina cake.
Equipment
9" x 15" baking pan (about one inch deep)

Spice grinder or food processor
Ingredients
Orange Blossom Syrup
1

cup

granulated sugar

1

cup

water

juice of half a lemon

1

tsp

orange blossom water
For the Namoura:
500

grams

medium grind semolina

(roughly 3 cups)

150

grams

ghee, melted

(⅔ cup + 2 Tbsp) plus more, to grease baking pan

50

grams

unsweetened desiccated coconut, finely ground

(⅓ cup) grind this in your spice grinder

150g

whole milk

(⅔ cup)

100g

honey

(⅓ cup) Lyle's golden syrup or light corn syrup work great here as well!

200g

granulated sugar

(1 cup)

24-30

raw whole almonds, or other nuts

for garnish (optional)
Instructions
For the Orange Blossom Syrup:
Place your sugar, water, and lemon in a small saucepan on the stove over high heat. Bring to a boil for 1 minute. Remove from heat, add orange blossom water, and cool to room temperature in a heat-proof pouring vessel (like a Pyrex measuring cup).
For the Namoura:
Place your semolina and coconut in a large bowl and mix. Add your melted ghee and mix thoroughly – making sure all the semolina and coconut is thoroughly covered by the ghee. Set aside.

Grease your baking sheet with extra ghee.

In the (now empty, no need to wash) same saucepan you prepared your syrup in add your milk, sugar, and honey. Over medium-low heat, bring the temperature of the mixture up until the sugar and honey is completely combined (you should not see or feel the sugar granules). Remove from heat and pour over your semolina mixture.

Using a spatula, gently combine the liquid with the semolina – being careful not to over-mix (we don't want the namoura to be tough). Pour the mixture into your greased baking tin and gently shake from side to side so that the batter reaches the edges.

Place the pan in the refrigerator to cool down and for the mixture to solidify slightly.

Preheat your oven to 400°F (210°C). Grind your desiccated coconut in a spice grinder or food processor until finely ground.

If you haven't already, add your raw almonds to a cup of boiling water for 1-2 minutes. Remove from the water (carefully!) and pull the skins off (this also works for pistachios if you prefer them). Discard the skins and you now have beautiful blanched nuts to top your namoura with.

Once the namoura is chilled, score halfway through in diamond shapes (with a sharp knife) and place your almonds gently into each piece.

Bake at 400°F (210°C) for 20-24 minutes. Don't worry if it is light in colour, as it will darken once we pour the syrup on.

Place the hot tray of namoura on to a wire cooling rack. Pour your (now room-temp, never hot!) orange blossom syrup over the namoura up to the top of the baking pan. It will bubble and will like it is too much – but the namoura will soak it all up. You may have a little syrup leftover – it will keep in your fridge for four weeks and is great for mixing into drinks or iced tea.

Allow the namoura to cool and soak up the syrup for a full 30 minutes, then using a knife slice in the scored channels to cut out the diamonds. Enjoy!