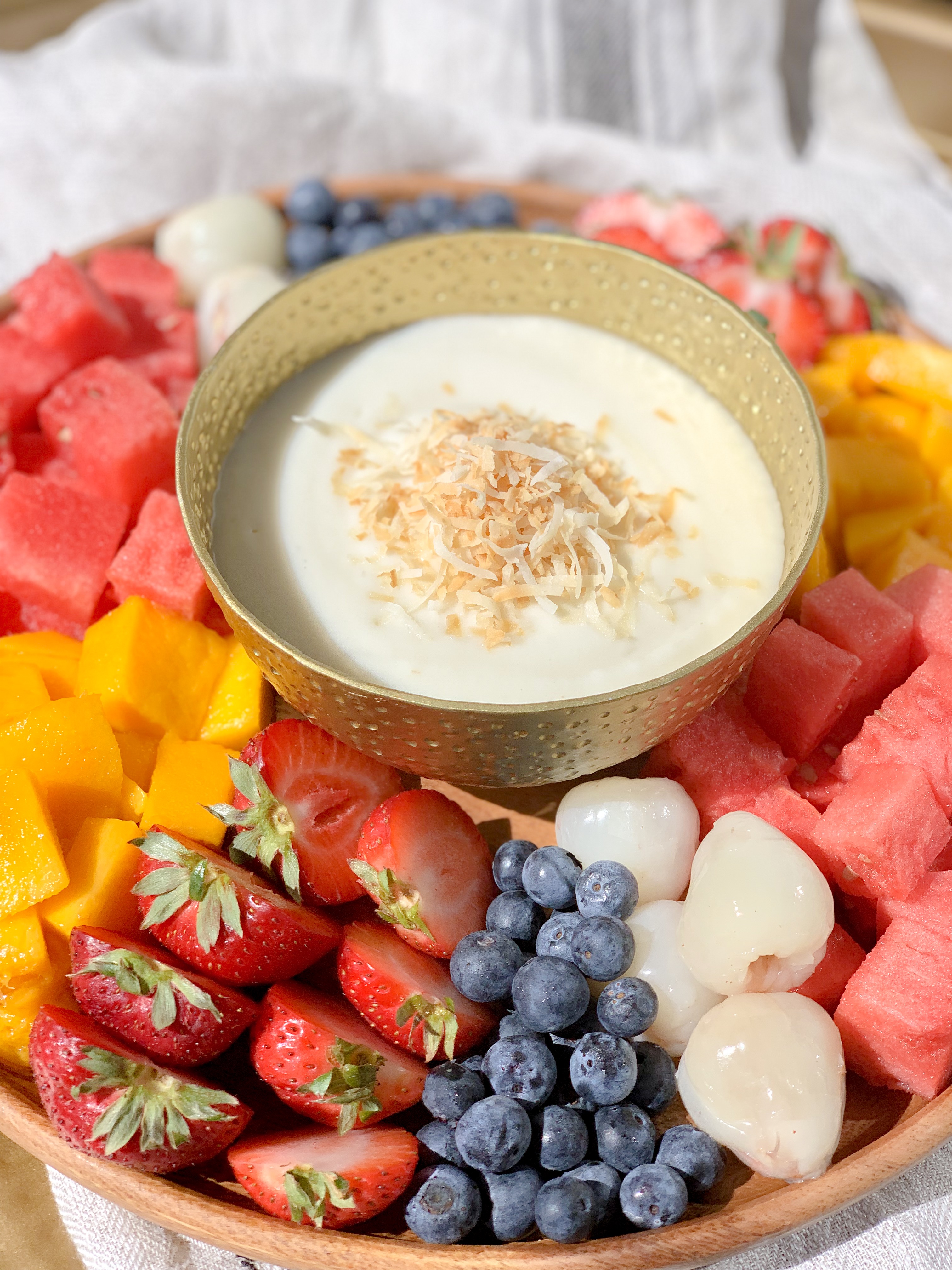 Ashta is a pastry cream common throughout the Middle East and the Levant, similar to English clotted cream; it's usually used to fill qatayef, or added into other pastries, but in summer it's lovely just with a simple fruit tray, or topped with a little orange blossom syrup and some chopped nuts (like a pudding). It's typically made with heavy cream, but for this recipe I've used coconut milk, making it vegan. I imagine you could use any non-dairy milk, but you may need to up the cornstarch to get the correct thickness for the cream. Admittedly, the corn starch method for ashta is a more modern adaptation, but I promise it's still delicious.
What You'll Need: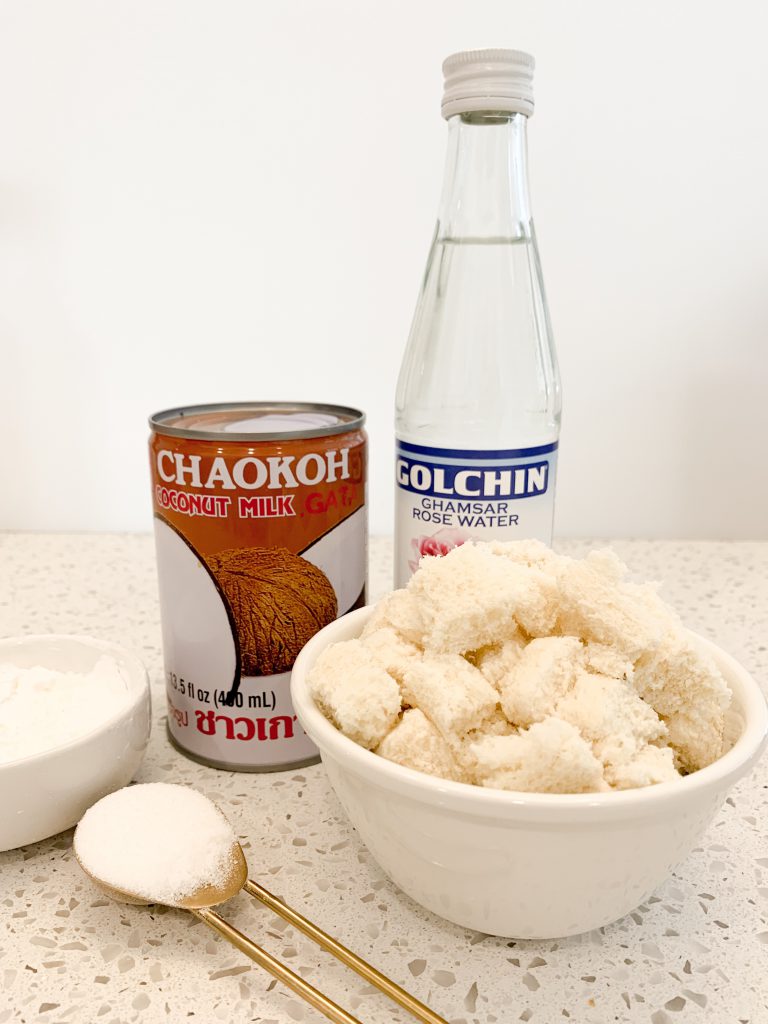 You'll need a rose and/or orange blossom water, a tin of coconut milk (full fat), a couple of tablespoons of cornstarch, a tablespoon of sugar (if you're not serving ashta in a dessert with syrup, you'll want to add a little sugar to the ashta), and two to three (if small) slices of white sandwich bread with the crusts removed. "Sandwich bread?!" I hear you asking, yes – the bread breaks down in the milk and adds perfect little clumps like real clotted cream. I know this sounds bizarre, but you're just going to have to trust me on this one – nobody will have any idea that there's bread in there. Any soft white bread without crusts will work, and you'll want to cut it into 1/2″ (12mm) square pieces.

Ashta is traditionally flavoured with both rose and orange blossom water. I've used both here, but if you only have one or the other you can just use what you have on hand. If you're not lucky enough to live near a Middle Eastern supermarket, then you can order them online. For your coconut milk, be sure to use full fat coconut milk – if you use lower fat you may find your ashta is thinner, or you'll need to add more cornstarch slurry to your mixture. If you don't use corn, you can substitute for any other appropriate starch – potato, tapioca, et cetera.
Instructions
First, you'll want to cut your bread into small squares if you haven't done so already. Make sure any dark brown crusts are absent so you don't affect the colour of the ashta. Similarly, the bread must be white bread – otherwise your ashta will end up looking very strange indeed. Warm your coconut milk and your chopped up bread pieces over medium heat in a mid-sized saucepan. Once the mixture comes to a simmer, add in your cornstarch (mixed with just enough water to form a smooth slurry), and any sugar – if you're using it. Continue to cook the ashta until it thickens up – you can add additional corn starch if it doesn't seem thick enough. Don't worry – it will thicken even more once it sits in the refrigerator. Once you've removed it from the heat, you can add your orange blossom and rose water and stir it to combine.
For thickness reference, when I took my ashta off of the heat it looked like this:
Thick enough to coat the spoon, but definitely still kind of runny. Once chilled in the fridge it had a beautiful pudding like texture – with clots, just like clotted cream: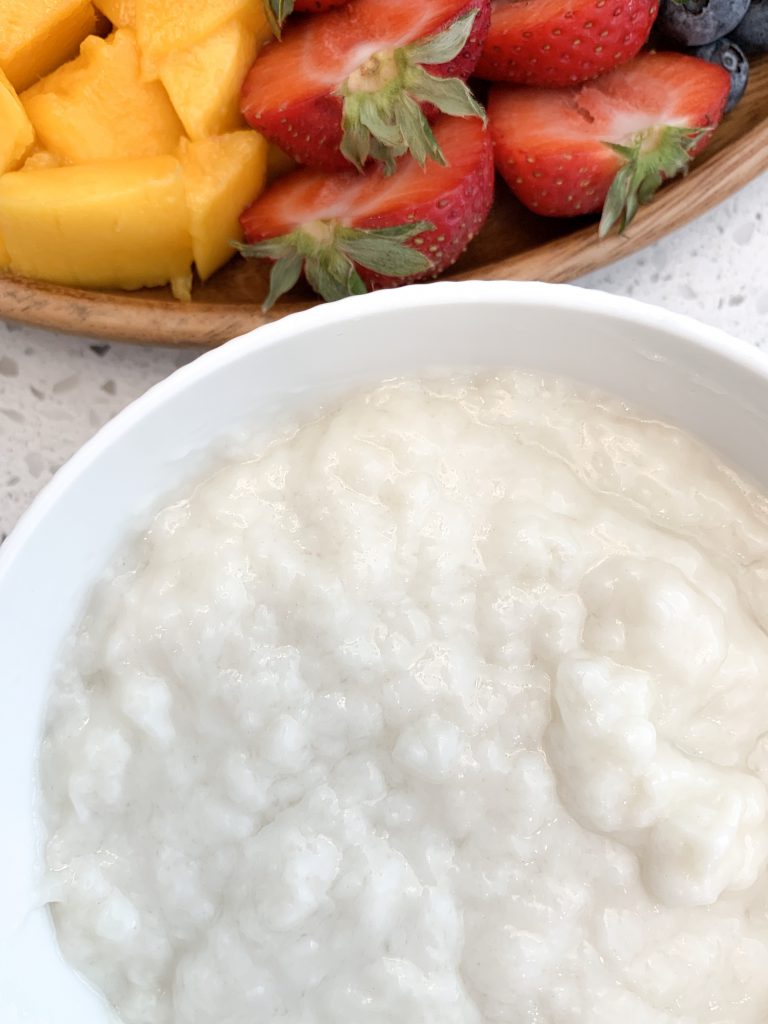 Now, for some desserts you want the clumpy, clotted texture (I know, I'm not selling you on the texture, am I?) But if you're serving as a pudding or with fruit, you likely want a more mascarpone-esque texture. For that, I simply used my stand mixer with the whip attachment for a minute or two. You can also use an immersion blender while the mixture is still warm, and you'll end up with a beautiful fluffy and creamy texture. However you prefer it, this ashta is perfect for so many dairy-free Middle Eastern desserts.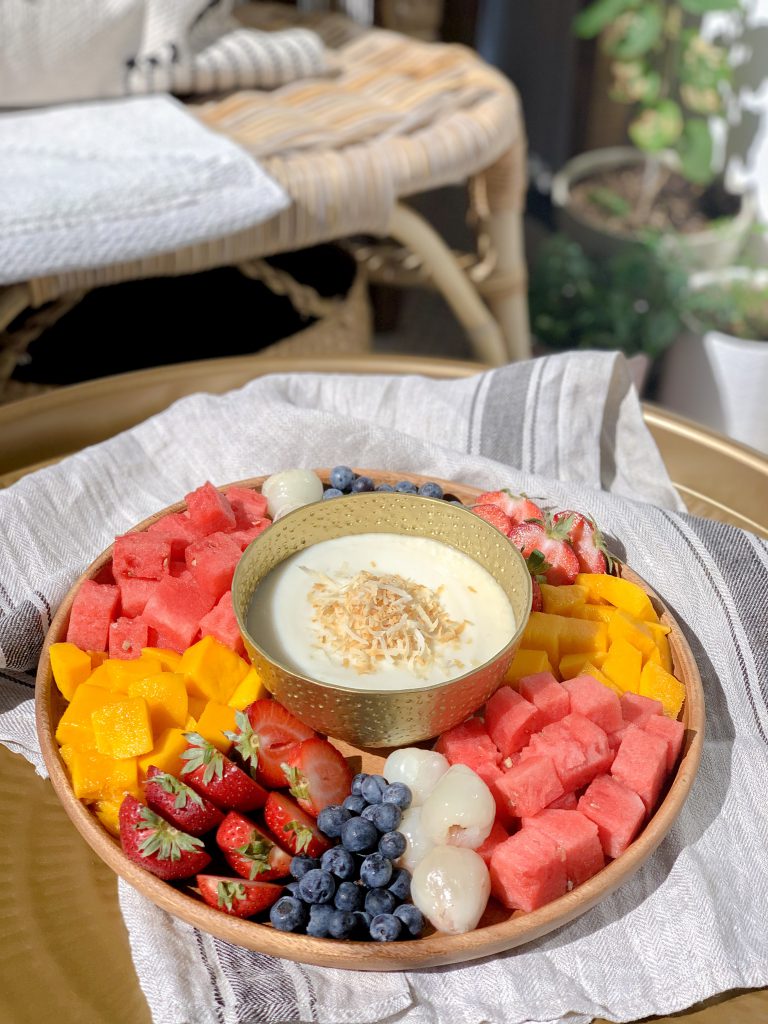 Print Recipe
Coconut Milk Ashta
This vegan / dairy-free version of the classic Middle Eastern ashta is perfect for many dessert applications.
Ingredients
1

400ml / 13.5oz

tin of coconut milk, full fat

2 to 3

pieces

white sandwich bread, crusts removed

If non-dairy / vegan is a concern, be sure to use bread without dairy added

1½

Tbsp

corn starch, plus enough water to form a smooth slurry

1

Tbsp

granulated sugar

(Use only if serving ashta in an application without added syrup)

1

tsp

rose water

1

tsp

orange blossom water
Instructions
Cut your bread into small cubes (½" / 12mm) making sure no crusts remain.

Over medium heat, warm your coconut milk and bread pieces in a saucepan until gently simmering.

Once simmering, add your corn starch slurry (and any sugar, if using). Cook 2-4 minutes until sufficiently thickened. (If not thick enough, you can add another ½ Tbsp of corn starch made into a slurry.)

Remove from heat, add rose and orange blossom water (or only one if desired). Allow to cool in the refrigerator for at least one hour.

For smooth (mascarpone-like) ashta, put into your stand mixer bowl and whisk on medium high for 2 minutes or so.

Serve chilled, as a dessert with syrup and chopped nuts, as a topping for fruit, or in pastries.