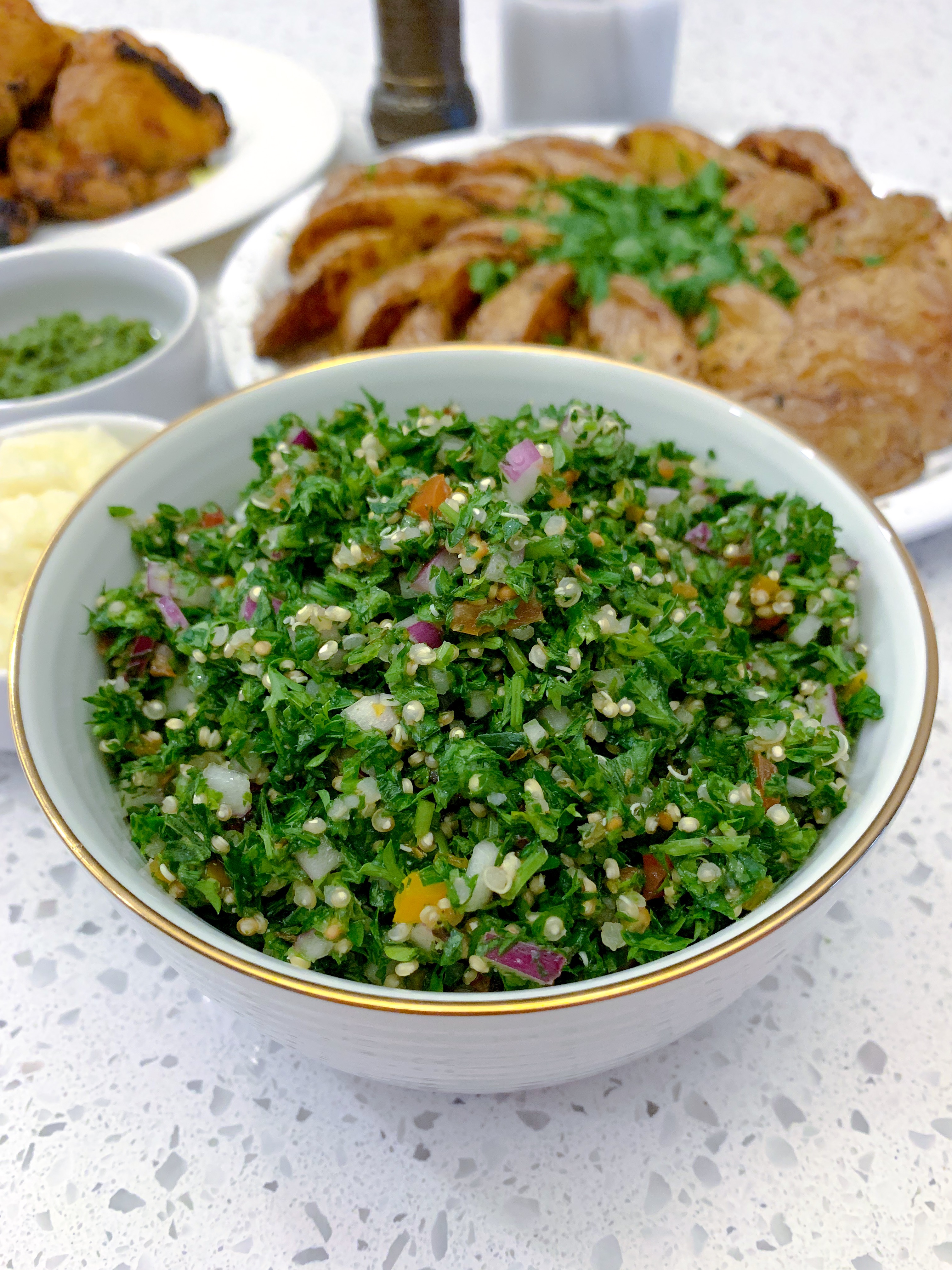 Traditional tabbouleh is made with bulgur, a wheat product. While I'm definitely not gluten free (as evidenced by the bread recipes I post here) I tend to always have quinoa on hand, whereas I only buy bulgur occasionally from my local Middle Eastern supermarket. Quinoa also has relatively high protein content for a grain, and works great in this recipe. To make this tabbouleh fully traditional you need only substitute the quinoa for soaked bulgur. The word tabbouleh is derived from Levantine Arabic and the Arabic word tābil, meaning seasoning or dip.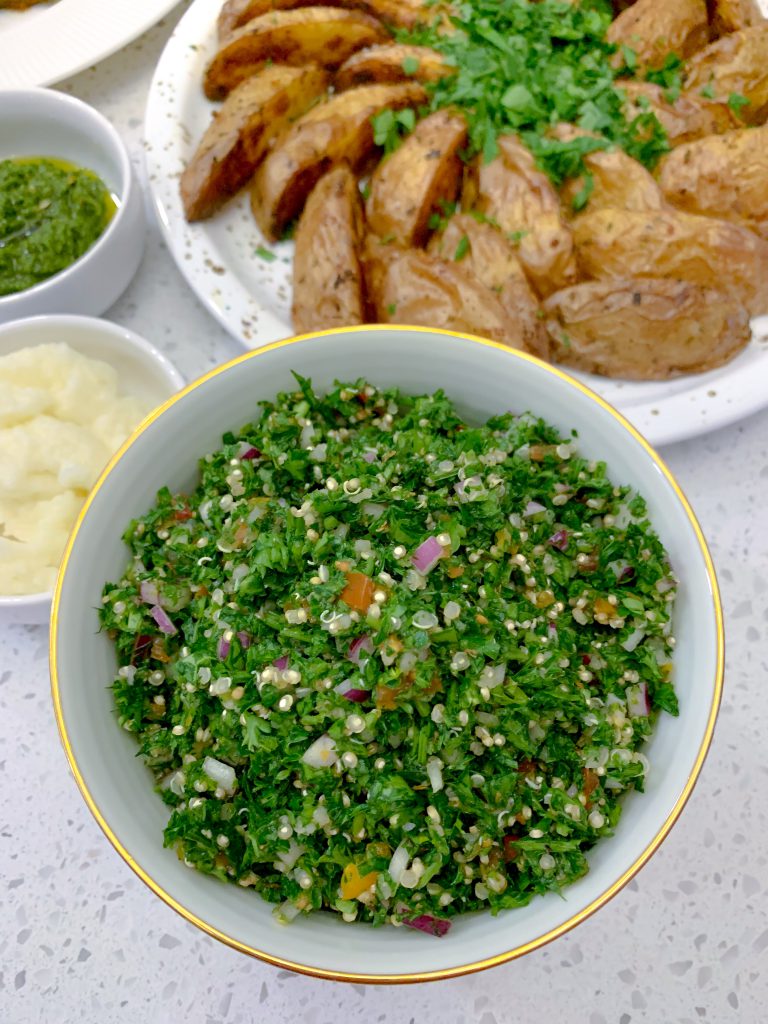 I know this tabbouleh might not look like the western (read: grain heavy) versions you may be used to. Real tabbouleh is comprised of mostly parsley, with a sprinkling of onion and tomatoes throughout, mint, and a healthy amount of olive oil and lemon juice. It is a really simple salad, but when done well the bright, fresh flavours of the parsley, mint, lemon, and olive oil really shine through.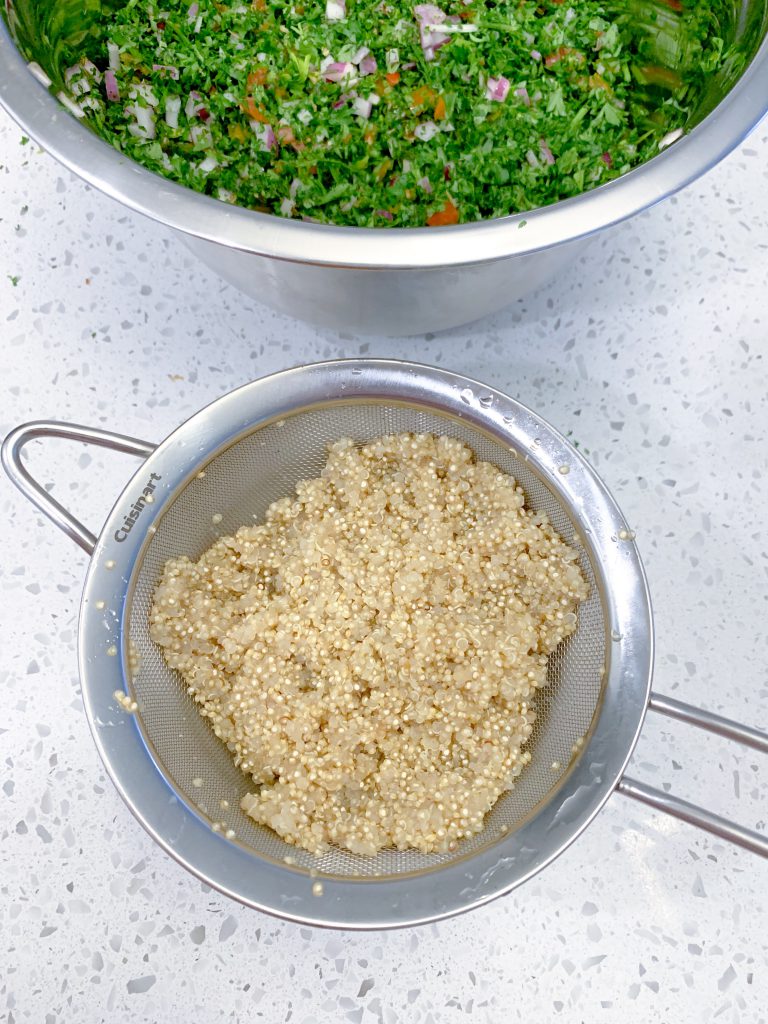 Although I almost exclusively buy flat leaf parsley, for tabbouleh I always use the curly variety. I find that by using the curly type it tends to give a lighter, fluffier texture – the flat leaves have less texture, and while they'll taste absolutely the same, I still think a perfect tabbouleh needs curly parsley. You'll also want to use the freshest stuff you have here – limp parsley means a dark, sometimes unpleasantly soft tabbouleh. I always chop my parsley and leave in the fridge on a plate covered in paper towels to absorb any moisture (you can even leave it overnight) – there is nothing worse than a soupy tabbouleh. Speaking of soupy tabbouleh – do not use your food processor. No matter how tedious chopping four bunches of parsley may seem, the texture will be wrong and the processor will inevitably break down your parsley, rendering it liquid.
Speaking of which, moisture is truly your enemy with this salad – you want the leaves to soak up your delicious oil and lemon juice, not sit in its own water. The same goes for your quinoa – I typically rinse mine after cooking and cooling, then press into a mesh strainer to remove any residual liquid. It's also a salad I find is at its best just after making, though it certainly still tastes great after a couple of days in your fridge, though you may need to add a little extra lemon.
If you have preserved lemon on hand, I've used the lemon zest from them to add an extra dimension to the salad, just be sure to reduce the salt.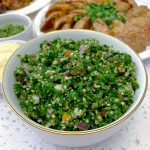 Print Recipe
Quinoa Tabbouleh
A gluten-free version of the classic Middle Eastern salad.
Equipment
Saucepan

Sharp Chef's Knife
Ingredients
½

cup

quinoa, uncooked

(100g)

1

cup

vegetable stock (or water plus a little salt)

(250ml)

4

bunches of curly parsley, cut where the stems begin and finely chopped

flat leaf parsley will work, but the salad may be more dense

small handful fresh spearmint, chopped

dried will work in a pinch

10

cherry tomatoes, very finely diced

I like the multicoloured ones! You can also use 2 regular sized tomatoes

½

red onion, very finely diced

½

lemon, zested

the juice of 2 lemons

¼

cup

good olive oil

(60ml)

salt and pepper, to taste
Instructions
Cooking the Quinoa:
Place the vegetable stock / water + salt and quinoa in a saucepan over high heat and bring to a boil.

Once boiling, reduce heat to low and cook covered for 15 minutes.

Remove from heat, and place in a mesh strainer to drain and cool.
For the Tabbouleh:
Finely chop your parsley by hand, discarding the stems. I typically just chop where most of the stems begin and don't worry about the thinner stems at the top.

If you have time, let your parsley rest on a plate covered in paper towel in your fridge. You can even do this overnight – this allows the parsley to dry and take the flavours of the lemon and oil.

Chop your mint, these do not have to be chopped as finely as the parsley

Finely chop your red onion and tomatoes.

Zest half a lemon, and juice two lemons.

Press any remaining moisture out of your quinoa, and add to the bowl of parsley, mint, tomatoes, and onion. Add your lemon zest and mix thoroughly. Then add your olive oil and lemon juice and toss.

Salt and pepper to taste – then serve!
Notes
I love using lemon zest from preserved lemons here, but reduce the salt if you do this.
To make this salad the traditional (non gluten-free way) use an equal amount of bulgur  and soak in boiling water while you prepare the other salad ingredients.