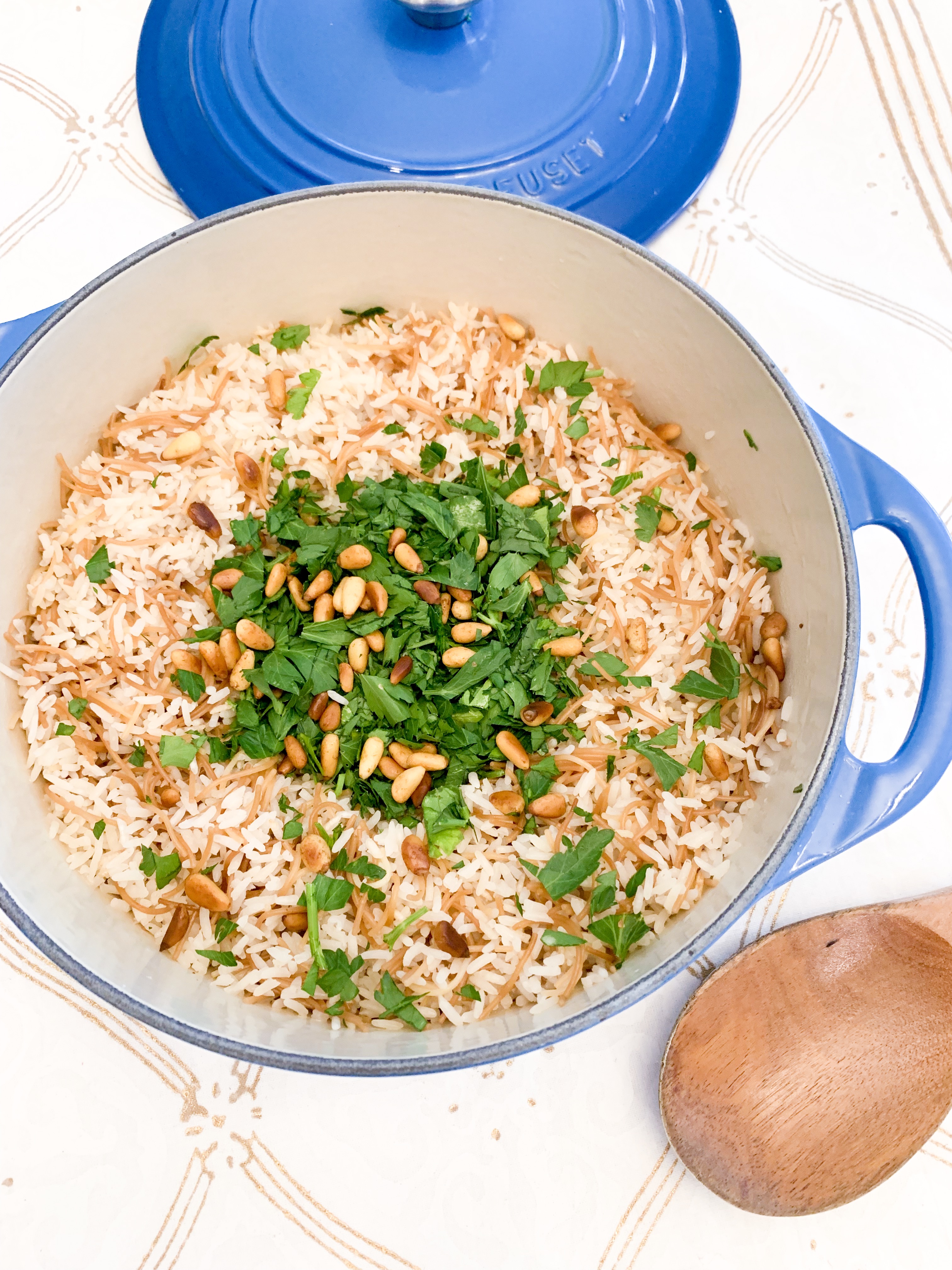 Growing up, I remember there always being a salad on our table, and most nights – rice (it's my father's favourite food). In this age of low-carb and cauliflower 'rice' it seems to have lost its cachet, but I've come to feel that rice sustained so many cultures for generations that it still belongs on the dinner table. Not to mention, it's an economic decision – a large bag of long grain rice from Costco (I love the Sona Masoori rice from Royal) lasts our family many months and is a quick, easy side for when you're not feeling up to cooking. That is not to say that we eat a lot of plain rice – we rarely do, unless I'm cooking Japanese or Thai cuisine. For our typical meals, which skew Lebanese / Levantine, it's almost always riz bi sh'arieh – or rice with vermicelli.
Riz bi Sh'arieh is a really simple dish, but there's a few tricks to making it truly great – the first of which is to make sure you brown your vermicelli properly, this gives it a lovely toasted flavour (my daughter often asks if I'm making popcorn when I cook them, as it has a similar smell). You can do this with butter or oil (if you want the dish to be parve, use vegan butter or oil for this) but I am partial to using a good quality salted butter for the toasting. Because I make this dish at least twice a week, I purchase pre-cut vermicelli from my local Arab supermarket (this is also great for making noodle dishes for small children (no cutting required!), or throwing into soups), but if you just have regular, uncut vermicelli on hand that's fine, too – just break it into 1″ (2.5cm) pieces before measuring and toasting. You do not need to cook the vermicelli at all, it goes into the pan completely hard and uncooked – just trust me on this one.
The most important thing is that you want your vermicelli really toasted. I do this over medium heat (5-6/10) so that it doesn't burn. It takes roughly two minutes in a cast iron pan (as an aside, my Staub perfect pan lives on my stove at all times, and is usually used multiple times in each meal I make). I use 2 tablespoons of good salted butter, plus an additional tablespoon of a high heat oil (like avocado or safflower) to ensure the butter doesn't smoke. The vermicelli will soak up all that delicious butter, which browns as you cook it, giving it a sweet, nutty flavour. Once your vermicelli is medium / chestnut brown, remove from the heat (and the pan!) as quickly as you can, as it can go from delicious and toasted to burned very quickly. Here's a visual guide:
Vermicelli in butter.

Nearly there – there's a few uncooked pieces still.

Fully toasted – remove from heat!
I also use a rice cooker for my riz bi sh'arieh, and if you don't own one it is an inexpensive appliance that will change your life if you eat rice regularly. Small, cost-effective units (like this adorable Dash rice cooker, in lots of fun colours!) are small-space friendly, and less than $20. The rice cooker I use is many years old, only cost around $18, and produces perfect rice without fail, every single time. While I've owned expensive Japanese Zojirushi units which are wonderful, you don't need a fancy rice cooker to make perfect rice. If you don't own a rice cooker, I've also provided steps in the recipe for your stovetop as well.
At this stage, I already have my washed rice, water, and salt waiting in the rice cooker, and I pour the hot vermicelli, butter and all – on top: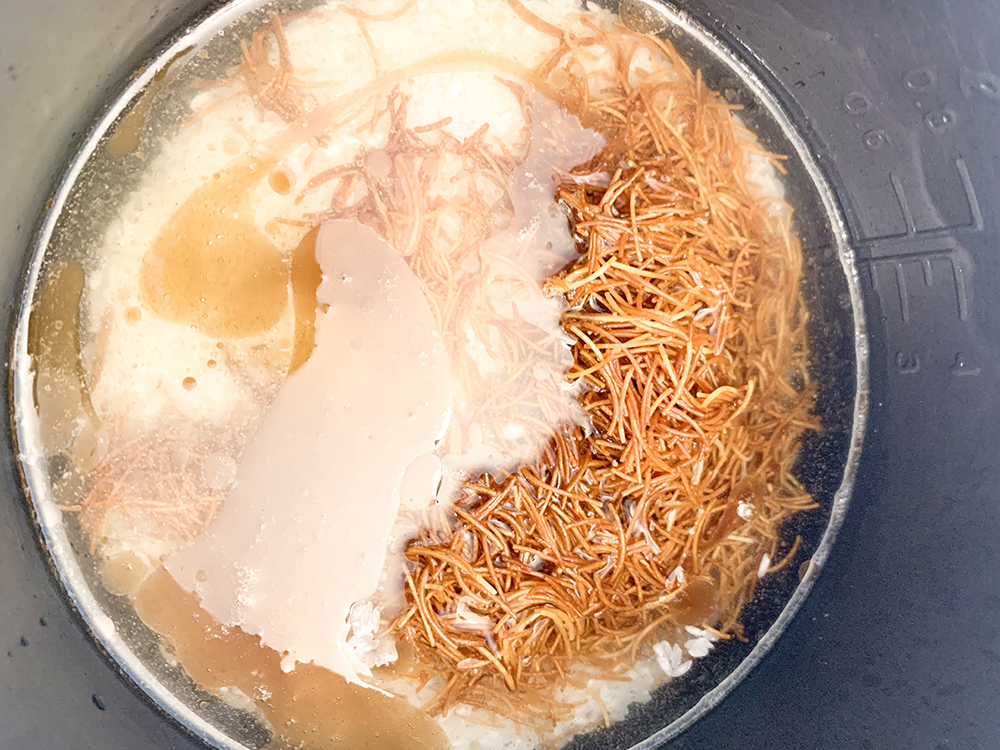 Once you've added this, mix together a little, close the lid, set to 'white rice' setting and in twenty minutes you'll be rewarded with a fluffy, buttery pot of riz bi sh'arieh, ready to be topped with fresh herbs and toasted pine nuts. My recipe is a 2:1 ratio of rice to vermicelli, others do less, some do more, but I've found this ratio to be the perfect balance of soft rice and buttery vermicelli.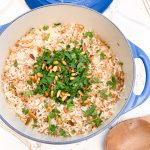 Print Recipe
Riz bi Sh'arieh (Lebanese Rice with Vermicelli)
This traditional Lebanese rice dish will accompany almost any main course. It's fluffy and buttery, with the nuttiness of browned butter.
Equipment
Rice Cooker -or- Medium Saucepan
Ingredients
2

Tbsp

good quality salted butter

for a parve dish, substitute with oil (avocado or safflower is good)

1

Tbsp

high heat oil, such as safflower or avocado

½

cup

cut vermicelli noodles

uncooked

1

cup

white rice, medium grain

I use sona masoori (an Indian rice)

½

tsp

salt

2

cups

water (or vegetable, chicken broth)
Garnish (Optional):
2

Tbsp

toasted pine nuts

(I toast with a little butter or oil for about 2 minutes over medium heat)

handful

fresh parsley (or coriander), roughly chopped
Instructions
Prepare the Rice:
Wash your rice in cold water to remove any excess starch. I do this several times until the water is relatively clear. Place your rice, water, and salt in your cooking vessel (saucepan or rice cooker) and leave to soak for 15 minutes while you prepare the vermicelli.
Toasting the Vermicelli:
In a large pan, add your butter and oil over medium heat. Once melted, add your cut vermicelli.

Toast the vermicelli for 1-2 minutes, until golden brown (do not burn!)

Immediately remove from heat and pour into rice cooker (or saucepan) with salt, rice, and water.
Rice Cooker Instructions:
Pour the hot vermicelli (butter and all) into your rice cooker bowl. Stir to combine. Set on 'white rice' setting and the rice cooker will handle the rest.

Serve with toasted pine nuts and a handful of chopped parsley.
Stovetop Instructions:
Pour the hot vermicelli into your saucepan with the rice, water, and salt.

Bring mixture to a boil over high heat, stirring occasionally. Once boiling, reduce the heat to medium (5-6/10) and cover with lid, cook for an additional 15 minutes. Fluff with a fork and serve.

Serve with toasted pine nuts and a handful of chopped parsley.