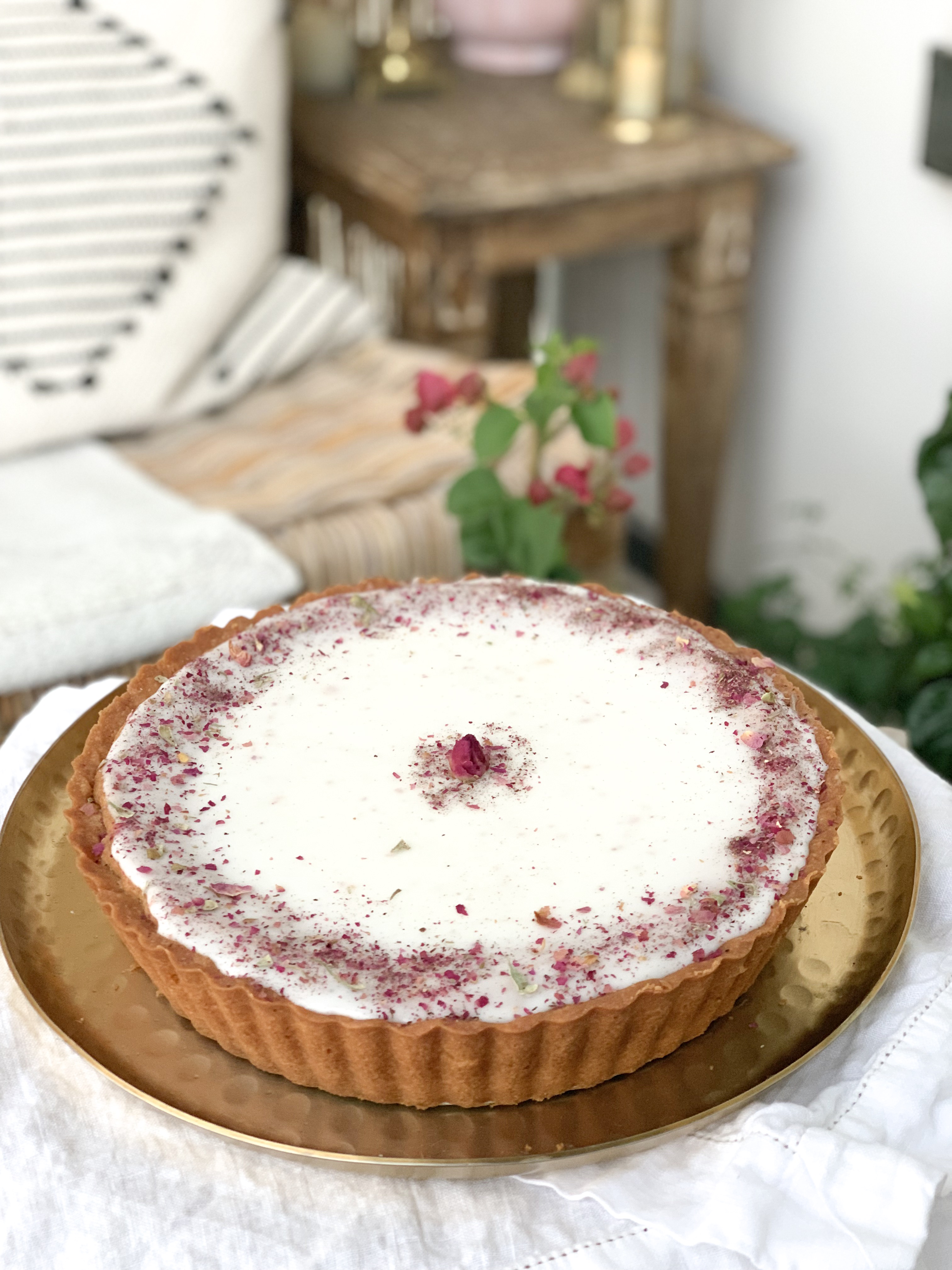 As a child growing up in Yorkshire, one of my favourite treats was an individual Mr. Kipling's bakewell tart, with a glossy candied cherry in the centre. While I'd probably not say no to one if I found them in the United States (where I live now), I didn't realise until adulthood how truly fantastic a good, homemade bakewell tart could be, versus the factory-made pastries of my childhood. I brought this tart to an American 4th of July gathering, and was shocked that a few American guests knew precisely what it was! They acknowledged they'd seen them on the popular television series 'The Great British Bake Off'.
My bakewell is a bit different in that I use my homemade strawberry rose jam (a recipe I will need to publish at some point soon). If you don't have strawberry rose jam on hand you can use strawberry (or raspberry) jam with a touch of rose water for a similar effect. I also use an almond shortcrust pastry – part flour, part almond flour; and instead of almond extract in the frangipane (the soft center of the tart) I use mahlab, a Middle Eastern baking spice to give it a natural almond taste (I also use this in my clafoutis, for the same effect). If you don't have mahlab you can simply omit it, and add just a few drops of almond extract if desired.
The tart is honestly just as good without the icing – and actually, as I'm not big on very sweet things, I found I actually preferred it without. It would be equally lovely (and a touch less rich) simply topped with sifted confectioner's (icing) sugar and dried rose petals. Here's what it looked like right out of the oven: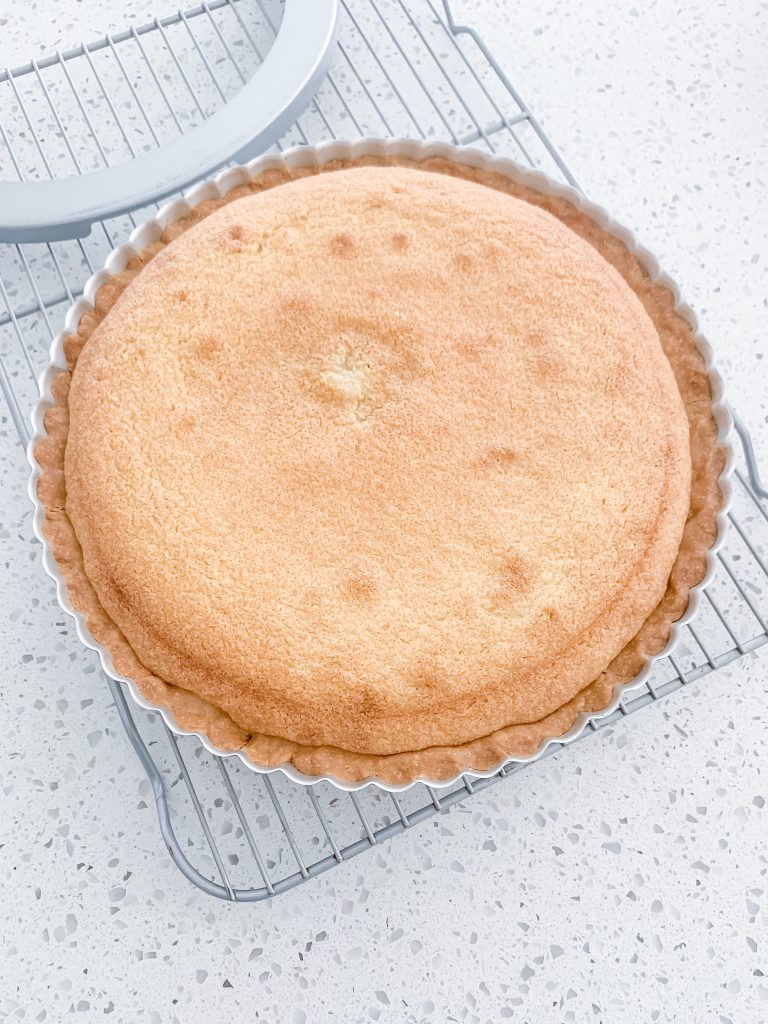 I do acknowledge that the iced version is certainly a bit prettier / fussier looking, it almost looks like something from a Victorian era afternoon tea – which I love, but it is indeed very sweet. You may have leftover icing as well – which you can use to ice shortbread cookies or other desserts. I'd err on the side of using less of the royal icing so that it doesn't end up too sweet.
Gluten-Free Notes:
This recipe can actually be made completely gluten free by using almond flour for the crust in place of the all-purpose flour, and removing the tablespoon of flour in the frangipane filling with a teaspoon of starch (tapioca, corn, potato, or arrowroot work here).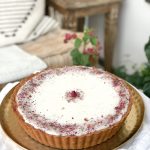 Print Recipe
Almond Shortcrust Pastry
This shortcrust pastry is perfect for any sweet tart recipes.
Servings:
1
9″ / 23cm Crust
Ingredients
1

cup

all purpose flour

128g

½

cup

almond flour (or finely ground almond meal)

50g

½

cup

confectioner's sugar

63g

¼

tsp

salt

1

stick

butter, chilled and cut into small pieces

113g

1

large

egg
Instructions
In a food processor (or bowl), combine all ingredients until a dough forms. Refrigerate for 2 hours (wrapped / covered) then roll out to fit your tart tin (9" / 23cm)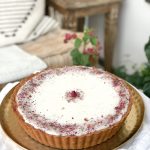 Print Recipe
Strawberry Rose Bakewell Tart
This exotic take on the traditional British bakewell tart features a strawberry rose jam and rose water royal icing adorned with dried rose petals.
Equipment
9" / 23cm tart tin with removable bottom.
Ingredients
For the Bakewell:
1

chilled, almond shortcrust pastry (see recipe)

1

cup

blanched, coarsely ground almonds

100g

1

Tbsp

all purpose flour

½

tsp

mahlab

optional

⅔

cup

granulated sugar

135g

1

stick, plus 1 Tbsp

unsalted butter, room temperature

128g

1

large

egg, room temperature

1

large

egg white, room temperature

1½

tsp

fresh lemon zest

½

cup

strawberry rose jam, or strawberry jam with 1 tsp rose water mixed in

165g
For the Rose Water Royal Icing:
1¾

cups

confectioner's sugar

200g

1-2

Tbsp

cold water

plus more, if needed

1

tsp

rose water

1

tsp

dried rose petals

for garnish, optional

1

small

dried rose, for center

for garnish, optional
Instructions
Grease your tart tin with butter, and line with your chilled rolled shortcrust pastry.

Spread your jam into the bottom of the pastry crust.

Mix your frangipane ingredients: almonds, flour, mahlab, sugar, butter, egg and egg white, and lemon zest, thoroughly – either by hand or in a stand mixer. Pour over the jam and place in the refrigerator for one hour.

Heat your oven to 350°F (175°C) and bake the tart for 45-55 minutes with the tart tin placed on top of a baking sheet, until the top is golden and a toothpick pulled from the center is clean. Cool on a wire rack for two hours, then ice if desired.
Royal Icing:
Mix your icing sugar, rose water, and enough water to form a thick icing. You can add a teaspoon of corn syrup if desired to add shine. Pour on to fully cooled tart, and garnish with dried rose petals as desired.