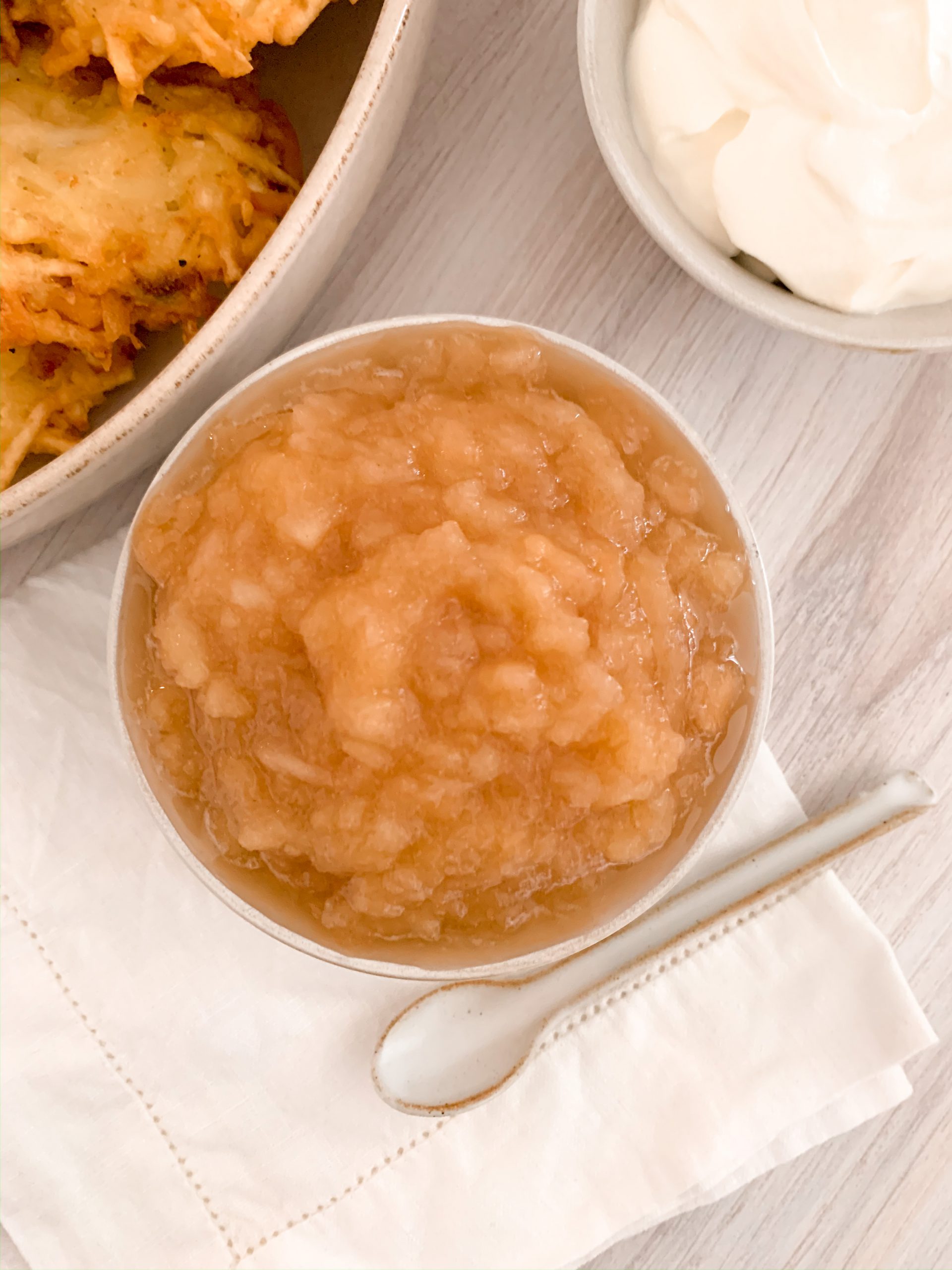 Applesauce has never been my favourite side dish or condiment, mostly because prior to making my own applesauce I'd always been accustomed to the sickly sweet and grainy light coloured stuff you find in the grocery store – in plastic containers with a metal pull-off lid. Applesauce had always been one note to me – sweet and no depth, and so I'd never grown to like the stuff. That is, until I made my own.
Homemade applesauce is neither grainy nor overly sweet, and cooking it slowly in your crockpot / slow cooker gives it a naturally sweet, caramelised flavour that isn't present in the store bought stuff – it also gives the applesauce a slightly darker hue. It's the perfect compliment to homemade potato latkes for Hanukkah. I use opal apples here, which are both sweet and crisp – and known for the fact that they don't brown quickly like other apples (parenting tip: these make the perfect sliced lunchbox apples for this reason). If you can't find these golden yellow apples then you can use pink lady, honeycrisp, or fuji apples instead. You'll want to use fresh apples – crisp apples make the best applesauce, mealy ones will make your applesauce unpleasantly grainy.
I discovered opal apples because my October-born daughter found out that her birthstone is opal, and is subsequently obsessed with anything opal – we walked past a display of these in our local Whole Foods and she begged me for them. They're like a crisper, slightly more tart golden delicious apple – the perfect balance of crispy, sweet, and just a little acidic. I highly recommend them if you can find them in your local produce section!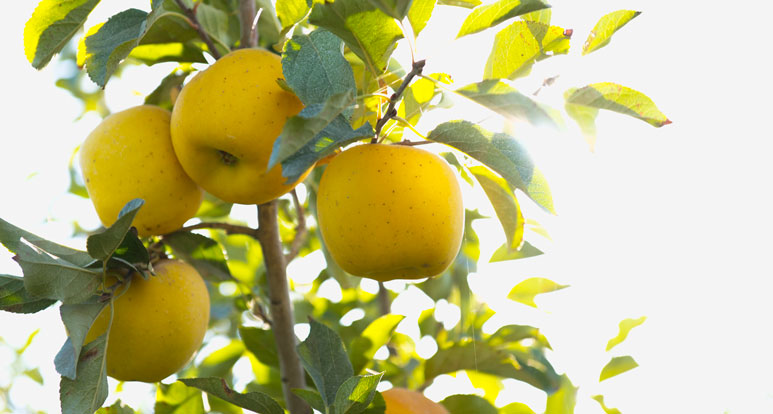 I make this the night before in the slow cooker – after eight hours on low the apples are perfectly soft and caramelised. I use a potato masher in the pot of the slow cooker to mash them up, as I like my applesauce to retain some chunkiness. If you prefer yours perfectly smooth you can blend after cooking using either a food processor or a blender. Refrigerate for four hours or so and you'll have the best applesauce you've ever tasted with minimal effort. This recipe yields roughly 32 ounces of applesauce, and can be frozen for up to three months.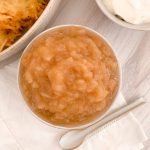 Print Recipe
Slow Cooker Opal Applesauce
This set it and forget it slow-cooker applesauce made with opal apples is simple and delicious – and the perfect accompaniment to Hanukkah latkes.
Ingredients
4

pounds

opal apples

(1.8kg – about ten medium sized apples)

1

cup

water

(235ml)

juice of one lemon

½

cup

granulated sugar

(100g)

1

tsp

ground cinnamon

pinch

fine sea salt
Instructions
In the pot of your slow cooker / crockpot place the water, lemon juice, sugar, cinnamon, and salt.

Peel, core, and chop your apples. Add to the slow cooker and cover. Set to low for at least 6 hours (I cook for 8).

After the apples have cooked, use a potato masher to puree the mixture into a chunky applesauce. If you prefer smooth, you can blend using a food processor or blender.

Refrigerate for at least four hours before serving.
Notes
You can freeze this applesauce in an airtight container for up to 3 months.