Before I lived in Denver I lived in Chicago, Illinois. I'd moved there from London, and I lived in a mostly Mexican neighbourhood on the South Side – Pilsen. This time almost feels like it was another life for me – it was before I was married, or a parent, and I was a relatively broke student, but I learned a lot of life lessons and absorbed a lot of culture. I also discovered elote, or Mexican grilled corn.
In England at the time, there was very little Mexican food around – even in London, and I distinctly remember visiting a 'Mexican' restaurant run by British people in Yorkshire, where the salsa was nothing more than ketchup, onion, and green bell pepper. It was almost as if someone had seen a photo of Tex-Mex food and thought 'I've never eaten this, but I bet I could make it!' Needless to say, my exposure to genuine Mexican food at this point in my life was sadly very limited.
On humid Chicago summer days, when the air was thick and heat radiated oppressively from the asphalt, a man with a little bicycle cart would drive around selling elote – either in a cup or as the whole grilled cob – coated in mayonnaise and cotija cheese, and sprinkled with lime and chili. I don't remember how much it cost – maybe a couple of dollars, and neither one of us spoke the other's language, but I somehow managed to order myself one using a combination of signing and (terrible) broken Spanish, and I was hooked. More often than not that summer the best part of my day was walking home from the L after work and grabbing a cup of elote from the street cart.
I live in Denver now, and there is – at least as far as I know – no elote man here. Elote has now made its way on to myriad menus in hip restaurants and so on, but this summer I found myself craving it, and without the typical ingredients, I decided to put a Mediterranean spin on the classic. It's never going to be as good as one from a street cart, but this one is pretty great – the garlic from the toum gives another dimension to the corn. You can make it the traditional way, roasting the corn (coated with butter or olive oil) over a grill (or in the oven at 400°F (200°C) for 40 minutes, flipping over after 20. Then coating the cob in a mixture of garlicky toum and mayonnaise, and sprinkling with citrusy sumac, spicy and smoky Aleppo pepper, a little cilantro, and feta. Like so: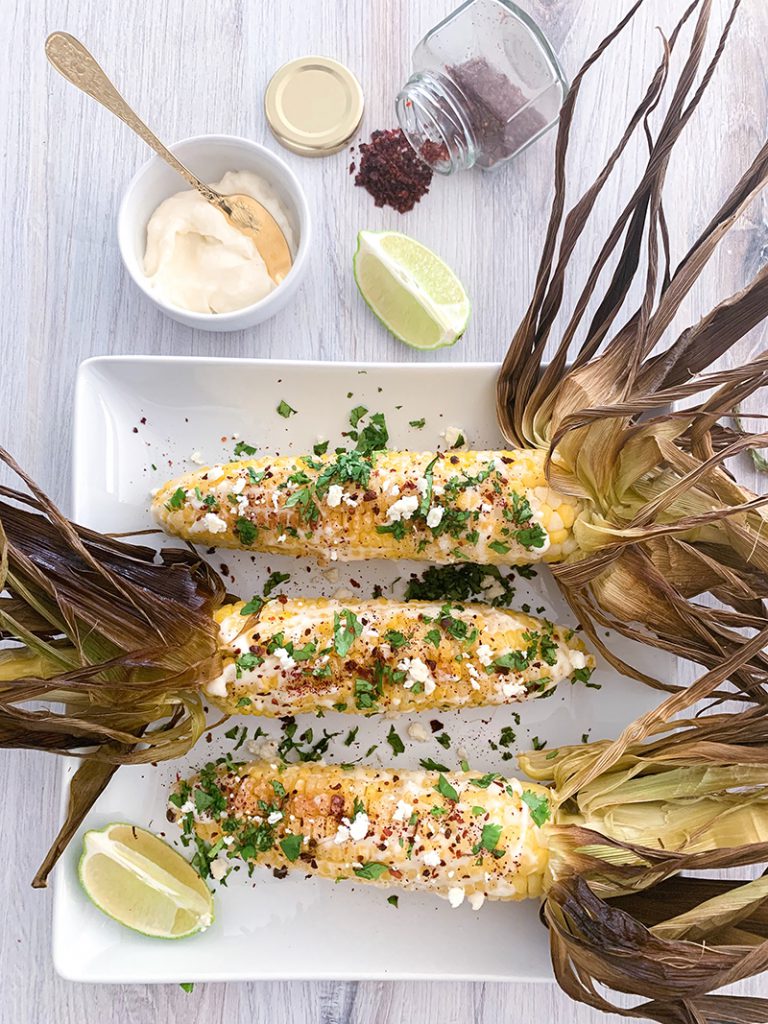 I realise this way of eating elote is not for everyone. My husband in particular hates eating messy things with his hands, and so to make this easier for eating, and for taking to gatherings, I give you the recipe for a Mediterranean style elote salad instead. If you don't want to make toum and don't have it on hand, Trader Joe's makes an excellent 'garlic spread-dip' you can use in place of it. If you want that smoky flavour from the roasted corn, you can use roasted corn instead of frozen – but the regular frozen corn will still be pretty delicious if you don't have the time to grill or roast it.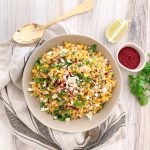 Print Recipe
Mediterranean Elote Salad
A Middle Eastern / Mediterranean take on the classic Mexican street food.
Ingredients
1

lb

frozen corn, defrosted and drained well

(or use roasted corn, removed from the cob)

1

small

red onion, finely diced

¼

cup

fresh cilantro, finely chopped

plus extra, for garnish

2

Tbsp

mayonnaise

2

Tbsp

toum (Lebanese garlic sauce)

juice

of half a lime

1

tsp

sumac

1

tsp

Aleppo pepper

¼

cup

feta cheese, crumbled

(or more, if you like a lot of cheese!)

salt and pepper, to taste
Instructions
Place all ingredients in a bowl, and mix thoroughly to combine. Garnish with lime wedges and extra sumac, Aleppo pepper, and cilantro, if desired.