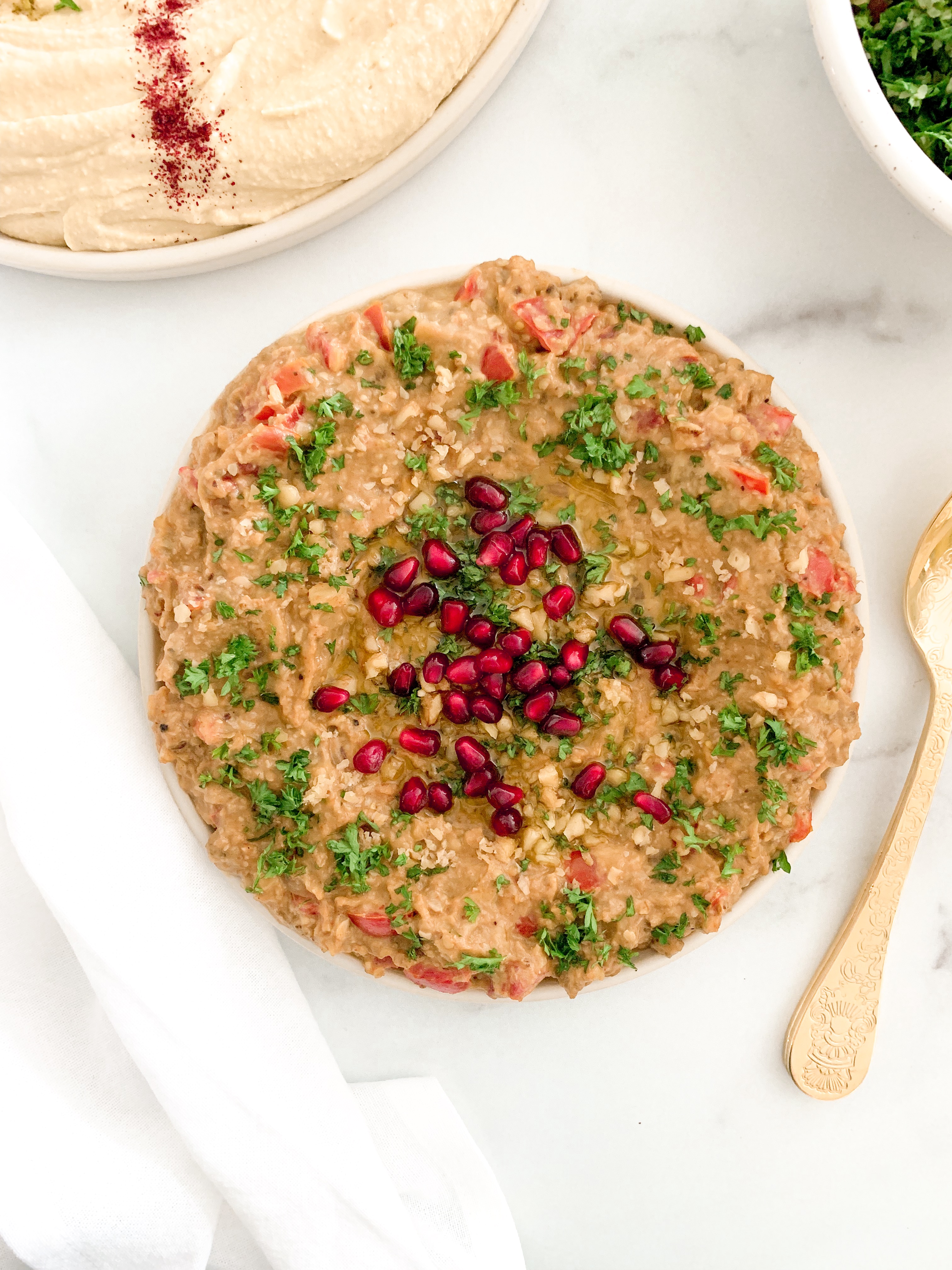 If you've read my recipe for mutabbal then you're aware of the debate as to what baba ghanouj / ganoush is supposed to be. I was always told that aubergine (eggplant) with tahini is mutabbal, and aubergine without tahini (and with tomatoes, pomegranate molasses, and walnuts mixed in) is baba ghanouj. I don't mind what you call it really, but know that if you're looking for creamy, tahini-laden eggplant dip – then you'll want to hop over to my mutabbal recipe instead. As I mention there, baba ghanouj literally means 'pampered father' as baba is the Arabic word for 'dad' or 'father', and it's supposed to be a pretty rich, indulgent dish made for someone's apparently very pampered baba.
This recipe is for the chunkier, more tart variety of baba ghanouj, which happens to be my personal favourite. While I love both, I feel like the bright and tart flavours of the pomegranate molasses really allow the aubergine to shine. It's smoky, and tart, and salty, just the perfect balance of different flavour types. My daughter disagrees, and while she'll eat this one if dessert depends on it, she won't willingly put it on her plate. This means that it's usually all for me (my husband is sadly anti-eggplant) – so I can't complain.
The Perfect Aubergine (Eggplant)
A lot of eggplant haters cite its bitterness, but I've never thought it a bitter vegetable, probably because my mother always 'sweat' out the bitter liquid from the aubergine first (buying a fresh, glossy aubergine with tight skin – not wrinkly (sorry, geriatric eggplants) is also key). First, you're going to need to 'sweat' your aubergine. I start by cutting my aubergine / eggplant in half, salting the cut side liberally and letting it 'sweat' as it sits for thirty minutes while I do other things around the kitchen. Toast your walnuts, chop your tomatoes, sit and watch something on Netflix, you do you. After thirty minutes, rinse off the salt and liquid that has emerged and dry.
As with mutabbal, you'll want your eggplant to take on a smoky flavour, as this makes the dip particularly good. This isn't always easy – especially, if like me, you live in a flat / apartment and can't easily grill or smoke something. I don't have a gas range, either – which is my usual go-to with charring aubergine. Instead, I cut them in half lengthwise, season with salt and olive oil, and roast in the oven cut side up at 400°F/200°C for half an hour, then turn them upside down (skin side up) and place under the broiler (grill, for my English readers) for an additional 5 minutes or so until the skins are nice and charred. Note: If you too live in an apartment with a particularly sensitive smoke detector, you should run your vent / fan as you are essentially burning the outside of the eggplant. After this, let it cool until you can use your hands to scoop out the delicious (and yes, kind of slimy) innards. Taste a piece and make sure smokiness is detectable. If not, you can add a few drops of liquid smoke and massage in to the cooked aubergine (don't go overboard with this stuff though, as it's very strong).
A Word on Pomegranate Syrup / Molasses
Beyond smokiness, the other part of what makes this baba ghanouj truly spectacular is the sweetness and tartness of the pomegranate molasses. Over the years I have bought and tried a lot of pomegranate molasses, and I'm convinced that the only good one is the Al Wadi All-Natural variety (linked above, their other, cheaper pomegranate molasses is sadly not as good – too sweet and the flavour just isn't there). You want to look for one that contains only pomegranate. No added sugars or flavours. The difference is noticeable, and it's worth investing in – unless you're strictly cooking Middle Eastern food for all of your meals, it will likely last you an entire year, and it's great in so many dishes – or even over a scoop of good vanilla ice cream!
Okay, Back to Making the Baba!
So you've got your smoky, delicious eggplant and some pomegranate molasses. You're also going to want to toast your walnuts (over medium heat in a dry frying pan) until they're lightly browned and fragrant. Toss them on to your cutting board, and once they've cooled chop them very finely. Chop your aubergine that you've pulled from its skin, making sure no skin is left behind. Chop your tomatoes into small pieces, as well, and we're ready to start mixing everything together. I don't add parsley or pomegranate arils into the baba ghanouj itself, but they are my favourite garnish, so I sprinkle them on top instead: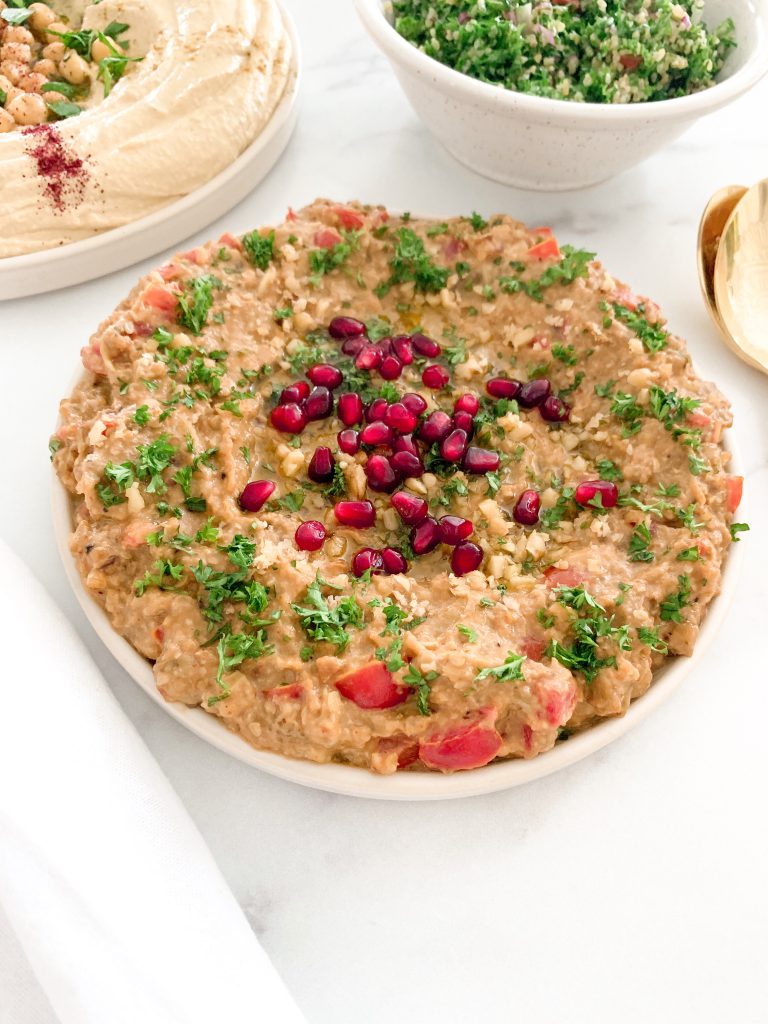 Once you've thoroughly mixed everything together, spread onto a plate, leaving a slight 'well' in the middle to pour in olive oil, sprinkle with some reserved walnuts, pomegranate arils, and chopped parsley. If you like a little kick you can also add a little dried harissa or Aleppo pepper to the top, too! This is definitely a dish for the most spoiled baba.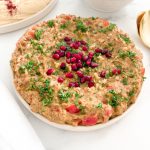 Print Recipe
Baba Ghanouj / Ganoush
This baba ghanouj is made with aubergine, pomegranate, walnuts, and tomatoes. It's a bright, refreshing salad that belongs on every mezze table.
Ingredients
2

large

eggplants / aubergines

¼

cup

olive oil, plus more for serving

plus 2-3 tsp for coating aubergine

2-4

tsp

salt, for 'sweating' the eggplant

2-3

drops

liquid smoke (if needed)

¼

cup

walnuts

juice of half a lemon

2

medium

tomatoes, finely diced

1

Tbsp

pomegranate molasses

¼

tsp

smoked paprika

¼

tsp

Aleppo pepper

2

cloves

garlic, finely chopped

(or 2 tsp toum)

¼

tsp

fine sea salt

¼

tsp

black pepper

parsley and pomegranate arils, to serve
Instructions
Sweat the Aubergine / Eggplant:
Cut each aubergine lengthwise, and salt the cut side liberally. Let rest for thirty minutes, then rinse off salt and any juices that have leaked out.
Cook the Aubergine / Eggplant:
Preheat your oven to 400°F/200°C. Place aubergine on a foil-lined baking sheet cut side up. Season with a drizzle of olive oil, and salt. Bake for 30 minutes.

Turn on your broiler and turn over the aubergines, skin side up. Place close to the broiler and cook for an additional 5-10 minutes until skins are charred. Remove from oven and cool for 15 minutes or so. Check smokiness – and if it needs extra, add a few drops of liquid smoke to taste.
Toast the Walnuts:
In a dry pan, over medium heat toast the walnuts until lightly brown and fragrant. Remove, cool, and finely chop. Reserve a half Tbsp or so for garnish.
Make the Baba Ghanouj:
Chop your aubergine to the desired chunkiness. Chop your tomatoes and add to the bowl. Add your walnuts, lemon juice, pomegranate molasses, olive oil, smoked paprika, Aleppo pepper, garlic (or toum), salt, and pepper. Mix thoroughly and taste – adjust seasonings as desired.

Place on a plate and form a slight 'well' in the center. Pour in a little olive oil and garnish with parsley, pomegranate arils, and reserved walnuts. If desired, sprinkle with a little dried harissa or Aleppo pepper for spice.
Notes
This will feed 4-6 as part of a mezze.