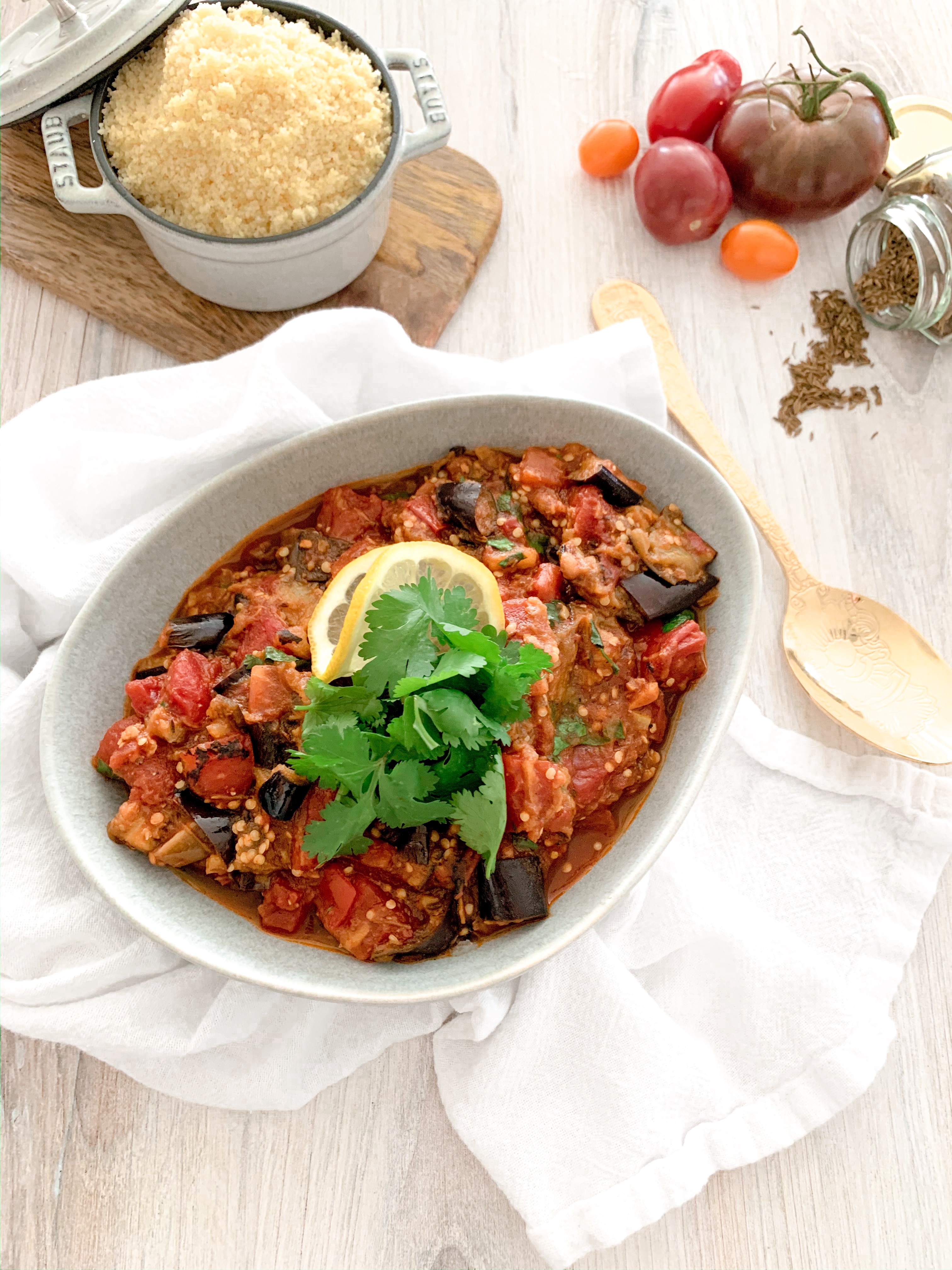 Last year I spent some time in Morocco and had the pleasure of sampling a variety of different Moroccan dishes. Since then, I've been trying to incorporate more Moroccan recipes into our lives, and autumn is usually a great time to pull out recipes for the various cooked vegetable dishes that are so common in Moroccan cuisine. Zaalouk, a warm aubergine and tomato salad, is one of my favourites.
It also helps that I typically have everything on hand for this dish, since all of the ingredients are common to Middle Eastern cooking as well. The name salad is kind of a misnomer, since salads typically invoke raw dishes – but it is served at room temperature, and is a perfect addition to a mezze table. Because it's served at room temperature it can easily be made ahead for a party – served with Moroccan style bread (Lebanese talami bread goes great with this dish too, as does a traditional khubz). It's not traditional, but I also like it warm served over plain couscous or cauliflower rice as a healthy vegan meal.
I like adding a little urfa biber chili to the zaalouk for a smokiness that compliments the aubergine, but if you don't happen to have any you can easily omit it. Similarly, I like the texture and taste that whole cumin seed provides, but if you don't have it just substitute the same quantity of the ground stuff.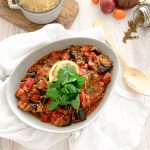 Print Recipe
Zaalouk (Moroccan Aubergine Salad)
This warm Moroccan eggplant and tomato salad is spiced with cumin, paprika, and coriander, with plenty of olive oil and lemon.
Ingredients
For the Roasted Eggplant / Aubergine:
2

Tbsp

olive oil

2

lbs

eggplant (aubergine)

(1kg)

fine sea salt (for sweating aubergine)
For the Zaalouk:
2

Tbsp

olive oil

3

cloves

garlic, finely chopped or crushed

(or 2 tsp toum)

2

tsp

smoked paprika

1

tsp

ground cumin

½

tsp

whole cumin seed

½

tsp

ground coriander

1

tsp

urfa biber chili, ground

(optional)

2

cups

blanched and peeled tomatoes, chopped

whole tinned tomatoes work here as well (600g)

½

cup

water

1

tsp

fine sea salt

½

tsp

ground black pepper

1

tsp

preserved lemon peel, finely chopped

(optional)

1

whole

bay leaf

1

Tbsp

lemon juice

4

Tbsp

cilantro (fresh coriander), coarsely chopped

Plus extra for garnish, if desired.
Instructions
For the Roasted Eggplant / Aubergine:
Preheat your oven to 400°F (200°C). Line a large baking sheet with foil.

Slice aubergine into thick (¾" / 2cm) rounds. Salt liberally and let sit for 30 minutes to allow the aubergine to sweat. Rinse off the salt, drizzle with olive oil and add a little extra salt, and bake at 400°F (200°C) for 35 minutes.

Remove from the oven and allow to cool, then slice into bite-sized pieces.
For the Zaalouk:
In a saucepan over medium heat add your olive oil. Once the oil is warmed add your garlic, paprika, cumin, cumin seeds, coriander, and urfa biber (if you have it). Cook until fragrant, about 2 minutes. Add your salt, pepper, tomatoes, preserved lemon, bay leaf, and the water and cook for 5 minutes. Finally, add your aubergine (eggplant) and cook for an additional 5 minutes.

Remove from heat, stir in fresh coriander (cilantro) and lemon juice, and serve with warm bread.
Notes
As a main course with bread this will serve 4, 6-8 as part of a mezze.