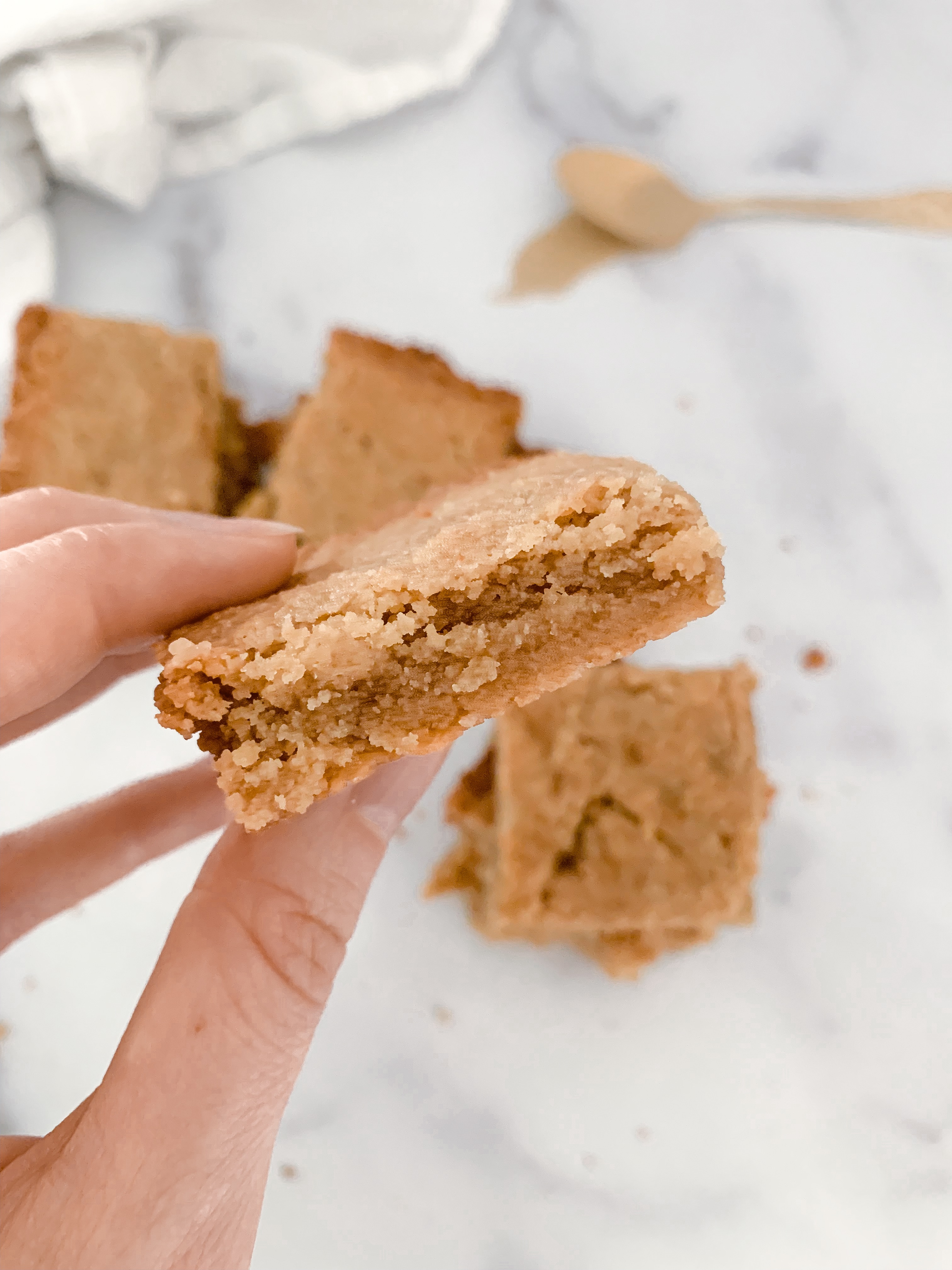 We use a lot of tahini / tahina in our house – so much in fact that I actually purchase it in bulk. Day to day it's used in mostly savoury applications – hummus, on top of toast with za'atar, or drizzled over roasted aubergine. It's also perfect in many desserts. After a business trip to the Middle East, wherein I realised upon my return that I'd neglected to pick up halva to bring back, I immediately started craving it. Not feeling like making halva from scratch (someday I vow to actually do this) I decided the next best thing would be these – tahini-infused blondies.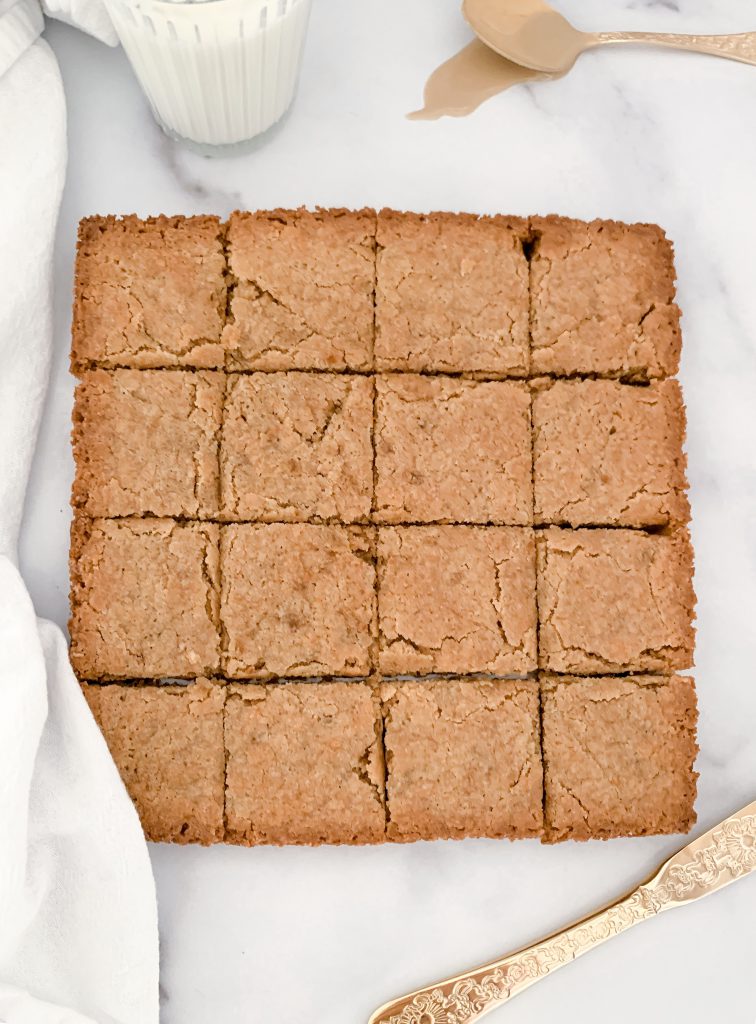 Tahini does double duty in this recipe – not only does it fill out the blondies, rendering them rich and fudgy, it also is perfect for greasing your cake tin as well (many people use tahini to grease the tin when they bake namoura) so that they don't stick. This recipe makes enough for one 8×8″ (20x20cm) square cake tin of blondies, which doesn't seem like a lot, but they're pretty rich. For gatherings or parties, you can double the recipe with a 9×13″ (23x33cm) cake tin, if you like. As an aside, I used my new 8×8″ USA Pan for these blondies and I can safely say it's the best baking pan I've ever used – I used no parchment and the blondies easily lifted right out with zero effort, and it gave the perfect crispy crust. You'll want to bake until it's just golden around the edges and the center is relatively firm. I like mine a little undercooked so that the centre is still just a bit soft and gooey.
I know I say this often, but use good tahini for this.
Don't use the stuff in the brown and orange tin. Good tahini can be found in most supermarkets these days. I really like Soom, Al Arz, Alwadi, Achva, or Seed+Mill. Good tahini will make all the difference in your recipes.
While you can use regular old melted butter, I find that brown butter adds a little something extra to these blondies, making them nuttier and more nuanced. I've made them with regular butter and they're good, but the brown butter makes them exceptional. It's worth the extra couple of minutes of effort, I promise. The pinch of cinnamon also adds an extra dimension, and even if you're not a big cinnamon fan it really gives these blondies some extra interest – and it's just a pinch so not overwhelming or noticeably cinnamon-y at all (Ceylon, or true cinnamon, is my favourite as it's a 'softer' flavour, which just adds a hint of warmth, rather than a punch of intense spice).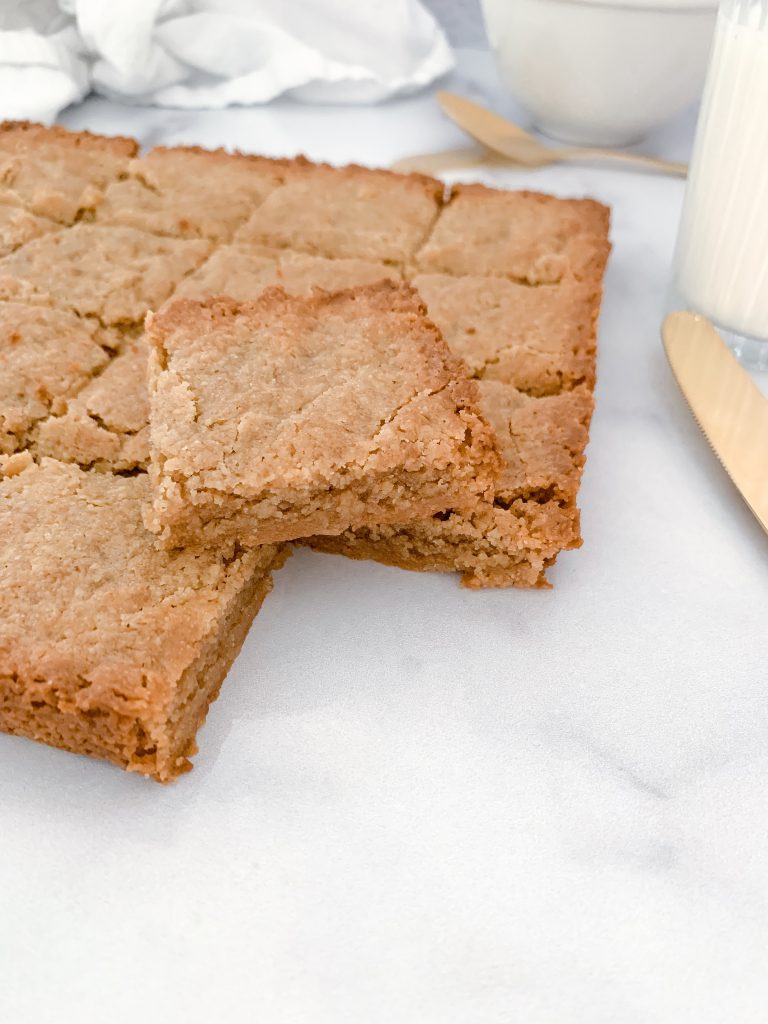 These blondies are also amazing right out of the pan, warm, with a scoop of vanilla ice cream on top, and a little drizzle of tahini or silan (date syrup). They are super decadent and rich, so I like to cut them into 16 small pieces – but you can also cut them into larger, traditional sized blondie bars. As most Mediterranean desserts tend to be bite-sized, I have a tendency to cut everything into mini pieces.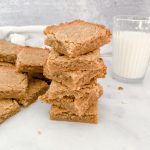 Print Recipe
Brown Butter Tahini Blondies
These dense, chewy blondies are packed with tahini and nutty brown butter for a super rich, delicious dessert bar.
Equipment
Saucepan (to brown butter in)

One 8×8" / 20x20cm square cake tin
Ingredients
½

cup

unsalted butter

(1 stick – 115g)

½

cup

good tahini

plus an extra teaspoon or two to grease your cake tin (225g)

1

cup

brown sugar

(200g)

1

large

egg

1

tsp

vanilla extract

¼

tsp

ground Ceylon (true) cinnamon

¼

tsp

fine sea salt

1

cup

all purpose flour

(120g)
Instructions
Preheat your oven to 350°F (175°C). Grease your baking tin with tahini liberally, and set aside.
Brown the Butter:
In a small saucepan, over medium heat, melt your butter. Once the butter is fully melted use a whisk to gently stir it. After a couple of minutes the milk solids in the butter will begin to turn brown. Once the butter has reached an even, caramel colour (the flecks should be a medium golden brown, not black!) remove from the heat immediately and set aside.
Make the Blondies:
In a bowl combine your brown butter, tahini, and brown sugar. Use your whisk to combine well.

Add your egg and vanilla extract, followed by the salt and cinnamon, and stir well to combine. Finally, add your flour to the mixture until it forms a thick, almost solid mixture. Press into the baking tin and smooth the top with a spatula.

Bake for 20-25 minutes, or until until lightly browned around the edges and the center has firmed up a bit. Leave to cool for at least ten minutes in the baking tin before removing and slicing. Can be served warm (with a dollop of vanilla ice cream!) or at room temperature.
Notes
Can be stored for up to 5 days in an airtight container at room temperature, though they likely won't last that long.