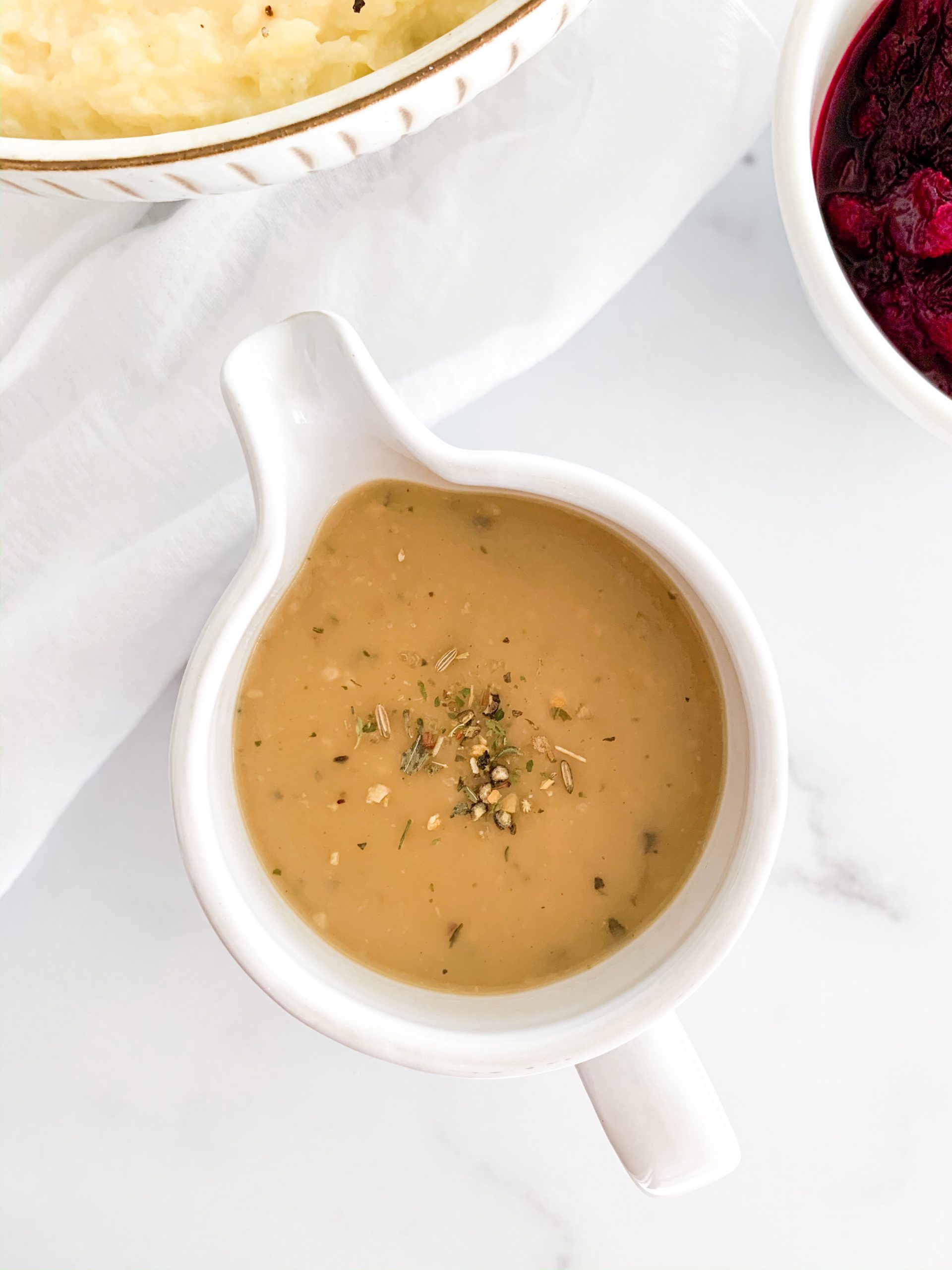 My favourite part of Thanksgiving is the sides; you can keep your turkey. For Thanksgiving our family usually roasts either a Quorn Turk'y (vegetarian), or a Field Roast en Croûte (vegan) to bring along with us. We find that even non-vegetarians like these options as well, and they're great if you're trying to reduce your meat consumption. To go along with these, I always make this vegan gravy – which is delicious pretty much poured over anything.
For this recipe, I used Better than Bouillon's 'No Chicken' and their 'Roasted Vegetable' (1 cup of each), which gave the gravy a really rich 'meaty' flavour. I keep these in my fridge at all times, and I much prefer them to buying prepared broth – they last longer, there's less waste, and I can adjust the strength as needed. You can just use vegetable broth if it's all you have on hand, and it'll still be delicious – I just find the 'No Chicken' broth gives it a little bit of a more poultry flavour. I usually use a 'poultry seasoning' blend of herbs for this, but if you don't have that on hand you can make your own using equal parts dried marjoram (or oregano), thyme, sage, and rosemary.
This recipe can also easily be adapted for a gluten-free diet: simply substitute brown rice flour in place of the wheat flour in your roux, and ensure your tamari is gluten-free. Easy!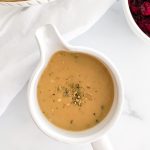 Print Recipe
Vegan 'Turkey' Gravy
This easy, savoury vegan gravy is the perfect addition to your Thanksgiving dinner.
Ingredients
3

Tbsp

vegan butter

¼

cup

flour

(for gluten free: brown rice flour) (32g)

½

tsp

garlic powder

½

tsp

onion powder

¼

tsp

ground black pepper

1

tsp

poultry seasoning (or fines herbes)

(or ¼ tsp each marjoram, thyme, sage, rosemary)

2

Tbsp

soy sauce or gluten-free tamari

2

cups

vegetable or 'no chicken' stock

(500ml)

1

cup

non-dairy milk

(I used full fat oat milk) (250ml)
Instructions
Make the Roux:
In your saucepan over medium heat, add your vegan butter and heat until melted. Add your flour and use your whisk to combine. Cook this mixture, stirring frequently, until it turns a slightly golden colour.
Make the Gravy:
Reduce heat to low and add the garlic and onion powders, ground black pepper, as well as the poultry seasoning / fines herbes. Add your soy sauce and vegetable stock and stir to combine (the mixture will bubble vigorously upon adding liquid).

Once combined, add your milk and stir, returning the heat to medium-low, until thickened. Serve immediately. It can be reheated by adding a little broth to the saucepan with the cooled gravy until it warms and becomes pourable.