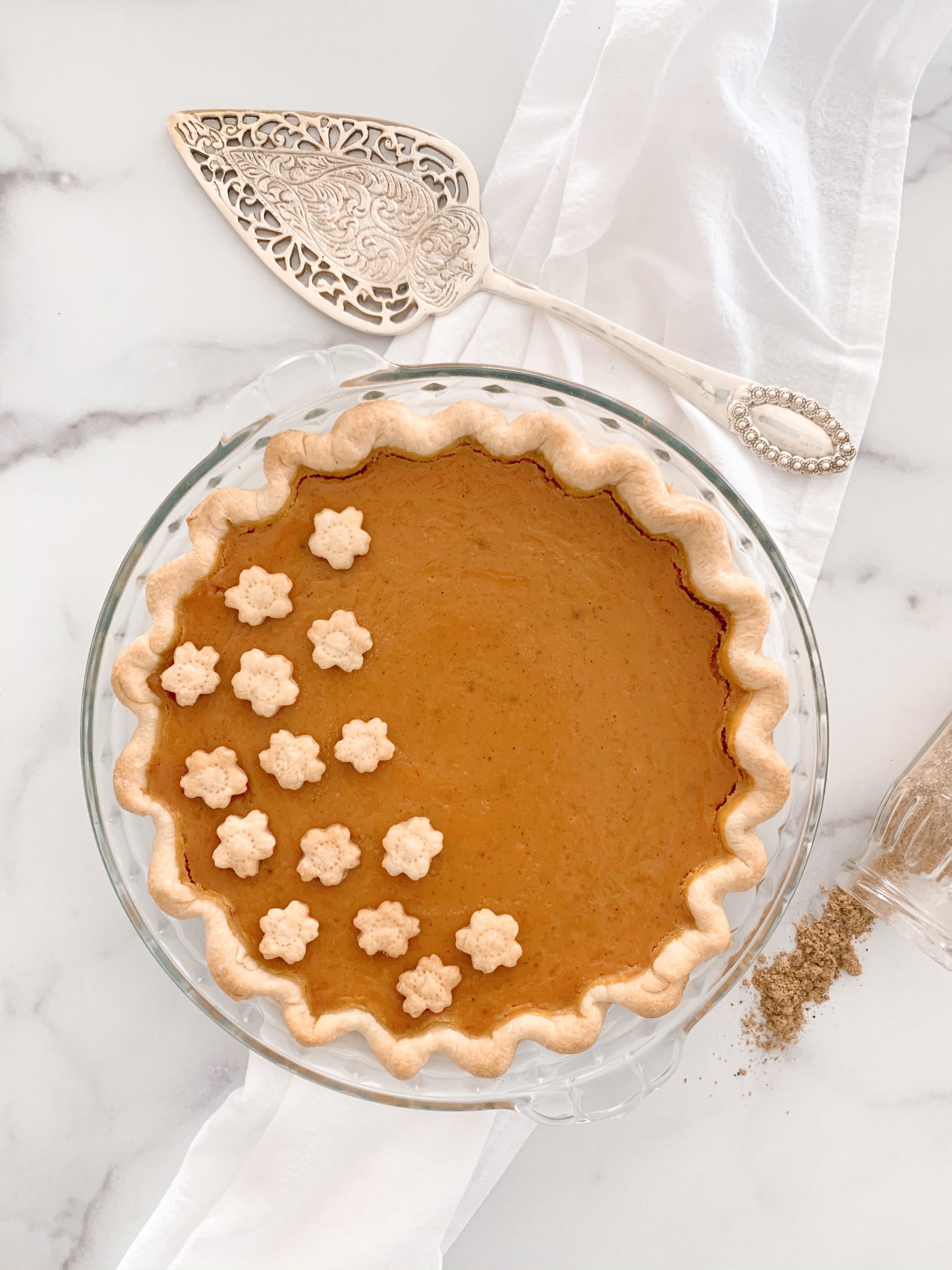 Hawaij is a Yemenite spice mix, which comes in both a savoury version and a 'sweet' one, used in Arabic style coffee. It contains ginger, cardamom, nutmeg, mace, cinnamon, and clove. This warming spice blend is perfect not just in coffee, but in lots of American autumn favourites, like pumpkin bread, or in this case, pumpkin pie.
I make this pie for my daughter and husband – pumpkin pie is an American taste I never quite came to love – but I served this at a recent 'friendsgiving' to rave reviews – it definitely doesn't veer too far from the traditional pumpkin pie flavour, since sweet hawaij is very similar to pumpkin spice's flavour profile. Definitely give this one a try! The hawaij recipe is below the pie recipe, but if you don't want to go to the trouble I've included an approximation of the spices needed in the recipe as well.
I've also included instructions to make the pie parve / dairy-free as well, in case this is a concern.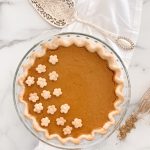 Print Recipe
Hawaij Pumpkin Pie
This traditional pumpkin pie is infused with Yemenite hawaij spice, and is the perfect addition to your Thanksgiving table.
Ingredients
For the Crust:
1¼

cups

all purpose flour

(160g)

½

tsp

fine sea salt

½

Tbsp

granulated sugar

1

stick

unsalted butter

(4 ounces / 113g)

¼

cup

cold water

(59ml)
For the Pie:
1

tin

pumpkin puree

(15 ounces / 425g)

1

egg

3

egg yolks

2

tsp

hawaij spice

(or: ½ tsp cardamom, ½ tsp ginger, ½ tsp cinnamon, ¼ tsp of nutmeg, a pinch of mace, and a pinch of ground clove.)

1

tin

sweetened condensed milk

(14 ounces / 395g) NB. To make parve (dairy-free) substitute 1¾ non-dairy milk and 1 cup of light brown sugar for the the sweetened condensed milk)
Instructions
For the Crust:
In a large bowl mix your flour, salt, and sugar until combined. Add the butter, cut into small pieces, and use your fingers to add the butter to the flour mixture. Once the flour is mostly incorporated (some small pieces of butter are okay!) add your water one tablespoon at a time. It should make the consistency doughy, but depending on your location and flour you may need a little extra water. Once the dough comes together, place on parchment or plastic wrap, and wrap it for the fridge.

Place the dough in your fridge for at least an hour (it can also be frozen if using it for later!) and then roll out for your pie. Once you've rolled it out and placed it in the pie plate, place in the freezer for ten minutes while you work on the filling.
For the Pie:
Preheat your oven to 425°F (220°C).

In a large bowl combine the pumpkin, egg, and egg yolk, mixing with a whisk until fully combined. Add your hawaij spice and condensed milk (or non-dairy milk and brown sugar, if using), and whisk until combined. Pour into the cold pie crust from the freezer.

Place your pie in the oven at 425°F for 15 minutes, then turn the heat down to 350°F (175°C) and cook for another 30 to 35 minutes, or until just set in the middle of the pie. Cool to room temperature and serve.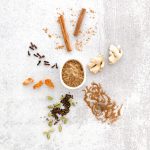 Print Recipe
Hawaij (Sweet / Coffee / Tea Yemeni Spice Blend) حوايج
This version of the Yemeni spice blend is made for tea, coffee, and other sweets.
Ingredients
2

Tbsp

dried ginger

(or 2 large dried pieces of ginger)

2

Tbsp

cardamom seeds (removed from pods)

(or 2 Tbsp ground cardamom)

¼

tsp

ground nutmeg

¼

tsp

ground mace

(or 2-3 pieces mace)

12

whole

cloves

(or ½ tsp ground cloves)

1

whole

cinnamon stick

(or 1 Tbsp ground cinnamon)
Instructions
Grind all spices together in a spice grinder. Store in a cool, dark place for up to 12 months.