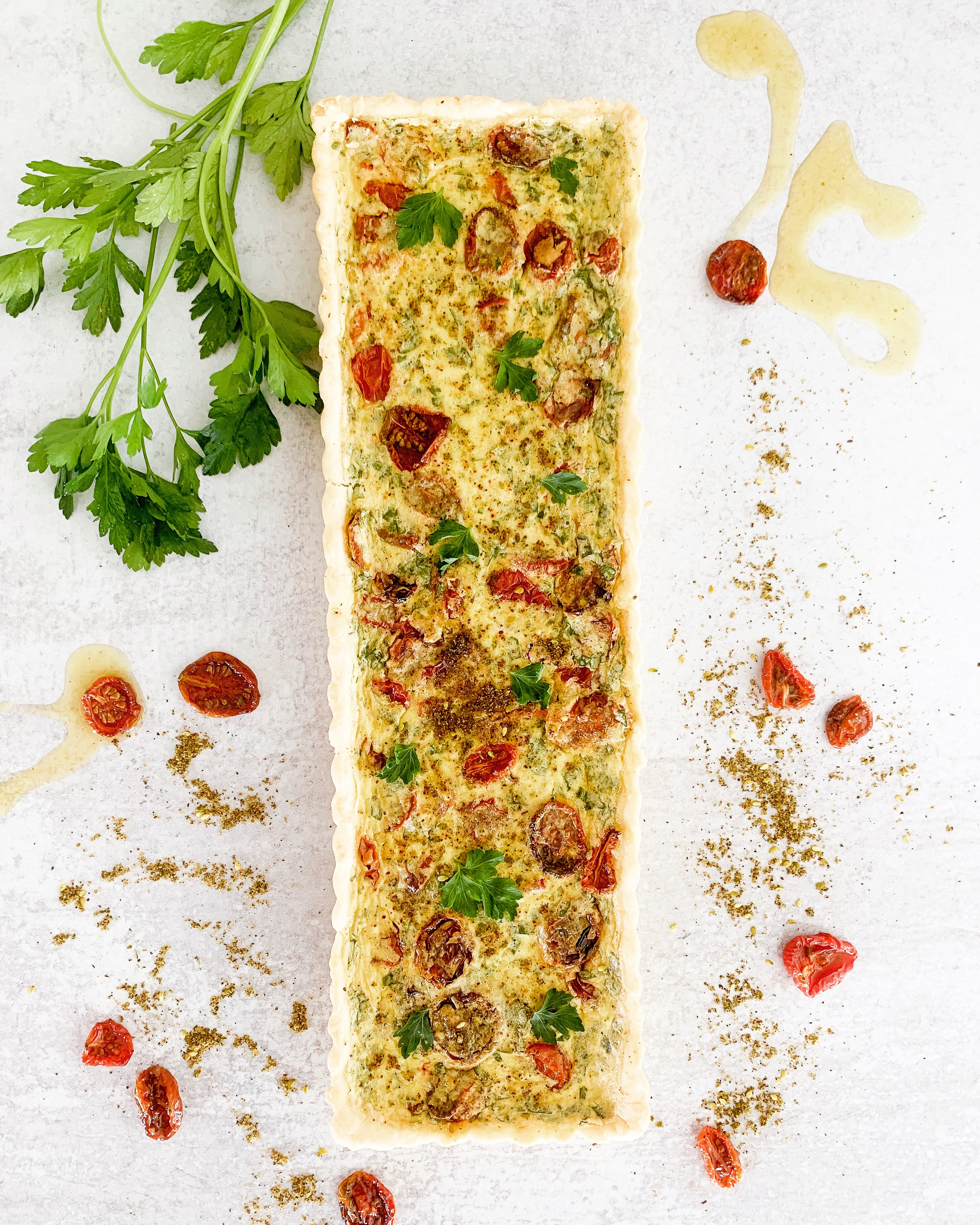 I was recently invited to a potluck brunch, and as a person who doesn't typically eat breakfast (coffee is my breakfast most days) I was a bit stuck. While I love traditional Middle Eastern breakfasts – like ful medames, or a plate of fresh vegetables, bread, and labneh, or a big skillet of shakshouka, I have never really been partial to traditional western breakfast foods, particularly the sweet stuff. Hesitant to bring a bowl of ful with me (and having to explain what it was), I settled on quiche.
Eyeing my fruit bowl, I noticed a lingering gigantic tub of cherry tomatoes I'd bought at Costco and settled on making some roasted tomatoes. Roasted tomatoes are perfect for quiche, because they have a lot of flavour, and because the moisture has been removed from them – so they won't make the filling a watery mess. If you don't have the time to roast a tray of cherry tomatoes for two hours, you can also use a jar of sun dried tomatoes – they have a similar (though not identical) flavour profile.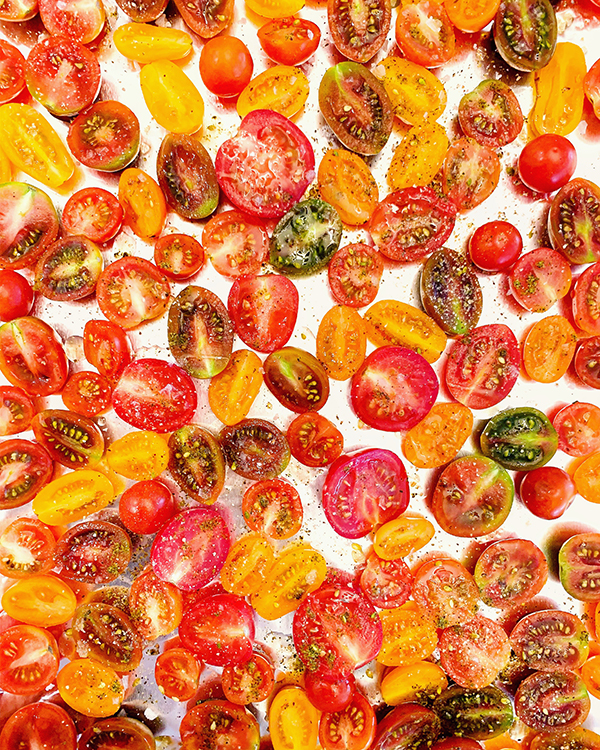 Also, don't be like me – I neglected to pre-bake my pie crust as I was in a bit of a rush and so the crust (while lovely and flaky) wasn't as golden brown as I'd have liked. You'll definitely want to pre-bake your pie crust until lightly golden (around 8 minutes) before filling. I used a rectangular tart tin, but you can use a round one and it will work just as well – it may just need a couple of extra minutes to set in the center. The removable bottom is key, though – so I'd highly recommend purchasing one if you don't already own one. If you don't own pie weights you can simply place some parchment in the tart tin with your crust and fill with dried beans or lentils, or rice. You can still cook and eat said beans / rice after – so it's not a waste.
Za'atar is an essential Levantine breakfast herb blend, so I added it liberally to the quiche filling and the combination of the earthy za'atar and the bright, intense roasted tomatoes is a perfect combination. My egg-hating husband even compared the quiche favourably to pizza. The ratio of eggs to dairy (1 egg per 1/2 cup of dairy) means a creamy custard inside without a strong egg flavour, so even those who aren't crazy about eggs will like this quiche. I've included instructions for all aspects of the quiche below, including the delightful roasted tomatoes – which are also amazing on pasta (add a little pesto and a handful of these to some good pasta and you have a delicious meal).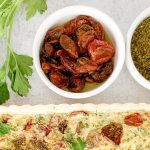 Print Recipe
Slow Roasted Cherry Tomatoes with Za'atar
These cherry tomatoes, roasted with za'atar, salt, and olive oil, are delicious on pasta, in quiche, or on sandwiches. Store in olive oil in the fridge for up to a month.
Equipment
A half sheet pan, for roasting

Parchment or aluminium foil, to line pan
Ingredients
2

Tbsp

olive oil

2

pints

cherry tomatoes, halved lengthwise

2

tsp

za'atar

1

tsp

salt
Instructions
Preheat oven to 225°F (105°C). Slice the cherry tomatoes lengthwise.

Place cherry tomatoes cut side up on a baking sheet, lined with foil or parchment. Drizzle with oil and sprinkle with salt and za'atar.

Bake for 90 minutes to 2 hours, checking to make sure the tomatoes aren't burning. Once they are wrinkly but still soft, remove from the oven and allow to cool on the pan.

Once cooled to room temperature use immediately, or store in a jar of olive oil in the fridge for up to a month.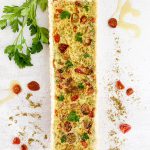 Print Recipe
Za'atar and Roasted Tomato Quiche
This simple quiche is packed with flavour and the perfect addition to brunch.
Equipment
Food Processor

Rolling pin for rolling out dough

Parchment paper and pie weights (or uncooked rice / beans / lentils as pie weights)

4 x 14" rectangular tart tin (with removable bottom) OR 9" round tart tin (with removable bottom)
Ingredients
For the Crust:
1

large

egg

2 ½

Tbsp

ice water

1 ½

cups

all-purpose flour

(188 grams)

½

tsp

salt

10

Tbsp

unsalted butter, cut into small slices

(142 grams)
For the Quiche:
½

cup

heavy cream

(120 grams)

½

cup

plain, full fat Greek yogurt

(143 grams)

½

cup

sour cream (or use another ½ cup Greek yogurt)

(120 grams)

3

large

eggs

1

cup

slow roasted tomatoes or diced sun dried tomatoes

(about 1.5 pints, pre-cooked)

1 ½

Tbsp

za'atar

plus more for garnish, if desired

¼

cup

fresh parsley, finely chopped

(small handful) plus more for garnish, if desired

½

tsp

each – salt and white pepper
Instructions
For the Crust:
Preheat your oven to 350°F (175°C).

Add your egg and water together, and mix to combine.

In a food processor blend your flour, salt, and sliced butter (or use a bowl and a pastry cutter) until it becomes like a coarse meal.

Add the egg and process in the food processor until it becomes a soft dough. Roll out, and place in a greased tart tin. You may have extra dough (which you can save and freeze). Place the tin in the freezer for 20 minutes.

Par cook your crust (line it with parchment and pie weights – or uncooked rice) and cook at 350°F (175°C) for 8 minutes, until lightly golden. Remove from the oven and cool while you prepare your custard. You can leave the oven on.
For the Quiche:
In a medium-sized bowl, mix your heavy cream, yogurt, and sour cream. Add your three eggs, and blend well. Add your za'atar, fresh parsley, salt, and pepper, and stir to combine.

Place your tomatoes into the crust, then pour the egg mixture over the top, almost to the top of the crust. Sprinkle the top with more za'atar if desired.

Bake for 30-35 minutes until lightly golden on top and just set. Cool on a wire rack at room temperature and serve.
Notes
This fits either a 4 x 14″ (10cm x 36cm) rectangular tart tin with a removable bottom, or a 9″ (23cm) round tart tin with removable bottom. Cooking times may vary by depth and shape of the tart tin.