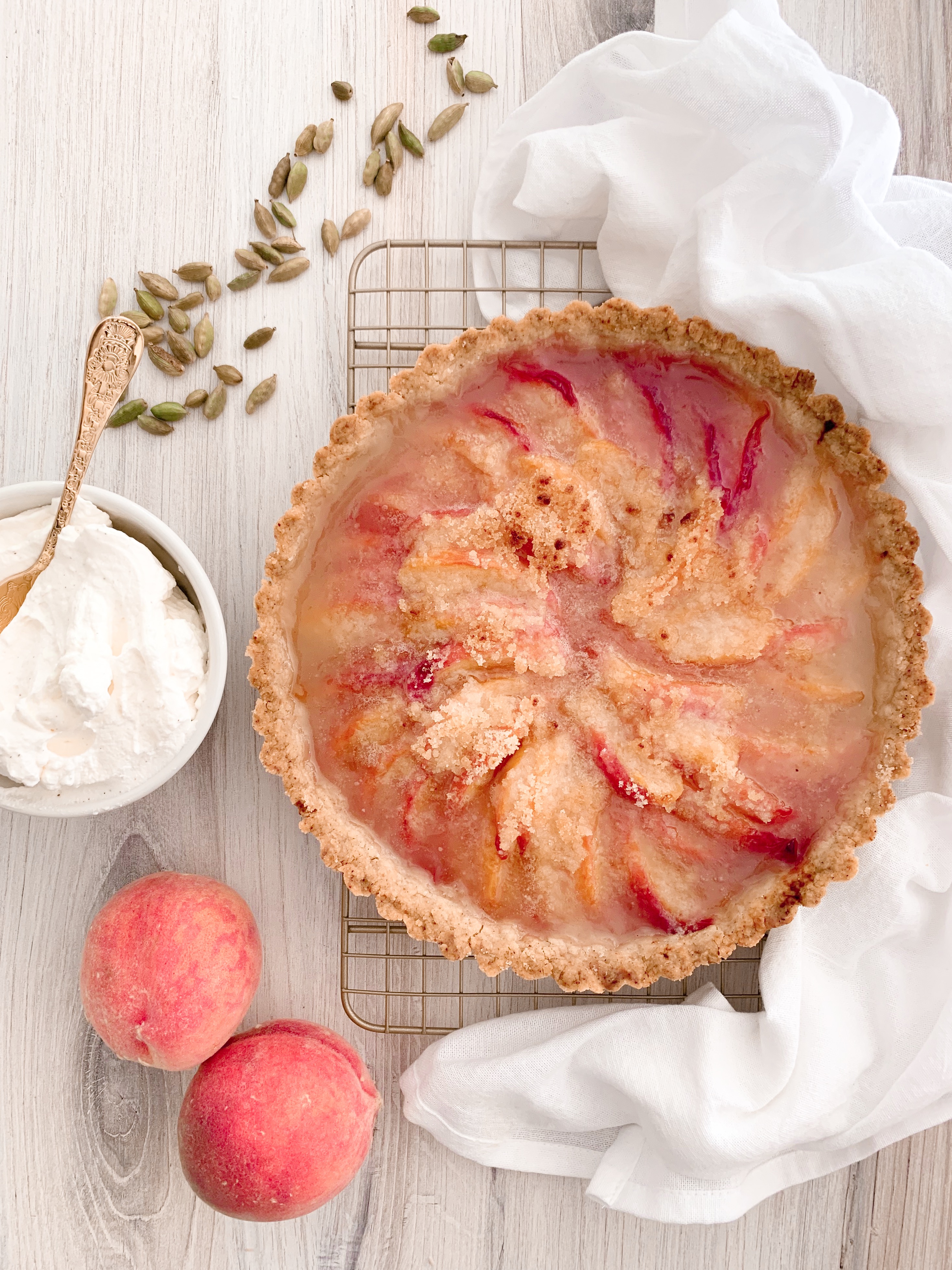 With C at Grandma's house for the last weekend before school started, my husband and I took a quick trip up into the mountains together. On our way up I spotted a fruit stand and I immediately took note for our journey back. There is nothing I love more than a local roadside produce stand, especially when they're selling Colorado locally-grown Palisade peaches.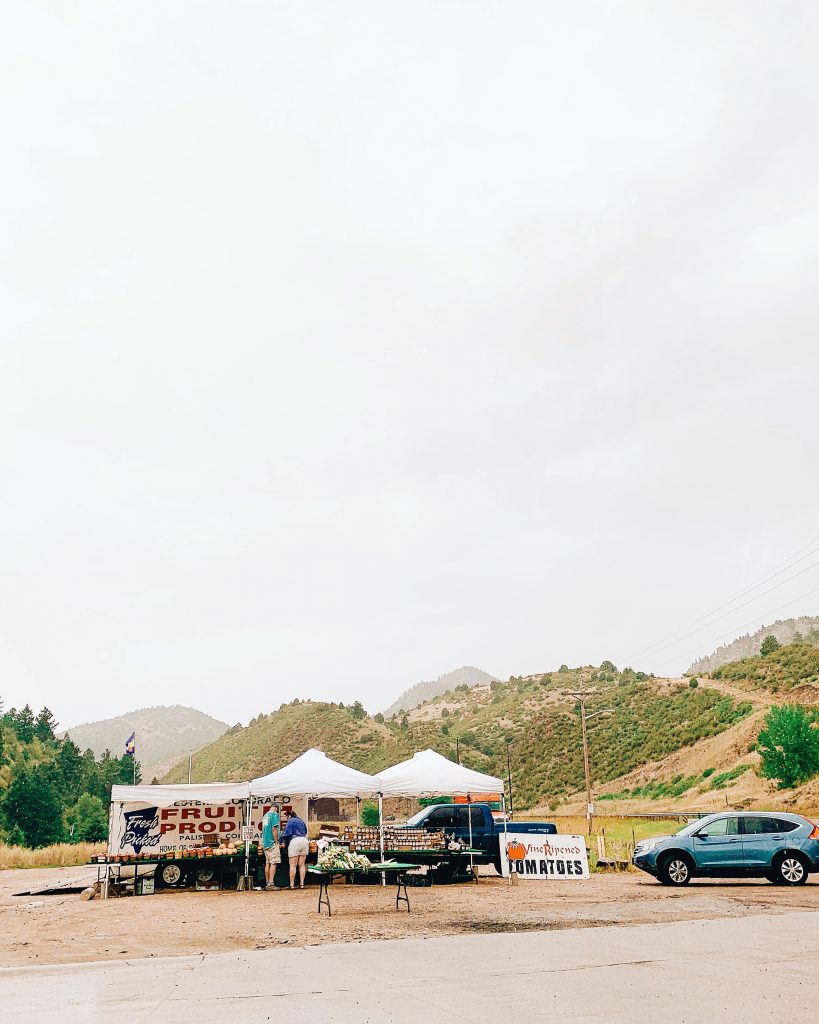 It was pouring rain at the time and my husband looked at me like I was crazy when I said I still wanted to stop. I came home with 5 pounds of peaches, ready for – I don't know what. Even if I ate them as-is it would have still been a win. Then I saw this recipe for a peach tart on Food 52, and I knew I had to make it. I love that the crust contains olive oil, and I could be lazy and leave the peach skins on. So I decided to make it and put my own spin on it, and that was to add a little bit of mahlab in the crust and filling, and a little cardamom. Mahlab is made of ground St. Lucie cherry pits and it's used in a lot of Middle Eastern desserts (like ma'amoul), it has a slight bitter almond flavour that pairs beautifully with stone fruit like peaches and cherries. Cardamom and peaches seemed like a natural fit, as well, so I added a touch to the crust.
You make the crust into a sort of crumb with the flour, mahlab, cardamom, a little sugar, oil, and a couple of tablespoons of almond milk, and it forms a crumb, which you then pour into the (11″) tart tin and press gently to form a crust – no rolling required. Wash your peaches and gently rub the fuzz off, then slice thinly and place in a circular pattern into your crust (no par-baking needed). Then you prepare the topping, made from sugar, flour, more mahlab, salt, and a little butter (or vegan butter), sprinkle it on top, and put it into a preheated 425°F (220°C) oven for 35-45 minutes, or until the sugars and peaches have become one, and all melty and beautiful, with just a little of the center topping crisped up and browned.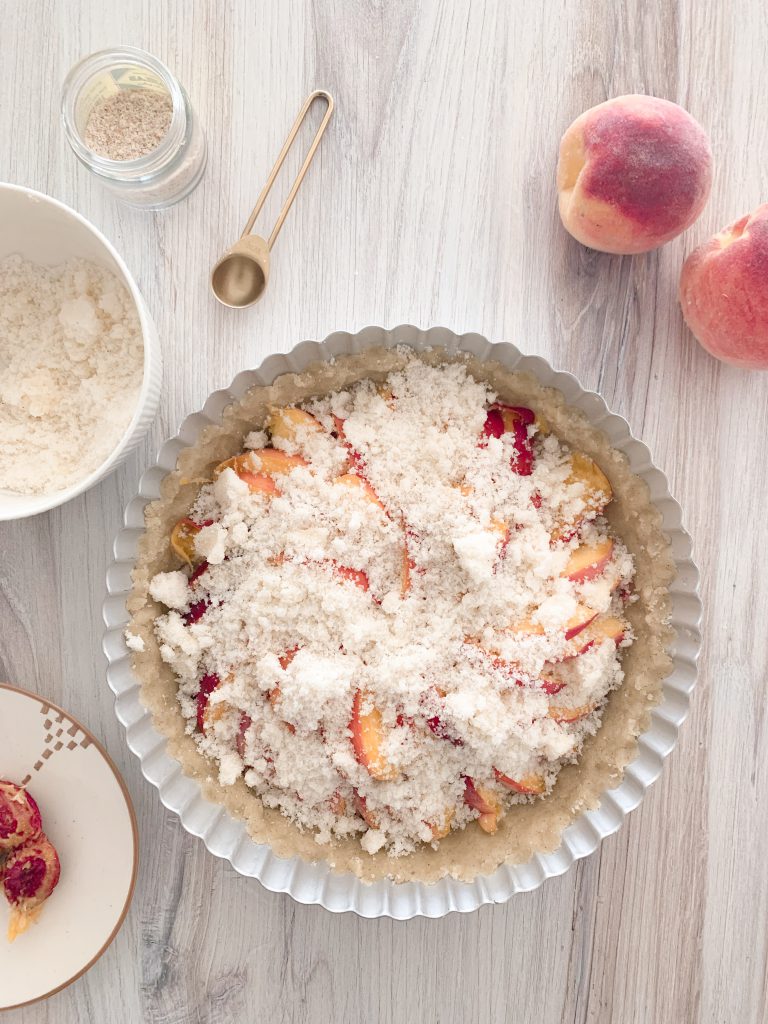 How will you know that it's ready to remove from the oven? It'll look something like this… (Just don't dip your finger into the molten-hot filling even though you know it will burn you since you can't wait to taste it):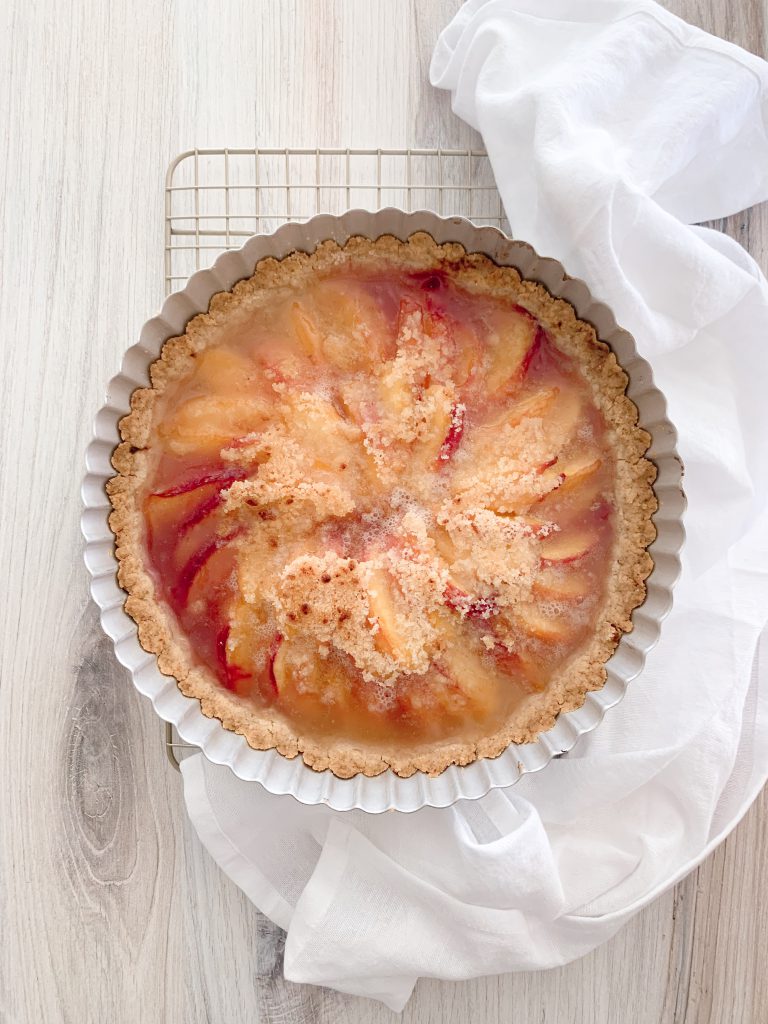 Made like this, the recipe is completely vegan and parve. No dairy needed. If you want to top it with a generous helping of cardamom whipped cream (recipe below), however, I won't stop you. You can also use non-dairy whipping cream or coconut cream if you avoid dairy altogether.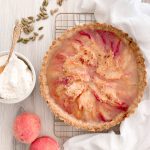 Print Recipe
Mahlab Palisade Peach Tart
This peach tart is made with juicy Palisade peaches and a crust made of mahlab and cardamom.
Ingredients
For the Crust:
1½

cups

all purpose flour

2

tsp

mahlab

½

tsp

fine sea salt

½

tsp

ground cardamom

1

tsp

granulated sugar

¼

cup

neutral oil (like safflower, sunflower, or organic canola)

¼

cup

olive oil

2

Tbsp

milk (I used almond)
For the Pie Filling:
3

medium

peaches, pitted and sliced into half moons

¾

cup

granulated sugar

(156g)

3

Tbsp

all-purpose flour

¼

tsp

fine sea salt

1

tsp

mahlab

2

Tbsp

butter (or vegan butter)
Instructions
Preheat the oven to 425°F / 220°C

In a bowl, mix together the flour, mahlab, salt, cardamom, and sugar. In a small separate bowl mix together your oils and milk, stir to combine. Mix into the flour mixture, and combine with your hands until it forms large crumbles. Pour into an 11" (28cm) tart tin and press into the sides to form your crust.

Place your peach slices into a circle in the tart crust. Mix together sugar, flour, salt, mahlab, and butter in a bowl until it forms a sandy, crumbly mixture. Pour on top of your peaches – it may look like too much, but it will cook down.

Place in the oven for 35 – 45 minutes, or until the pie crust is golden brown and the sugars have melded with the fruit and are bubbling. Remove from oven and serve hot with ice cream, or room temperature with cardamom whipped cream.
Notes
(Adapted from Food 52's peach tart recipe.)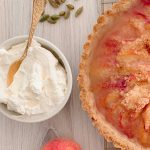 Print Recipe
Cardamom Whipped Cream
A simple whipped cream stabilised with powdered sugar and with a hint of cardamom.
Equipment
Stand mixer or hand mixer with beater attachment.
Ingredients
1

cup

heavy whipping cream

(240g)

2

Tbsp

powdered (icing) sugar

½

tsp

ground cardamom
Instructions
Whip your cream until soft peaks form. Add sugar and cardamom and beat to medium-firm peaks. Serve.
Notes
This will keep in the fridge for 2-3 days, you may need to re-whip if it deflates.