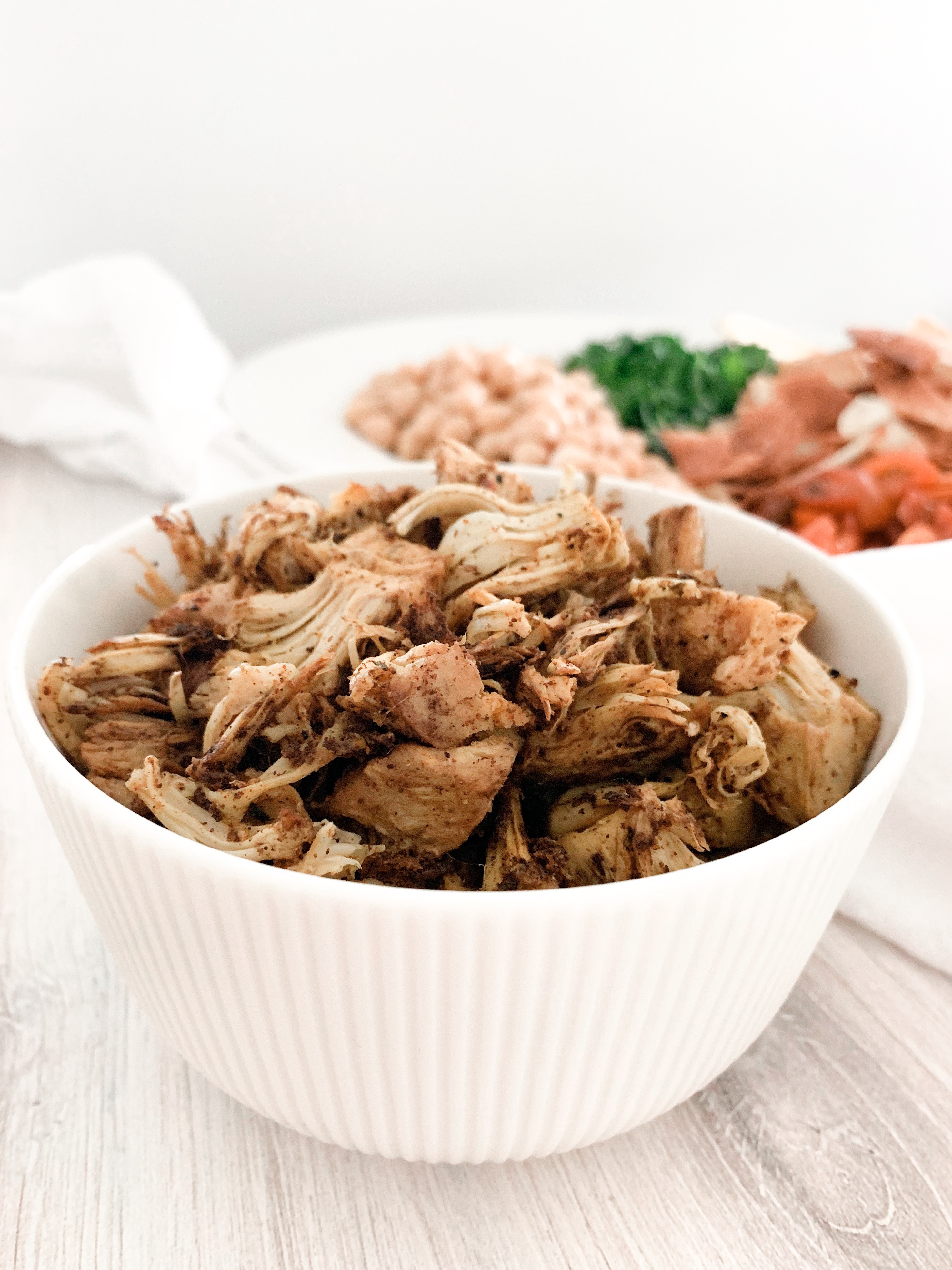 I am, admittedly, a former vegan. I was vegan for seven years and I attribute my abilities in the kitchen to my time spent as a vegan – mostly because I became a vegetarian in the mid-90s in Yorkshire, where there were few vegetarian options and virtually no supermarket options. This meant I had to learn how to make a lot of things from scratch and figure out my own substitutions. These days, there are so many vegan options widely available (I mean, they have vegan Impossible Burgers at Burger King now!) that one could easily be vegan and live mostly on convenience foods. While I still try to eat a diet that's primarily plant-based (I love vegetables), I also eat some meat. That being said, our family – for environmental, health, and budget reasons – eats vegetarian about 50% of the time, and I try to make the vegetarian foods we eat relatively healthy and minimally processed.
That's where jackfruit comes in. Jackfruit, when young and unripe (or green), has a stringy texture that when cooked resembles that of shredded chicken. Ripe jackfruit by contrast, is soft, syrupy and delicious in smoothies – but would make a pretty terrible meat substitute. Jackfruit is low calorie, high in fiber, and contains vitamin A, C, riboflavin, and magnesium. It's found at Asian supermarkets (and increasingly in places like Whole Foods and Trader Joe's) in tins, soaking in brine. It's typically found in Asian cuisine – Sri Lankans make a delicious curry with jackfruit, in fact. I will also fully admit that it does not look appetising at all immediately after taking it out of the tin: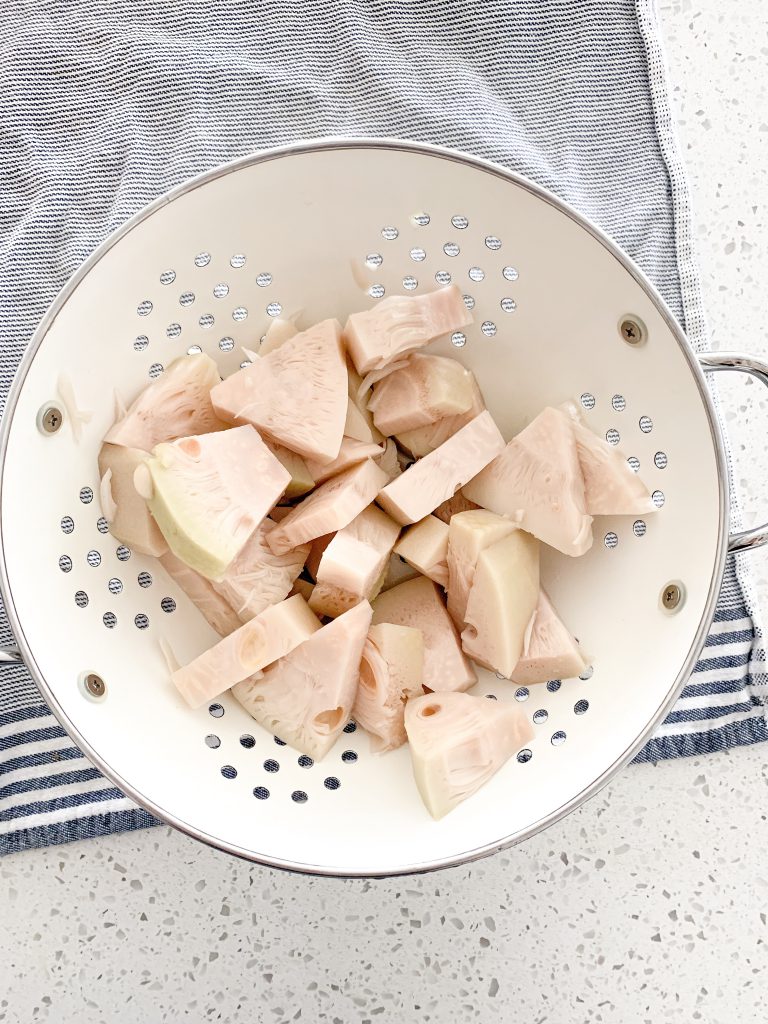 I cannot stress enough to rinse your jackfruit well. The brine itself has a definite 'funk' that isn't particularly pleasant. I've ordered jackfruit dishes at vegetarian restaurants that were soft and still had the characteristic funky taste from the tin, and while it was okay, it wasn't great and it didn't really remind me of chicken.
The Trick to Perfect Jackfruit 'Chicken'
Rinsing well, as I mentioned before, is the first step. The second step is to marinate in your spices for a good, long time – while an hour or so is good, the longer it sits in the spices the more flavour it'll absorb. Jackfruit doesn't have a whole lot of its own flavour and so this will help give it some. I use my own blend of shawarma spice, but it's also commercially available if you don't want to go to the trouble. You'll also want to bake it for quite a while – longer than you'd think, so that it really has the opportunity to dry out and become 'stringy' like pulled chicken. This definitely benefits the texture, and in applications where a sauce is added (like a BBQ pulled jackfruit, it helps the jackfruit absorb more of the sauce and again, give it more flavour).
I bake mine on a foil-lined baking sheet at 350°F for at least an hour, it's hard to overcook this stuff – so don't worry. The first 45 minutes as whole pieces, then the last 15 minutes after shredding (I use two forks and pull it apart). The texture at the end should feel a little like a dried out, shredded chicken breast. I usually remove from the oven at this point and package half for the freezer – the other half goes back under the broiler for 2-4 minutes so that it can get smoky and crispy to give it that real 'grilled' flavour.
Jackfruit marinated and ready to cook.

Jackfruit shredded and cooked – ready to put under the broiler.
Once your jackfruit is fully cooked it's ready to go. I used this jackfruit to make a delicious 'chicken' fatteh (a sort of salad made with homemade pita chips, chickpeas, vegetables, pine nuts, and a garlic yogurt sauce). However, it's equally delicious over rice, with a salad, or in a traditional shawarma sandwich. It even freezes well, too – you'll just want to stick it under the broiler to warm it back up and make it crispy before eating it. Once it's all fully cooked you'll be left with something that quite honestly looks nearly indistinguishable from actual chicken: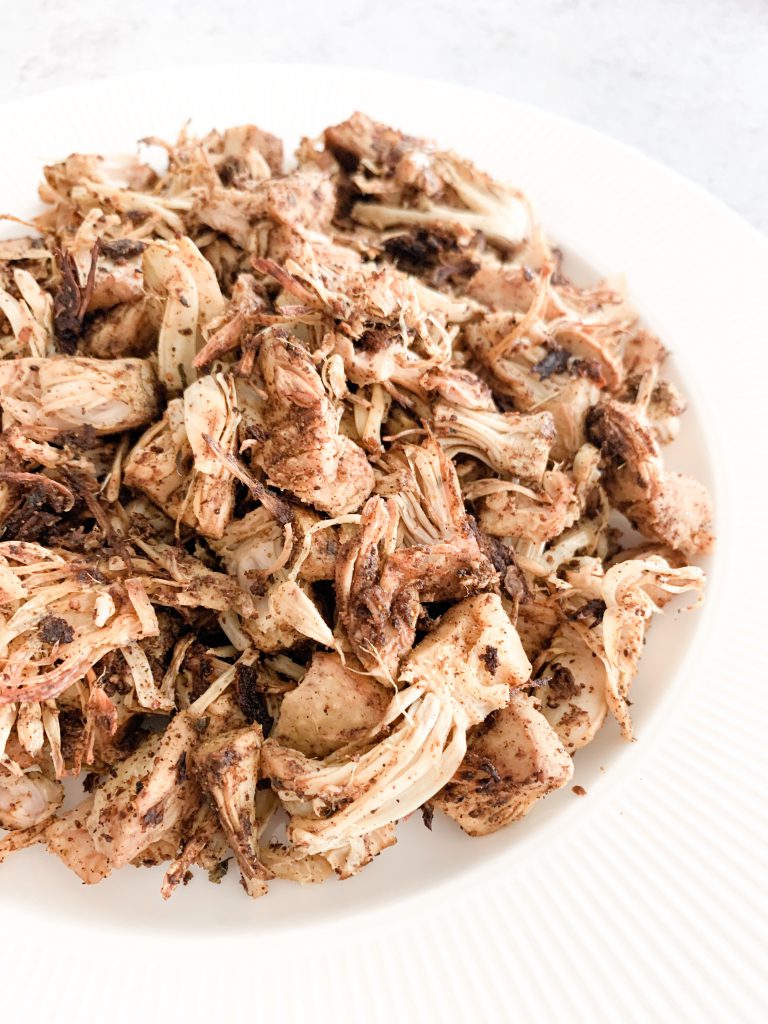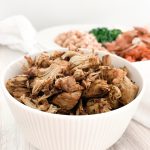 Print Recipe
Jackfruit 'Chicken' Shawarma
This plant-based vegan shawarma 'meat' is made from green jackfruit, and is perfect for wraps, bowls, and other dishes.
Ingredients
2

20 oz

tins of young green jackfruit in brine

(2x 560g tins)

2

Tbsp

shawarma spice

(recipe below)

2

Tbsp

olive oil

2

tsp

apple cider vinegar

1

tsp

coarse sea salt
Instructions
Drain your jackfruit and rinse thoroughly. Drain for a few minutes to remove any excess water.

Coat your jackfruit in shawarma spice and add your oil, vinegar, and salt. Marinate for at least an hour, or up to 24 hours.

Preheat your oven to 350°F (175°C). Line a baking sheet with foil.

Place your marinated jackfruit on the sheet and bake for 45 minutes. After 45 minutes use two forks to shred the jackfruit. Return to the oven for an additional 15 minutes, or until the texture of the jackfruit is like dry shredded chicken.

Remove from the oven, cool, and freeze – or for immediate use, place under the broiler for 2-4 minutes until smoky and crispy.
Notes
Can be frozen for up to 3 months. Defrost and place under the broiler for 5 minutes or so until reheated.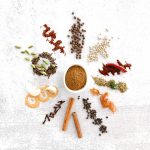 Print Recipe
Shawarma Spice Blend
Make a kebab-shop worthy shawarma yourself at home with this shawarma spice blend.
Ingredients
2

Tbsp

garlic powder

1

Tbsp

black peppercorns

(or ground)

1

Tbsp

white peppercorns

(or ground)

2

Tbsp

allspice berries

(or ground)

2

medium

cinnamon sticks

(or 1 Tbsp ground)

4-6

blades

of mace

(or nutmeg, or 1 Tbsp ground)

1

Tbsp

cardamom (green), seeds

(or 1 Tbsp ground)

½

Tbsp

chili powder

(or chipotle powder)

½

Tbsp

Aleppo pepper

(optional)

½

Tbsp

dried marjoram

(or oregano)

½

tsp

cloves, whole

(or ½ tsp ground)
Instructions
Grind all spices. Blend thoroughly.
Notes
This will keep in a cool, dark place for up to six months. This will yield approximately 2 ounces (60 grams) of spice.