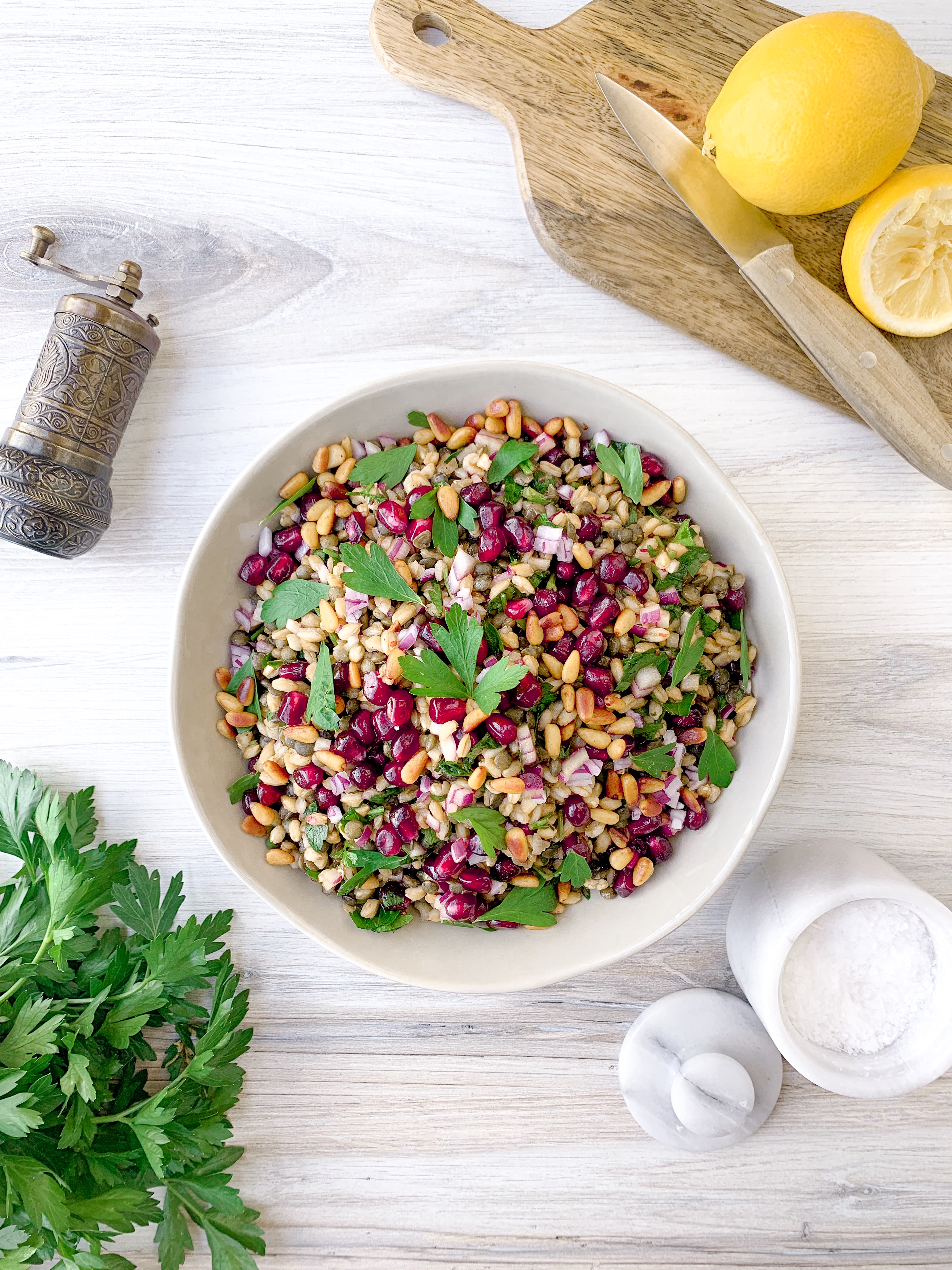 This dish came about because I have been craving mujadarrah, but it is still 100°F (38°C) outside, despite the fact that it's technically autumn. This salad is a bit of a summery approximation, adding some fresh herbs and onion instead of caramelised ones, and adding plenty of fresh parsley and toasted pine nuts. It's a deceptively filling 'salad' given that it's made with pearled farro, that requires no refrigeration and is a great, healthy option to take to a barbecue. You can also turn this dish into a complete meal by adding seasoned ground meat (like I do with hummus bil lahme), but it's lovely alongside something as simple as grilled chicken.
We use pearled farro here, which is the quickest of all farro types to cook – as its hull has been removed. It takes about the same time to cook as the lentils, though I cook in separate pans because you never know if you're going to get a stubborn batch of lentils that take a little longer to cook, and you don't want mushy farro and undercooked lentils. The farro should be done after 15-20 minutes. It should be soft, but still have 'bite' – like an al dente pasta. Dress your salad just before serving, but it shouldn't become mushy since it's relatively lightly dressed.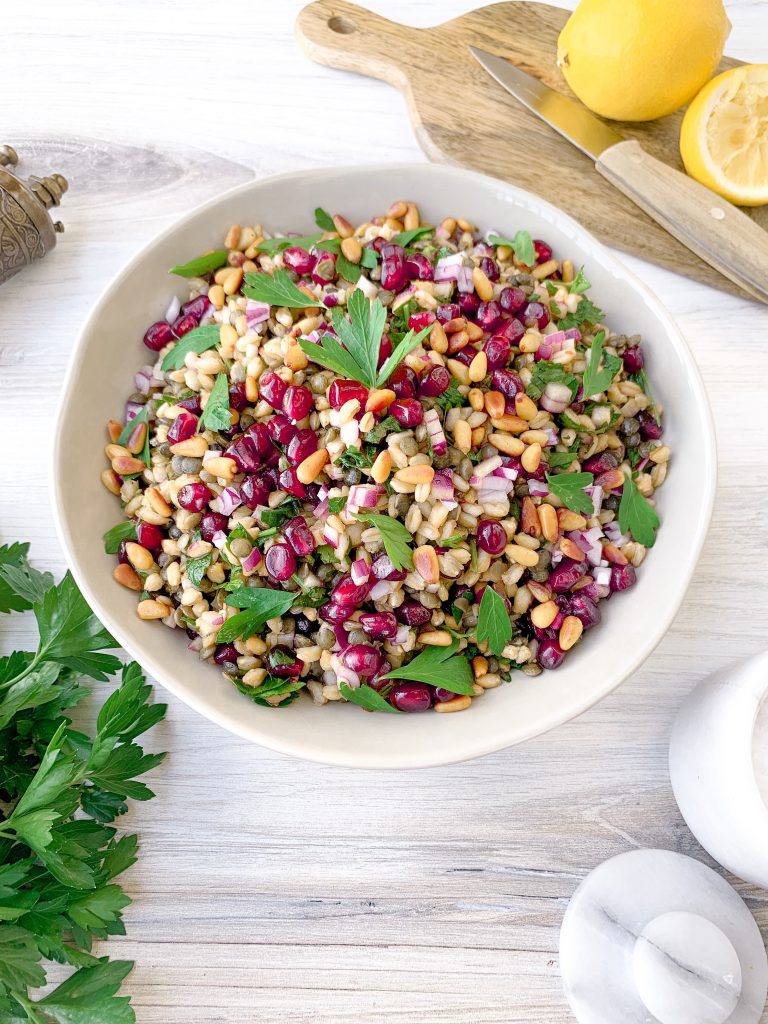 As made here, this salad is completely vegan – though much like mujadarrah I enjoy it with a dollop of garlic laban (yogurt) on top, which I recommend if dairy is an option. On its own, it's a simple, filling, and delicious salad that's perfect for the end of summer / beginning of autumn when it's still too hot for warm dishes, but you're craving comfort food. This is also a wonderful (albeit non-traditional) Thanksgiving side if you're looking to bring something a little healthier to the table.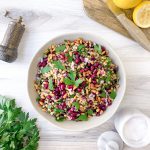 Print Recipe
Farro and Green Lentil Salad
This filling side dish is made with farro and French green lentils dressed with a simple and delicious pomegranate and lemon dressing, then garnished with pomegranate arils and pine nuts. It also makes a delicious stuffing.
Equipment
2 small / medium saucepans
Ingredients
For the Salad:
½

cup

pearled farro

(100g)

½

cup

French green lentils

(100g)

3

cups

vegetable broth

(I use Better than Bouillon and add to water)

1

small

bunch parsley, washed, dried, and coarsely chopped

½

cup

fresh pomegranate arils

(or you can use ¼ cup dried cranberries)

½

red onion, finely diced

¼

cup

pine nuts, toasted
For the Dressing:
¼

cup

extra virgin olive oil

(50g)

juice of one whole lemon

½

Tbsp

balsamic vinegar

1

Tbsp

pomegranate molasses

½

tsp

harissa paste

(optional, for a hint of spice)

¼

tsp

baharat (Lebanese seven spice)

(optional)

salt and black pepper to taste
Instructions
Cooking the Farro and Lentils:
In two separate saucepans, add your lentils and farro plus a cup and a half each of broth (or salted water if you don't have broth on hand). Bring to a boil, then turn down the heat to medium-low and simmer for 15 minutes. Check doneness, and cook an additional 5 minutes if needed. Remove from the heat and drain.

Allow to drain and cool to room temperature, about an hour.
Make the Salad:
While your farro and lentils are cooling, chop your parsley and onion, and add your pomegranate arils. If fresh pomegranate is not available, you can use half the amount of dried cranberries instead. Toast your pine nuts over medium heat until golden and fragrant.

Once your farro and lentils are dry and fully cooled, combine with parsley, onion, pomegranate, and pine nuts – reserve a small handful of both the pine nuts and pomegranate to garnish, if desired.
Make the Dressing:
Combine your olive oil, lemon juice, balsamic vinegar, pomegranate molasses, and harissa in a small jar. Shake vigorously to combine. When ready to serve, pour over the salad and toss well. Season with salt and freshly ground black pepper to taste.
Notes
If you eat dairy, this is also delicious with a dollop of garlic laban (yogurt) on top! I mix a cup of plain, unsweetened yogurt with two cloves of crushed garlic and a pinch of salt – or 1 Tbsp prepared toum.