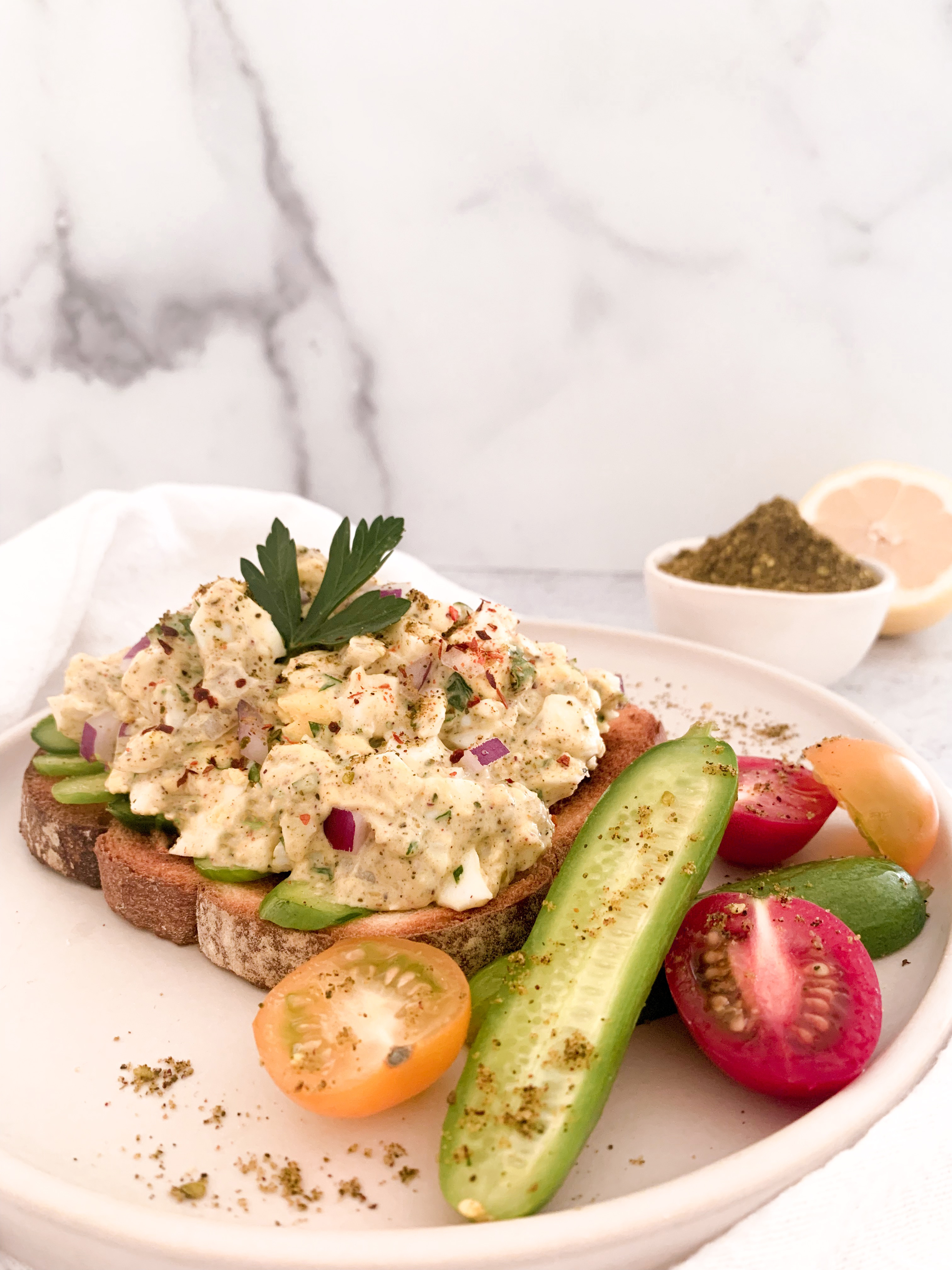 Today (September 23rd) is actually Za'atar Day! Za'atar is a spice used throughout the Levant – made from a type of wild thyme, or hyssop. Its official name is 'origanum syriacum' and it's classified as part of the oregano / marjoram family of plants. It grows wild in many places and in late summer and autumn women will go out to forage it, then dry it for the year ahead. It's typically ground and mixed with sesame seeds and sumac, though many countries have variations on the blend of spices used. In our house we use it on almost anything – a quick breakfast is sometimes a piece of toast with tahini and a generous sprinkling of za'atar, it's mixed into salads, sprinkled over hummus, or spread with olive oil over homemade bread to make manoushe. It has a wonderful savoury flavour that adds dimension to almost any dish (like this salmon with za'atar butter).
My daughter recently attended an afternoon tea where she finally came to the realisation that she loves eggs, especially egg salad. I decided to take a little bit of a Levantine perspective and make this absolutely delicious za'atar egg salad, which we eat over toasted bread covered in thinly sliced Persian cucumbers. While I love a traditional delicatessen egg salad sandwich, this one shines with the flavour and freshness of lemon and za'atar – I promise it'll become a new favourite.
Where do I buy good za'atar?
Za'atar has different variations depending on the region you come from. I'm a big fan of both Jordanian and Palestinian za'atar (Lebanon's tend to be a bit more sumac-heavy and darker in colour – still delicious, just different), because it's bright green and especially fragrant. I like to pick some up from the spice souk in the Arab quarter in Jerusalem – but when I run out from my Middle Eastern travels (I have started bringing back kilos of it!) I find the best za'atar available stateside is this Palestinian za'atar from Z&Z.
Vegan Option!
This recipe is actually surprisingly easy to veganize! If you don't eat eggs replace the 4 eggs with 8 ounces (225g) cooked chickpeas (mash them a little before adding the other ingredients), use vegan mayo (I like Just Mayo or Best Foods Vegan Mayo), and a pinch of black salt (kala namak) for a bit of 'egg' flavour.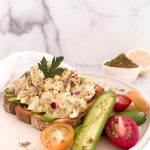 Print Recipe
Za'atar Egg Salad
This American delicatessen favourite gets a Levantine spin with lemon and fragrant za'atar spice.
Ingredients
4

large

eggs

2

tsp

lemon juice

2

Tbsp

good mayonnaise

1

Tbsp

za'atar

plus more, for sprinkling!

¼

tsp

sea salt

¼

tsp

ground white pepper

1

Tbsp

coarsely chopped parsley

1

Tbsp

finely diced red onion

or green onion

pinch

Aleppo pepper, or dried harissa

for garnish / spice, if desired. You can also use paprika!
Instructions
In a saucepan, bring your water to a boil. Add your eggs gently, and cook, covered for 12 minutes. After 12 minutes have elapsed, remove from the water and into a bowl of ice water to stop the cooking.

Peel and tear your eggs apart into small pieces, or chop them – if you prefer. Place them in a bowl and pour the lemon juice over them. Toss to coat.

Add your mayonnaise, za'atar, salt, pepper, parsley, and onion. Mix thoroughly, and serve over hot toast with thinly sliced Persian cucumbers. Sprinkle with Aleppo pepper, dried harissa, or paprika if desired. Enjoy!