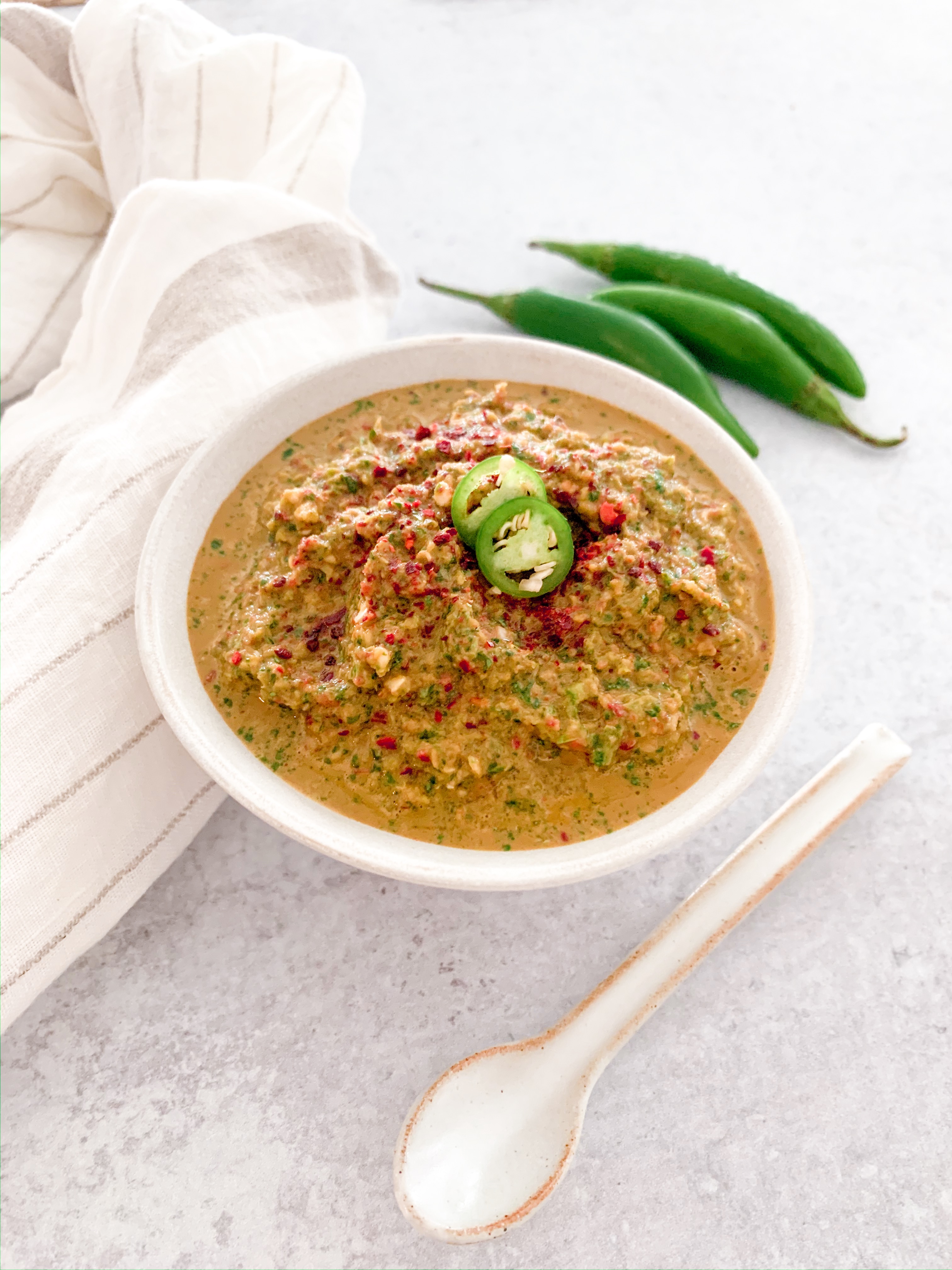 I am a chili head – I am known to put hot sauce on everything. Our dinner table is never without hot sauce, or some homemade chili sauce of some sort – regardless of the cuisine we're eating. I see spiciness warnings on restaurant menus as a dare, and order my Thai food 'Thai hot' despite the warnings of the staff, who watch me from the kitchen to see if I'm actually going to eat it after all. With that being said, this recipe can be made as spicy or as mild as you'd like. The key is removing the pith (white inner bits) and seeds of the chilis if you are not as keen on spicy things.
Shatta is one of my favourite condiments – it's simple to make (this variety has both red and green chilis in it, but you can make it just red or just green depending on your preferences), and its flavour goes well with just about any dish – vegetables, fish, grilled meats, even stirred into hummus. It is popular atop (or mixed into the sauce of) Egyptian koshari as well. Shatta is found throughout the Levant, but is most popular in Egypt and Palestine (particularly the coastal areas). Like most Mediterranean food, ratios of things depend on family recipes – but the key ingredients here are chilis and garlic.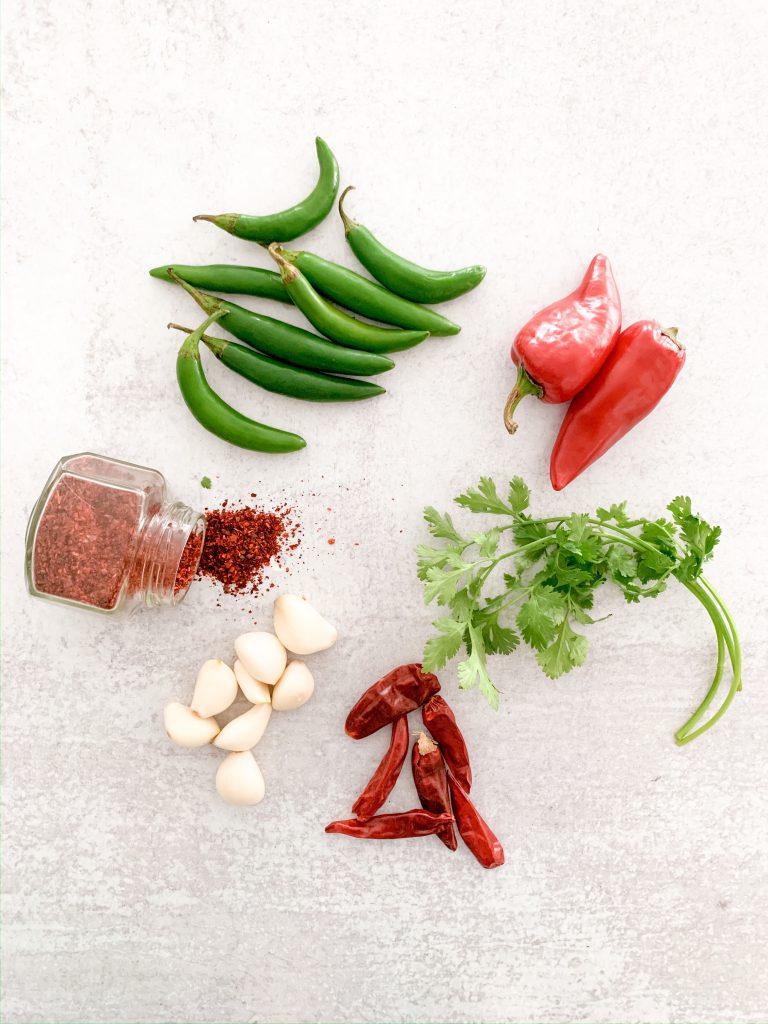 If you prefer a milder sauce, use jalapeños instead – I've used red chili peppers and green serrano peppers here as they're what's most easily located in my supermarket (and because I like my sauce spicier). I also add dried Chinese (Tien Tien) chili pepper, and Aleppo pepper for good measure – the Aleppo pepper gives a subtle smokiness to the sauce. If you don't have these on hand, you can substitute with some dried red pepper flakes to taste.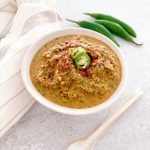 Print Recipe
Shatta (Levantine Hot Sauce)
This chili sauce, popular in Egypt and Palestine, goes great with everything from vegetables, to fish, or hummus.
Ingredients
8

fresh

Serrano peppers

(or 4 large jalapeño peppers)

2-3

fresh

red chili peppers

8

cloves

fresh garlic

6

dried

Chinese chili peppers

1

Tbsp

Aleppo pepper

small

handful of fresh coriander (cilantro)

2

Tbsp

olive oil

2

Tbsp

unseasoned rice vinegar

(or 1 Tbsp apple cider vinegar)

1

tsp

sugar

juice

of half a lemon

pinch

of salt (to taste)
Instructions
If you prefer a less spicy sauce, remove the pith (white parts) and seeds from the peppers before placing in the food processor.

Add all chilis, garlic, and coriander (cilantro) to your food processor and pulse until chunky.

Add olive oil, vinegar, sugar, lemon juice, and a pinch of salt and blend until it reaches your desired consistency. Add more salt if desired, and serve.
Notes
Keeps for about a week in your refrigerator.