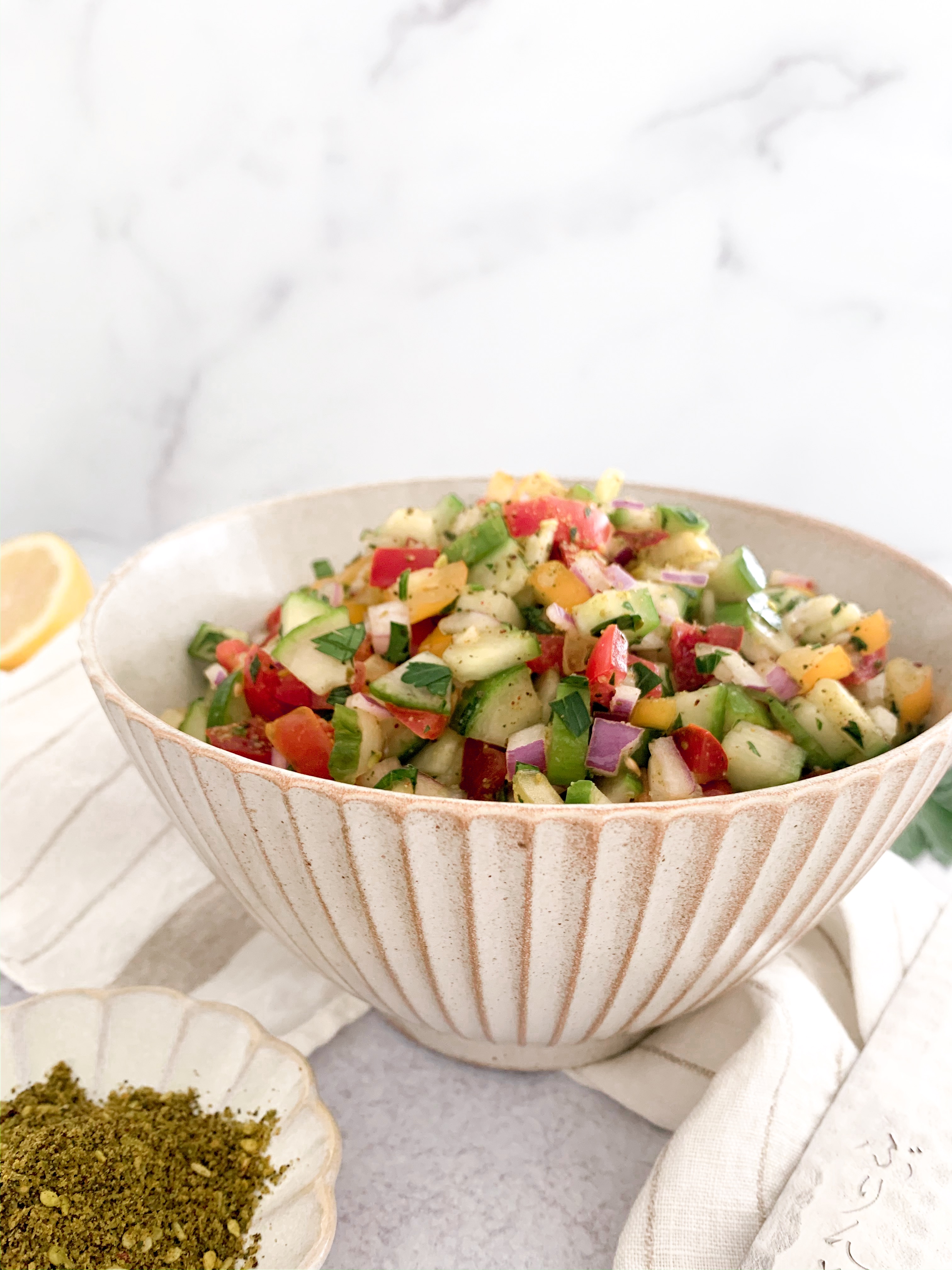 I returned home from Japan inspired and ready to cook again – and then, well, I got really sick. My husband's grandfather passed away and no sooner had we returned to Denver than he was on a flight for Honolulu to his memorial, and then the first big snowstorm of the year hit. I had grand plans for the blog, a to-do list a mile long, and suddenly I had a fever, one eye swelled shut, and even the most basic cooking seemed impossible. A week later, and I'm only now catching up at the office and back in the kitchen. So today you all get a recipe for salad, though I promise it's a really good salad.
It seems funny to post a recipe for this, since this salad has never really had one – you've likely seen it time and time again among the mezze dishes without even a mention – it accompanies everything from breakfast to dinner – and it's often the last thing I make, thrown together with whatever extra vegetables I happen to have on hand. Still, it accompanies nearly every meal we eat at home – much to my daughter's dismay (how any child of mine is a salad-hater is still a mystery to me).
This salad is sometimes called Jerusalem salad, salata baladi in Egypt, and salat aravi (Arabic salad) or salat yerakot (vegetable salad) in Israel. In the United States it's often referred to as 'Israeli salad', though this salad is not an Israeli invention but from Palestinian and Syrian cuisine: in both places it's often called salatet banadoura, or tomato salad. Whatever you want to call it, it is ubiquitous throughout the Levant, accompanying breakfast, lunch, and dinner. Breakfast preparations often include za'atar, in other meals sumac or tahini is often added (though I like za'atar in mine no matter the time of day).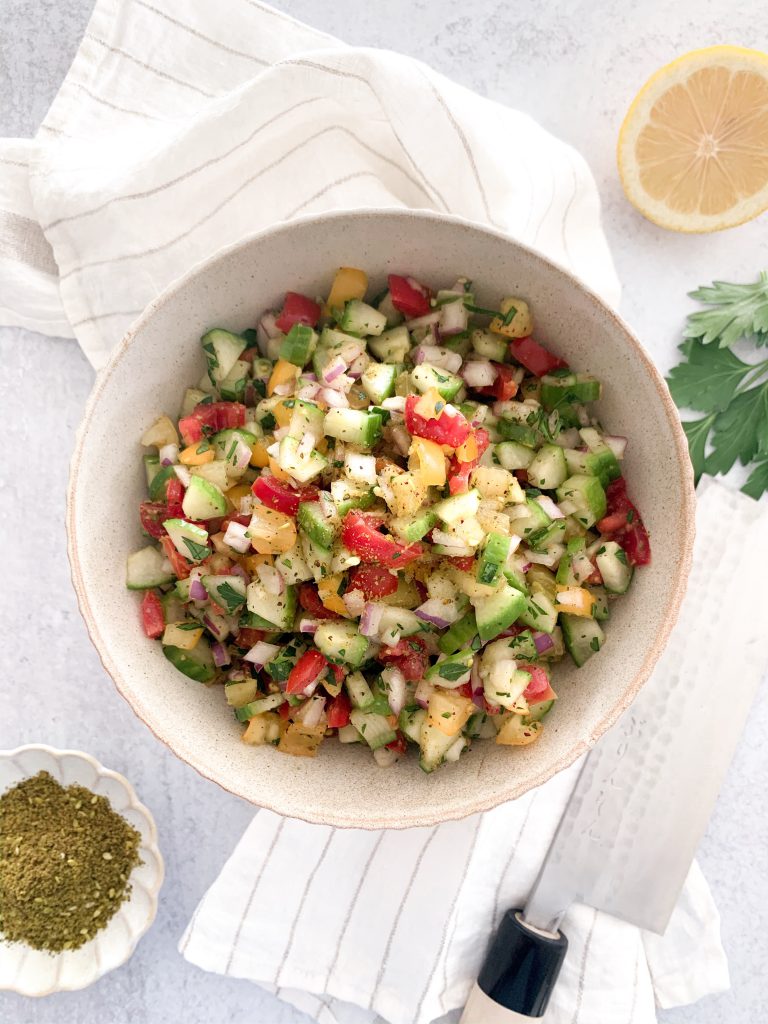 Growing up, there was always, without fail – at least one salad on the table. Sometimes multiple. My mother was one of the lucky parents whose children loved vegetables – and I remember the glee I'd feel coming home from school and smelling aubergine roasting in the oven, or steamed artichokes. My daughter does not feel this way at all, and while she'll begrudgingly eat the vegetables I prepare (along with a face to accompany her disdain), she would prefer bread with labneh or rice and vermicelli to any of it. My father will often tease her by telling her 'don't worry, your mother made you a big bowl of [this salad] for dinner'.
I, on the other hand, have always loved this salad – I chop my vegetables small so that it is easy to eat alongside rice, or added to sandwiches wrapped in homemade khubz, but if you prefer a larger dice (or don't feel like chopping) it's delicious all the same. I use cherry tomatoes for their sweetness, but regular tomatoes will do (be sure to scoop out the seeds in larger tomatoes). Persian or Lebanese cucumbers are the best for this salad, since their skin is thin and their flesh is drier than other varieties, but if you can only find English cucumber you can use them instead – just be sure to use a spoon to scoop out the watery inner seeds before chopping.
I usually let the vegetables 'rest' in a sieve or colander over a bowl in my fridge and dress the salad with olive oil, lemon, and seasonings just before serving – that way the salad isn't watery and you can taste the dressing. You can add other vegetables, too – the basic ingredients are tomato, cucumber, onion, and parsley – but sometimes I add bell pepper (capsicum), radishes, or green onion if I have them on hand.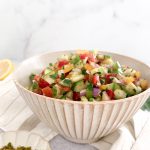 Print Recipe
Arabic Salad / Jerusalem Salad
Known by many names, this simple chopped vegetable salad accompanies almost any Mediterranean meal.
Equipment
A sharp knife for chopping, I like using a nakiri knife for this one.
Ingredients
For the Salad:
8

Persian cucumbers, finely chopped

(or 1 large English cucumber, inner seeds removed)

20

cherry tomatoes, finely chopped

½

medium

red onion, finely diced

3

Tbsp

coarsely chopped parsley
For the Dressing:
3

Tbsp

good olive oil

1

lemon, juiced

1

tsp

apple cider vinegar

1

Tbsp

za'atar

salt and pepper, to taste

1

tsp

sumac

(optional)
Instructions
Finely chop all of your vegetables and leave in a sieve / colander over a bowl in your fridge (uncovered is fine for a few hours) to drain.

Before serving dress with olive oil, lemon, za'atar, sumac (if using), salt and pepper. Toss gently and serve immediately.