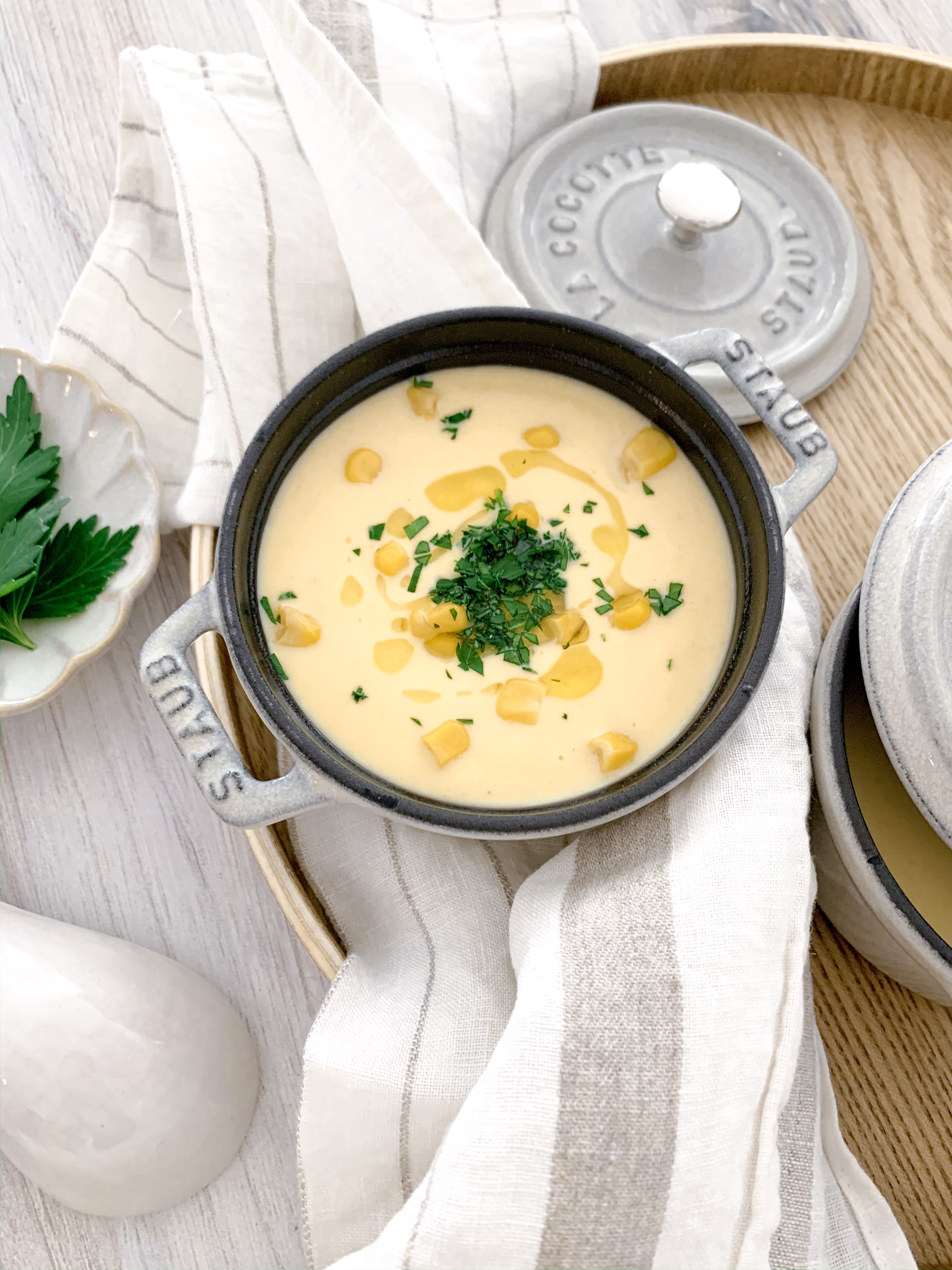 We arrived home from nearly two weeks in Japan (cut a little short, due to typhoon Hagibis) to Colorado's typically temperamental weather – a bright summery day turned into a snowstorm. Snow is soup weather, and while my typical go-to is a bowl of shorbat adas (lentil soup), my daughter had suddenly become enamoured of the corn soup (or corn potage) one acquires, piping hot, out of Japanese vending machines (yes, hot soup from a vending machine – I was skeptical, too). She was mildly obsessed, and so I decided to give this soup a try. It's essentially a creamed corn soup, and it's one of a handful of popular 'Western style' soups in Japan.
I began scouring the internet for a corn soup recipe that I thought would work to replicate the stuff in the tin my daughter loved so much, and found this recipe from Just One Cookbook which seemed to fit the bill! My recipe is an adaptation of this one, with a few shortcuts in the process and a few adjustments to the ingredients. This recipe contains dairy, though I do believe it could be made vegan / dairy free quite easily by substituting a 'full fat' type of oat milk (I love Oatly for this, which doesn't curdle).
It was a resounding success – my daughter was delighted with her canned soup substitute, and it's definitely a keeper for our family recipe books. I even made the recipe with a fever (I arrived back from Japan quite ill, unfortunately – which is why the blog has been quiet for a week), making it a very easy meal for a day when you just want something comforting and simple. I topped mine with a drizzle of good extra virgin olive oil and a sprinkle of parsley, but my daughter likes hers as-is. I am obsessed with both fresh herbs and olive oil of course, but I'll let you decide – they are totally optional finishes here.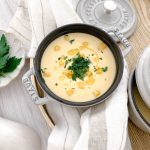 Print Recipe
Japanese Corn Potage (Corn Soup)
This simple, creamy corn soup is a Western-style Japanese staple. It's easy, delicious comfort food.
Equipment
High powered blender (Vitamix, BlendTec), or immersion blender

Large pot
Ingredients
½

large

sweet (or yellow) onion, finely diced

1

Tbsp

olive oil, plus more for garnish if desired

2

Tbsp

butter

(or vegan butter)

4

ears

corn, plus more for garnish if desired

(or about 3 cups / 600g corn kernels – frozen or tinned)

2

tsp

fine sea salt (plus more to taste)

½

tsp

ground white pepper

¼

tsp

smoked paprika (or sweet paprika)

3

cups

water

(710ml)

1

cup

heavy cream

(or 1 cup Oatly full fat, for non-dairy)

½

cup

milk

(omit if using non-dairy milk)

chopped fresh parsley, to garnish

(optional)
Instructions
In a large pot, add your olive oil and diced onion. Cook over medium heat until softened and translucent, about 5 minutes.

While your onion is cooking remove the corn from the cobs. Reserve the cobs to add to your soup while cooking. Once onions are cooked, add butter and corn kernels. Cook for another 3-5 minutes, until fully cooked.

Add your salt, pepper, and paprika. Mix well, then add your water and the corn cobs, ensuring the cobs are mostly submerged in the soup mixture. Add more water if needed.

Bring to a boil, then reduce heat to medium-low and cook for 30 minutes. Turn off the heat, discard the cobs, and carefully pour the soup into your blender container.

Blend on highest setting for 1 minute, or use an immersion blender to blend in the pot. (If using the immersion blender you will want to strain out any remaining corn kernel bits using a fine mesh strainer.) Return the blended soup to your pot and add the cream and milk (or non-dairy milk).

Turn the heat to medium-low and cook until fully heated. Serve garnished with a drizzle of good olive oil, parsley, and extra corn kernels, or as is.
Notes
This recipe was adapted from Just One Cookbook's Japanese Corn Potage recipe.